Maybe the Oscar Telecast Won't Be Terrible This Year
Four reasons to hold out hope that Sunday's ceremony will entertain.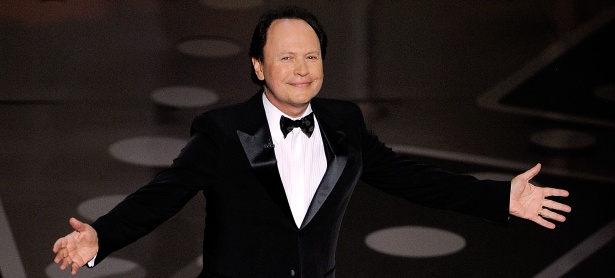 Reuters
Much like the Super Bowl Halftime Show or a typical episode of Glee, it's impossible for the Academy Awards telecast to please everyone. But for the past few years, it's found ways to displease most everyone. Facing pressure to make the ceremony exciting!, and different!, and, for the love of James Franco, youthful!, Oscar producers have tinkered with the show so much that after years of bad reviews last year's awards finally earned the branding "worst telecast ever."
But it doesn't have to be that way. Against all odds, this year's Academy Awards producers seem to be learning from the show's past mistakes. And, more importantly, they seem to be learning from past triumphs. Early information leaked about Sunday night's telecast indicates that the telecast will be borrowing from the greatest hits of Oscar shows past. For the first time in years, the show might not suck. Here, four reasons to be optimistic:
Comedy is back...
Years after any given Oscar telecast is through, people aren't fondly remembering that seven-and-a-half-minute montage chronicling the history of romance in cinema. They're raving about the ceremony's classic comedy bits, which is why Billy Crystal's iconic opening has been replicated so many times. In a four-hour night where awards are handed out in categories like Best Sound Mixing and Best Documentary Short (really boring things!), those scattered humorous moments represent the few times viewers can remember actually enjoying themselves while watching the world's most popular awards show. That's why this year's show seems promising.
In an interview earlier this week, the show's Executive Producer Don Mischer revealed his plans for the telecast: "We need more comedy." Yes. From Bob Hope to Jimmy Carson to Billy Crystal, the consummate Oscar hosts are known comedians. They've been invited back the most because they do their job well: They make us laugh. In recent years, producers seemed to abandon that mantra by hiring actors like Hugh Jackman, Alec Baldwin, and Anne Hathaway to host instead of comedians like Chris Rock, Ellen DeGeneres, and Whoopi Goldberg who had been hosting modern ceremonies. Thankfully, Billy Crystal is back. Allegedly, Oscar's sense of humor will be too.
...And so are the comedians
"Comedy" as an idea hasn't exactly been absent from the awards over the years. It's just that recent years have brought us Taylor Lautner and Nicole Kidman attempting witty banter, instead of those who do it best. This year, that's not the case. The list of presenters announced so far is not only packed with Hollywood's funniest stars, but those responsible for some of the best moments from recent Academy Awards shows.
Smartly, the cast of Bridesmaids was among the first presenters announced. The sextet of actresses boasts sketch-comedy veterans Kristen Wiig, Maya Rudolph, Melissa McCarthy, and Wendi McLendon-Covey, all of who know who to work a live audience—and who already proved at the SAG Awards to be MVP presenters this awards season. Another awards show MVP invited back this year is Tina Fey. At both the 2009 and 2010 Oscar ceremonies (not to mention any awards show she's called on to present at), the 30 Rock actress stole the show while presenting Best Original Screenplay alongside Steve Martin and Robert Downey, Jr., respectively. Best of all, the humor was right in her self-deprecating, quirky wheelhouse, a refreshing change of pace from the tired puns and "this is why cinematography is important" dialogue that defines other presenters' banter.
And the encouraging news keeps coming. Chris Rock will return to the Kodak Theatre for the first time since his controversial hosting stint in 2005. Rock's go at emcee is best known for a comment about Jude Law being in a lot of movies that for some confusing reason agitated Sean Penn, but that faux scandal has overshadowed the fact that the comedian was the most brazen host in Oscars history. He infused a little bit of danger and discomfort into the staid proceedings, roasting the Hollywood elite in attendance before Ricky Gervais made doing so cool. The show's best stunt presenters will also be back this year: Will Ferrell and Ben Stiller. Ferrell, who will present this year alongside The Hangover's Zach Galifianakis, helped make the woefully unexciting Best Makeup category the highlight of the 2010 awards when he and Steve Carell demonstrated the ramifications of actors taking the stage without the help of a skilled makeup artist:
Stiller has also proved fearless in the name of the comedy, donning full-on blue Na'vi makeup for a bit lampooning Avatar in 2010 and sporting a full-on Joaquin Phoenix train-wreck beard to present in 2009. If these actors' past performances are any indication, we should expect, at the very least, one of the funniest Oscar telecast in years.
It will be age appropriate
Never are the Oscars at their worst more than when they try to be young and hip. It's like when a teen's mom buys a pair of Uggs and a crop-top T-shirt and asks if she looks "fly." It's embarrassing, makes everybody uncomfortable, and doesn't flatter her at all. The Academy Awards just aren't for young people. James Franco and Anne Hathaway's bored deer-in-headlights meets whirling dervish of energy routine last year proved that. The Oscars are 84 years old—that's an old lady! Mercifully, Mischer has decided that, this year, the Oscars should dress for its age. "One thing we learned last year was that the older demographic, older viewers, make plans to watch the Oscars," he says. "They will generally make a plan a week ahead of time—'Hey honey, the Oscars are on Sunday, let's invite so-and-so over, and we'll watch the Oscars together.'" Younger people don't share that interest in the ceremony, and no amount of James Franco will change that.
This year, at least gauging by the presenters announced so far, that means we're going to be spared the typical who's-who of the Disney Channel that has been invited to recent ceremonies to spur interest from the tween set—who otherwise, quite sensibly, have no interest in a show that counts The Iron Lady, The Tree of Life, and Tinker Tailor Soldier Spy as major contenders. Instead of Miley Cyrus, Taylor, Kristen Stewart, Vanessa Hudgens, and Zac Efron—who all have presented in recent years—legends like Meryl Streep, Tom Hanks, and Michael Douglas will be on hand, providing the ceremony with suitable gravitas. And look no further than the very presence of Billy Crystal as proof that the Oscars are aging up its target audience this year. Judging by the rapturous reaction to the announcement that he'd be back hosting, perhaps producers are on to something with this whole age-appropriate thing.
There will be no musical performances
MORE ON THE OSCARS
If the past decade has taught us anything, it's that the only people who should be allowed to sing at the Oscars are Hugh Jackman and Anne Hathaway. Since neither actor has been announced to appear at this year's ceremony, that means there should be no one singing—no Original Song nominees, no Neil Patrick Harris, nobody.
It's a nice idea to break up the night by having the Original Song contenders perform. But that only worked back when hit songs from hit films were nominated. (There was a time when you've actually heard of the Best Original Song nominees!) Now, thanks to ever-changing and ever-confusing nominating rules, the contenders are typically obscure, random, and a snooze. That aside, the Oscars are notorious for staging them with trippy, over-the-top, bizarro productions that just don't work. A song by some lilter named Kathleen Bird York from Crash is nominated? OK, let's put on a ballet about racism around her while she sings! Disney's Enchanted earned three nods? Quick, call Kristin Chenoweth and a reggae drummer, and have them dance in a fake fountain with a bunch of stock dancers dressed as old people! Yes, I know a song from The Muppets was nominated this year and people really wanted Kermit and company to sing, but the sacred puppets are better off presenting.
It's rather en vogue to hate on the Oscars—to pick on the nominees, complain about who won, and, more than anything, criticize the telecast. This year, we're getting Bridesmaids, Billy Crystal, and the Muppets. In other words, the trifecta of happiness. I like being happy, so when it comes to Sunday night, I'm excited. Aren't you?