Madonna's Super-Bowl Halftime: A Perfect Pep Rally for Pop Music
Even M.I.A.'s bad vibes couldn't tamp down the campy joy on stage Sunday.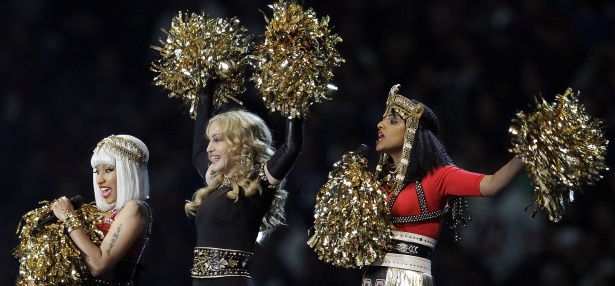 AP Images
It's a credit to cinematography and choreography that for the near entirety of a Super Bowl halftime performance with so, so much to look at, Madonna remained the center of attention. That is, until the end, when white light and smoke engulfed her and she dropped down through the stage, out of sight. The camera pulled back to reveal the stadium floor's graphical display glistening with the final words on halftime 2012: "World Peace."
World peace? Really?
Well, sure. Madonna's exquisite pep rally was nothing more, and certainly nothing less, than 12 minutes of broadly pitched, seen-it-before, feel-good material. Why shouldn't it end with the most broadly pitched, heard-it-before, feel-good message?
To listen to Madonna's work over the years, in the periods of both calculated provocation and shamanistic woo-woo, is to hear her repeatedly deliver empty-sounding lines that all come from pretty much the same guiding principal: music = love = dancing = understanding = peace. And so it was on Sunday, where high-kicking, flirtatious, lip-syncing Madonna pulled off the impression that she was genuinely having fun. Peace was with her even during her opening turn as a war goddess, carted in by a phalanx of Spartan soldiers. The soundtrack, "Vogue," was enhanced for this performance by sword-unsheathing sound effects presumably lifted from the Game of Thrones editor's room. But the lyrics remain as forgettable and as instructive as they ever were: "You try everything you can to escape / The pain of life that you know," and then, of course, "Let your body move to the music." There it is: Madonna philosophy 101. Pop philosophy 101.
And that philosophy was expressed in nearly every enthralling, ridiculous second of Madonna's show Sunday. On paper, it could have been a disaster. Here were four themed birthday parties thrown in succession, and the themes were played out: ancient Greece, boy-band break dance,  Bring It On cheerleading, Sister Act choir. But, of course, this is part of the genius of pop music, the way it wrings pleasure out of recognition. The other part of pop's appeal—the visceral, thump-your-chest, move-your-feet, impress-your-eyes, wag-your-tongue part—came across flawlessly. There was the crowd-pleasing trio of marching bands, gospel choirs, and acrobats. The tight, tight pacing and gee-whiz set-changes. The well-placed celebrity cameos, in which each supporting star was used for what they're actually supposed to be used for, from LMFAO's campy shuffling, to Nicki Minaj's lighting flow and amusing facial expressions, to Cee-Lo's voice, to M.I.A.'s dyspepsia.
Speaking of M.I.A., she served up the one glitch (well, other than when Madonna stumbled off a bleacher) that's already dominating conversations. Our perennial, mind-numbing debate over obscenity is upon us again. Certainly, a middle-finger to America doesn't seem like it fits with he "world peace" party line. But here, too, was pop music reductio ad absurdum. Madonna, queen of attention-grabbing, stood astride the biggest stage in America, overseeing an immaculately planned tribute to music, spectacle, artifice, and herself. And there was her guest M.I.A., making good on her "Give Me All Your Luvin'" line that she "don't give a shit," playing the role she's always played, introducing a hint of shock, upstaging her hostess. Pop's insurgent-vs.-establishment meme lives on. "Music," went the chorus of the preceding song, "mix the bourgeoisie and the rebel." So it was at the Super Bowl. World peace indeed.