Listen to Loudon Wainwright III's New Song, 'Over the Hill'
The veteran songwriter premieres a plainspoken meditation on age.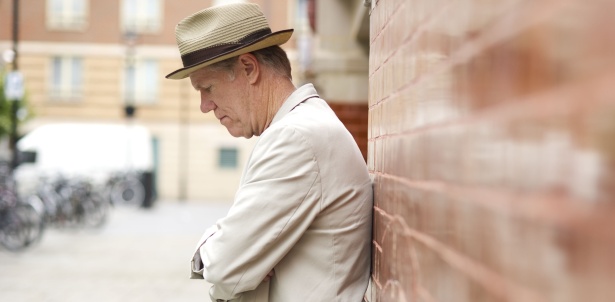 Ross Halfin
Loudon Wainwright III is feeling his age. It's right there in the title for 65-year-old folk legend's forthcoming album, Older Than My Old Man Now. It's also there in the words to his new song, "Over the Hill," which The Atlantic is premiering today.
The song is an ambling, plainspoken meditation on the passage of time. And fittingly, the tune itself is old. "'Over The Hill' is the one song Kate and I wrote together, way back in 1975," Wainwright says in the press material, referring to the late songwriter Kate McGarrigle, to whom Wainwright was married. Wainwright's daughter Martha sings on the track, as does Wainwright's collaborator Chaim Tannenbaum.
Listen to "Over the Hill" and read its lyrics below:
Once you were a young man,
But now you are old—you're over the hill.
And you can't cross the palm of time's hand
With silver and gold to make him stand still.

Who could have possibly thought
It would go so fast, but it certainly did.
And now you find yourself caught
With less future than past—you're no longer a kid.

Once, as a boy, time weighed heavy on your hands
You couldn't wait to be a man.

Now you cry
Oh, it's so hard to laugh
And you can't understand why you can't turn time around. Your hourglass once had a top half
That was filled full of sand, but it's all trickled down.
Older Than My Old Man Now will feature four generations of Wainwrights—Loudon's son Rufus, daughter Martha, and grandson Arcangelo Albetta all appear, as do lyrics from the writings of Loudon Wainwright Jr.—and is out April 17 through 2nd Story Sound Records.