Linsanity: How the Internet Made Jeremy Lin a Star in Less Than a Week
The Knicks point guard's lightning-fast journey from benchwarmer to phenom could only have happened in 2012.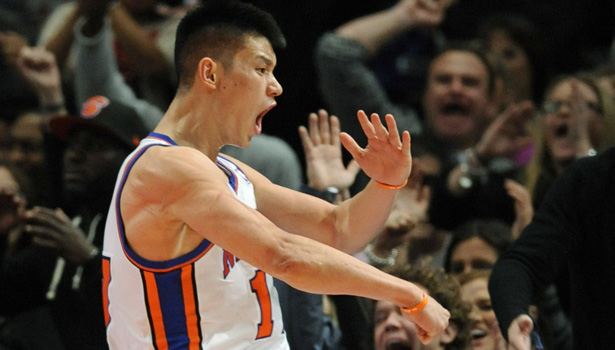 AP Images
"Lin's rapid rise from benchwarmer to crowd favorite also stoked a 13-percent spike in average prices for the game [Friday] against Kobe Bryant's club, to $312.51 from $276.39, and bump of 36 percent for next Wednesday's more affordable matchup against the Hornets ($89 to $121)."
-- New York Post
"It's the perfect beginning of what could either be Knicks fans' latest colossal disappointment or the league's favorite marketing figure since Yao Ming."
-- Deadspin
Minutes played by Jeremy Lin this season: 135
How to explain Linsanity? How can a cast-off point guard who couldn't crack the 12-man rotation of two different NBA teams galvanize one of the largest and most cynical fan bases in the league? How can two above-average games against two terrible defenses by a 23-year-old point guard cause ticket prices for upcoming Knicks game to skyrocket? How, in the city of Eli and the Giants, can Jeremy Lin be above the fold?
Some of Linsanity can be explained by Knick-fan desperation. Lin plays the position that has plagued Knick fans since Chauncey Billups was cut to make room for free-agent center Tyson Chandler: point guard. The New York faithful have ample reason to yearn for a quality PG, currently the most glaring weakness on a team with two dominant scorers in Carmelo Anthony and Amare Stoudemire and a defensive stopper in Chandler. The mantra for Knicks fans during the team's awful 8-15 start was: Just wait for a point guard to run the offense, get our stars the ball and run some pick and rolls, and then you'll see.
MORE ON THE NBA
The team's need for a good point guard is so overwhelming that fans (including myself) have been waiting with bated breath for a 32-year-old cast-off with a herniated disk in his back and a history of weight problems to hopefully get healthy. So when Lin reeled off 25 points and seven assists off the bench against the New Jersey Nets Saturday night and followed that up with Monday's 28-point, eight-assist bonanza in a win over the Utah Jazz, New York fans were justifiably overjoyed.
But Linsanity is bigger than New York—much bigger—and the phenomenon is more a function of the calendar than anything else—the year, not the date.
If Tim Tebow was the first athlete whose fame and cultural impact vastly outstripped his playing abilities, Lin is the first who created a Tebow-like impact in less than a week. Both owe the vast majority of their Q rating to the Internet, social media, and the user-generated buzz of whatever sociologists are calling this latest generation.
Lin has several prerequisites for Internet superstardom. He's the first graduate of Harvard to play in the NBA since 1954. He's the only Asian-American (Taiwanese-American, to be exact) currently playing in a league that has been desperately seeking them since Yao Ming hung up his oversized spurs. And he's battled through adversity to make it to the Knicks: Undrafted and cut by two teams in the last year, he's currently sleeping on his brother's couch.
So when this boy-from-nowhere delivered 81 minutes of high-quality play over two games, the Twitterverse/blogosphere/Internet in general went berserk. While the Utah game was still going on, the #Linsanity meme permeated all manner of social media sites. A status update on Lin's Facebook account after the Nets game prompted more than 1,000 comments. Deadspin created a 'Linsanity' tag for all things Jeremy. And the icing on the cake came from YouTube user random2g, who created an original tribute video for the "talk of the league".
When Lin takes the court Wednesday in Washington against the Wizards, most eyes will be on him even when he doesn't have the ball. When the Knicks host the Lakers on Friday in a nationally televised game, fans will be looking for a 45-point, 20-assist game where Lin also teaches Andrew Bynum good manners and tears Kobe Bryant's ACL.
As impressive as his last two games were, Lin's skills on the court are dwarfed by his larger-than-life image online, and his ceiling as a player is probably a serviceable backup point guard/poor man's J.J. Barea. But because he's playing in 2012—not 2002 or 1992 or 1982—he's a lock to be a relevant for at least the rest of the season even if he doesn't break 10 points or five assists in another game. He checks all the Tebow-esque boxes: college star who was expected to fail in the pros, member of a group with staggering purchasing power (Asians/Asian Americans vs. devout Christians), key position on a team that needs helps to make the playoffs (point guard vs. QB)... the list goes on. And given the NBA's desire to continue its expansion into Asian markets, it's in the league's best interest to keep Lin in the public eye for as long as possible.
So if you pay through the nose to see Lin face off against Kobe on Friday, remember that you're not really seeing Jeremy Lin: second-year point guard. You're seeing JEREMY LIN: cultural phenomenon, Twitterverse-exploder and Tebow Lite. The point guard may go away after a couple bad starts, but the cultural icon is here to stay—at least for a while. So sit back, enjoy the ride and join in the chants of "MVP!" after a routine first-quarter layup. It is 2012, after all.