How to Care About the Super Bowl Even if You Don't Care About Football
Focus on the human drama, not the action on the field.
The Super Bowl is the one sporting event a year even non-sports fans feel compelled to watch. The traditional refuge for these people is the commercial breaks: those brief moments of dialogue and humor in the midst of a wordless, serious game. But there's more to draw in a sports skeptic than watching Ferris Bueller and Jerry Seinfeld hawk cars. I'd encourage non-football fans to focus on the human drama behind the game: stories of sibling rivalry, triumph over adversity, and joy in the midst of grief that come from the players, coaches, and owners of the Patriots and Giants. Here are some of the most compelling off-the-field stories from this year's Super Bowl:
Eli Manning vs. Tom Brady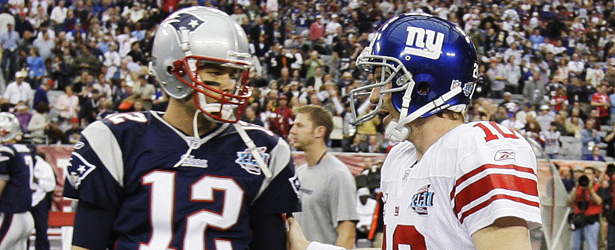 AP Images
In a now-infamous radio interview this summer, Giants quarterback Eli Manning was asked if he was in a class with Patriots QB Tom Brady. It was an intentionally provocative question: yes, Manning won a Super Bowl for the Giants, but he's hardly been the consistently excellent player that Brady is—plus, Brady's won three Super Bowls. But the usually modest, unassuming Manning took the bait: "Yeah, I consider myself in that class, and Tom Brady is a great quarterback," he said. Patriots and Giants fans alike mocked Manning for his response, but Manning may have the last laugh. Six months after that interview, he will face Brady in the Super Bowl for the second time in four years, and he'll have the chance to beat him again. Two Super Bowl rings against Brady will silence the naysayers and place Manning securely in the elite quarterback club.
Eli Manning vs. Peyton Manning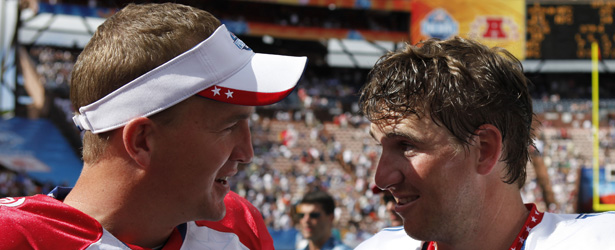 Reuters
Though the Manning-Brady competitiveness has heated up this season, the player Eli is most often compared to is his older brother, Peyton. If Eli's status as an elite quarterback is in question, Peyton's is considered gospel. But this year's Super Bowl could change that. Peyton's been out all season because of a neck injury, and his future in the NFL is uncertain. Eli, however, has a very good chance of winning his second Super Bowl, while Peyton has only won one. And Eli could win it in Indianapolis' Lucas Oil Stadium—a.k.a. Peyton's Place.
Mark Herzlich vs. cancer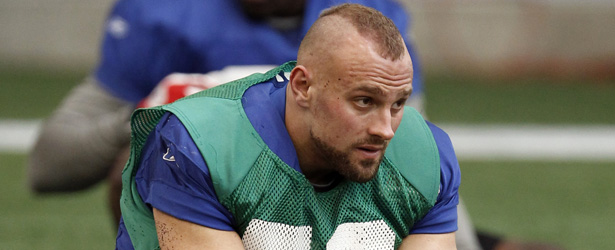 Reuters
Two and a half years ago, during his junior year at Boston College, Mark Herzlich was diagnosed with Ewing's sarcoma, a rare form of cancer. His future as a football player was unsure. But within months, he was cancer-free, and after sitting out the 2009 season, he played the 2010 season for BC and was drafted by the Giants for 2011. The linebacker sent out this triumphant tweet on Monday: "2 yrs ago I was told I might never walk again. Just WALKED off plane in Indy to play in The #SuperBowl. #TakeThatSh*tCancer"
Mathias Kiwanuka vs. injury and family strife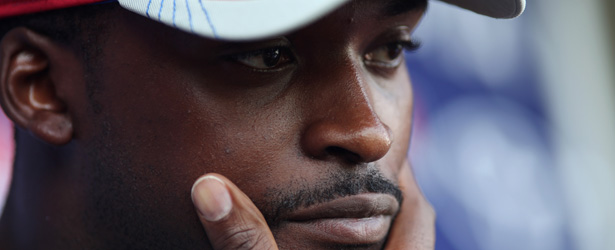 AP Images
Giants outside linebacker Mathias Kiwanuka has been no stranger to hardship. His grandfather Benedicto, the first prime minister of Uganda, was assassinated in 1972, a decade before Mathias was born. Kiwanuka was born in the States and lived a mostly charmed life as an All-American for Boston College and then a starter for the Giants. His first bit of bad luck happened in the 2007 season, when he fractured his leg mid-season and had to miss playing in the Super Bowl (he still got a ring). A few years later, in 2010, he found himself injured again (this time with a herniated disc in his neck). But then a much graver disaster hit: His brother Ben was nearly killed in a motorcycle accident. Kiwanuka has recovered from his injuries, and his brother survived the harrowing crash. Winning the Super Bowl would be just another thing for Kiwanuka to be thankful for.
Bill Belichick vs. his old team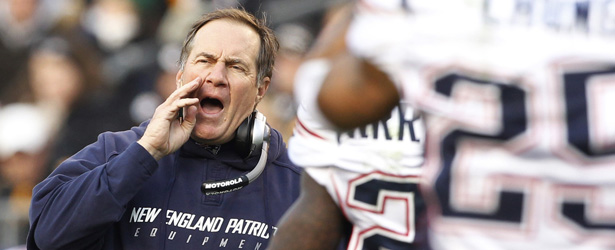 Reuters
Before Bill Belichick became a powerhouse three-time-Super-Bowl-winning head coach of the Patriots, he was on the Giants' coaching staff. In his 12 years with the team, the Giants won two Super Bowls, including a stunning upset in Super Bowl XXV where he engineered the defensive plan. But despite Belichick's stellar Super Bowl record, he's never won one against the Giants; the loss to New York in 2008 prompted a terse response: "Well, we're disappointed." He'll have another chance on Sunday to beat his old team, and to tie the record for head coach with most Super Bowl wins.
"One more for Myra"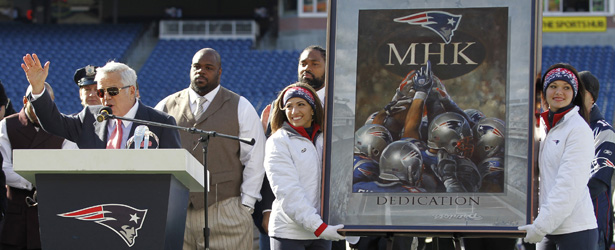 Reuters
Myra Kraft, wife of Patriots' owner Bob Kraft, died this summer after a battle with cancer. Bob Kraft was heartbroken at losing his wife of 48 years, and the team also grieved the death of the woman many of them called "Mama." The Patriots have been wearing patches with her initials—MHK—all season, and a win on Sunday would most definitely be dedicated to her memory.