How to Appreciate the Daytona 500
A guide for the NASCAR neophyte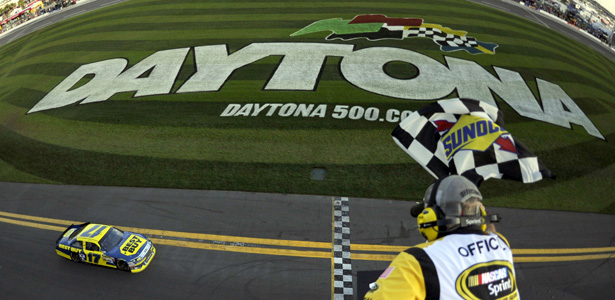 AP Images
If you read The Atlantic, chances are you don't watch NASCAR. You probably also don't know, therefore, that tonight is that sport's biggest race, the season-opening Daytona 500. If you have ever wondered what all the fuss is about with NASCAR, we've got a few tips on how to enjoy the Great American Race.
1. First, get in your car and find a highway. Snuggle your car in behind a truck going 70 mph or so. Feel that wind whipping your vehicle side-to-side? Multiply that force by 40, and you'll get some sense of what it feels to drive in a race. There's a reason the winner of the 2012 Daytona 500 will receive $1,431,325. It's like, way hard.
2. Usually the thing to do with an unfamiliar sports event is tune in for the end. Like if you are not a golf fan, you would only check into The Masters for the back nine on Sunday. That doesn't work with racing. Especially at wide tracks, races often bog down at the end with lots of wrecks, yellow flags, and clean-up time. For this event, watch the start. That's when a few hundred-thousand fans are all in their seats, the call to "start your engines!" comes, the green flag, drops, and that gleaming pack of 43 cars comes roaring around Turn 1. Then , ten laps or so in, flip away and come back only for restarts.
3. If you don't watch on a huge TV with big speakers and booming surround sound, you're totally missing the point. They call this style of racing "American Thunder" because the immense roar is a huge part of the thrill. Ask any seven-year-old.
4. Catch up on the big stories for the new season. Last year, after racing every week for almost six months, for more than 10,000 miles, Tony Stewart beat Carl Edwards to win the Sprint Cup title by less than one stinkin' lap. It was the first time in five years that anyone besides Jimmie Johnson had won the title. Oh. Also? Dale Junior still hasn't won a race in pretty much forever.
Tadah! You're all caught up.
5. Try not to get annoyed by Danica hype. Patrick at last,glory be, has made the jump from Indy to NASCAR. This year she will drive full-time in NASCAR's second-tier Nationwide Series, and she'll run ten races for the Stewart-Haas team on the Sprint Cup circuit. One of the races is Daytona. So far her week in Florida has been, oh, less than stellar.
Yes, the non-stop coverage is grating. But consider what Patrick means to every female in this country, or every man with a daughter. If you grow up female in America, you know that you'll never play in the NBA or NFL. But any little girl can grow up dreaming of winning Daytona 500. Because of Danica, in fact, some number of them doubtless now are. Knowing that makes any amount of hype worthwhile.