How Title IX Hurts Female Athletes
The groundbreaking legislation, which was supposed to help women thrive in sports, has had several unintended, negative consequences.
The groundbreaking legislation, which was supposed to help women thrive in sports, has had several unintended, negative consequences.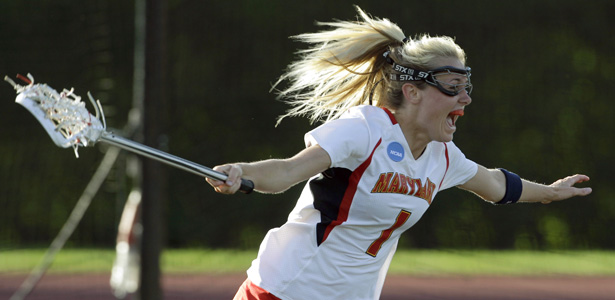 AP Images
Sophia Gouraige grew up playing soccer and lacrosse in the verdant suburbs of New Jersey. Her parents were part of the Volvo-driving army standing on the sidelines with Starbucks cups on Saturday mornings, cheering as their agile, pony-tailed daughters ran up and down the field. In middle school she began to focus primarily on lacrosse and became such a standout player at Kent Place School in Summit that she was recruited to play for Boston College.
Like most female athletes of her generation, Gouraige owes her athletic career in large part to Title IX, the 1972 federal legislation mandating equal access for women in education, including sports. The youth leagues she played in as a child trickled down from Title IX, and the legislation likely played a role in Boston College establishing a women's lacrosse team in 1992.
Title IX has clearly triumphed in its mission to equalize the playing field for young women. Its impact can be felt at every level of competition, from the fourth-graders strapping on their batting helmets as Little League gears up, to the thousands of high-school girls who surrender their spring breaks for pre-season training in track or lacrosse.
The numbers bear it out. Since the advent of Title IX, according to the National Federation of State High School Associations, the number of girls playing high school sports has grown more than tenfold, from 294,000 in 1971 to nearly 3.2 million last year.
But this welcome transformation has come at a serious cost for many female athletes. Title IX has inflicted significant collateral damage, including increased health risks for the players, a drop in the number of women coaches, and increased exposure to sexual abuse.
MORE ON SPORTS
Like their male counterparts, girls have started to specialize early in their careers, working on just one sport year-round, often as a way to capture the attention of college coaches. With more scholarship money available than ever, girls feel pressured to specialize at a young age in the hopes of winning a spot on an elite team or gaining an edge in the increasingly competitive college admissions game. Despite persistent warnings from orthopedic surgeons and trainers, young athletes bent on specialization continue to suffer from preventable overuse injuries, like stress fractures and stress reactions, according to the American College of Sports Medicine. "More than 50 percent of what we see in sports medicine are overuse injuries, which are entirely preventable," said Dr. Joel Brenner, chairman of the American Academy of Pediatrics and the Council on Sports Medicine and Fitness.
Of special concern for girls is damage to their anterior cruciate ligament, or A.C.L., the tiny ligament in the knee that connects the two halves of the leg. Female athletes are four or five times more likely than male athletes to have A.C.L tears, says Dr. William Levine, the director of sports medicine at Columbia University and the head physician for its varsity teams.
As Dr. Levine explains, once girls begin to menstruate, they become more "quadricep-dependent" than males, and that thick slug of muscle in the middle of the thigh then works against the A.C.L., sometimes causing tears. "Female athletes jump and land in a more erect posture, which puts increased stress on their A.C.L," he says.
Girls who participate in endurance sports like distance running, which emphasize leanness, also contend with a debilitating syndrome called the "female athlete triad." By eating too little or exercising too much, or some combination of the two, they start to develop three-interrelated problems: eating disorders, bone loss, and the cessation of their menstrual cycles. While 1.2 to 4.3 percent of all women athletes have the full "terrible triad," as Dr. Levine calls it, 70 percent are thought to have one component of it. Six top sports associations, including the American Academy of Family Physicians and the American College of Sports Medicine, assert that "fifteen to 62 percent of college female athletes report a history of disordered eating"—ranging from bulimia to restricted calorie intake to fad diets—which is higher than the presumably more sedentary general population.
In sports played by both boys and girls, female athletes also suffer from concussions at significantly higher rates. Studies carried out at Ohio State University and at Nationwide Children's Hospital suggest that girls who play basketball are three times more likely to report concussion symptoms—dizziness, blurred vision, memory loss—than boys. Female soccer players are sidelined for concussions 68 percent more often than their male counterparts.
The growing prominence of women's sports has also changed the dynamic in the locker room. Though Title IX has increased opportunities for female players, the number of female coaches has actually declined, even as the total number of jobs has expanded dramatically. "The most significant unintended consequence of Title IX is the dearth of women in leadership positions," says Mary Jo Kane, Director of the Tucker Center for Research on Girls and Women in Sports at the University of Minnesota.
When women's sports programs started gaining prestige and funding in the 1970s, they began to attract male coaches. Prior to Title IX's passage, women comprised more than 90 percent of the head coaches of women's college teams. Shortly thereafter, their share of the available positions dropped by half and has remained at about that level ever since, according to the 33-year longitudinal study, "Women in Intercollegiate Sports, 1977-2010," conducted by the Acosta and Carpenter. In 2010, the proportion of women coaching women's teams stood at the second lowest in history, 42.6 percent, with 21 fewer female coaches than two years prior. "Title IX has been a boon to male employment opportunities," says Kane.
For Stanford women's basketball coach Tara VanDerveer, recently inducted into the Basketball Hall of Fame, this gap represents Title IX's greatest failure. She calls the lack of opportunities for women coaches a "disturbing trend" that says to girls, "It's okay for you to play, but you don't have what it takes to coach."
For female players, the gravest consequence of having male coaches has been an increased risk of sexual abuse. Pediatrician Ken Feldman, the recently retired medical director of the Children's Protection Program at Seattle Children's Hospital, says that although there is no formal tracking of sexual abuse by coaches per se, "girls will be more victimized than boys." Dr. David Finkelhor, Director of the Crimes Against Children Research Center at the University of New Hampshire believes that the physical nature of sports can make them sexually charged. "There's tremendous intimacy in coaching situations, between men and girls," he says. "Young people are sexually attractive, and they don't turn that off in their interactions with adults." Since 1999, 36 coaches from the U.S. national swim team—including the former director—have resigned or been banned from the sport following allegations of sexual misconduct or inappropriate sexual behavior. In November, USA Gymnastics named Don Peters, coach of the 1984 U.S. Olympic women's team, "permanently ineligible" for membership after two of his former gymnasts reported having sexual intercourse with him when they were 17 and 18 years old.
As Title IX prepares to celebrate its 40th anniversary this year, we believe that many women of our generation are ready to move beyond the comforting fiction that equality of opportunity, and rough parity with boys, is enough for female athletes. It's time to stop celebrating the raw numbers and to start figuring out how to improve the quality of women's athletic experiences.
For starters, we can strive to identify the particular conditions that make women more susceptible to catastrophic knee injuries and develop training regimens that reduce that risk. According to Dr. Levine, preventative measures to protect against A.C.L.s remain "an elusive 'holy grail'."
Eliminating the eating disorders that are so common among female athletes might be unrealistic. Female athletes have figured out that sports can provide a fast track to getting thin. Girls' and women's social value remains tied to appearance, particularly body size, and Kate Upton on the cover of the Sports Illustrated swimsuit issue speaks a lot louder than the athletic trainer admonishing them to eat enough protein and carbs. Short of a massive cultural realignment (and we're not holding our breath), perhaps the best we can do is take aim at the most serious eating disorders--anorexia and bulimia—and continue to educate coaches and parents to encourage healthful eating and exercising.
A big part of reducing overuse injuries for girls and boys both will involve getting the word out about the perils of early sports specialization. For years, the American Academy of Pediatrics and top professional orthopedic organizations have cautioned against kids' specializing and overtraining, to little effect. Still, imposing enforceable restrictions on playing time won't work because of the vast and complicated array of sports and teams. If a child plays basketball for his school, church, and travel teams, who imposes the rules? "Parents have to be the advocates of their children, even if that means going against what the coach recommends," Dr. Brenner says. "It's about putting the child first."
Increasing the presence of women coaches will go a long way toward repairing Title IX's collateral damage. The Alliance of Women Coaches, founded last year as an outgrowth of the NCAA Women Coaches Academy, aims to boost the diversity and number of women in the profession and provide networking, career development, and support for women coaches in all sports at all levels. "One thing we're starting to look at is why aren't women being hired?" says Celia Slater, co-director of the Alliance and executive director of the NCAA Women's Coaches Academy. "Our job is to train and educate women on going through the job search, interviewing well, and accepting the job," she says, as well as to counsel them on balancing work-life issues. The Women's Basketball Coaches Association and the American Volleyball Coaches Association are also running programs and offering scholarships specifically designed to attract women coaches. More female coaches won't benefit just women, says VanDerveer: "In the same way that mothers and female teachers are so important, I think women coaches would be a great asset in bringing camaraderie and team-building to a group of men."
As for preventing the sexual abuse by coaches, says Finkelhor, coaches need to know what to do when they find themselves sexually attracted to young, physical athletes, just as psychotherapists are taught how to handle a possible sexual attraction to a patient. At the same time, student athletes need to be taught how to detect the coach who crosses too many boundaries—by showering them with extravagant gifts, or lots of one-on-one time—so they can prevent an ugly escalation. "Somebody needs to take this and write a good manual about it, in a complex way, without clichés," he says.
Finally, it's time for all coaches serving in the post-Title IX world to make the athletic experience more responsive to female sensibilities. That doesn't mean putting the brakes on the ambitions of the most athletic and competitive girls. But it does mean acknowledging in sports a reality that has gradually won acceptance in business, politics, and other areas of public life: that women and men differ in how they see and experience the world, and that respecting these differences benefits everyone.
Experienced coaches will tell you that boys and girls, by and large, bring different frames of mind and motivations to their sport. Tom Fleming, a two-time winner of the New York City marathon in the 1970s, has coached high school boys and girls since 1988. Boys are overconfident, he says, certain of victory in spite of their ill-preparedness, while girls underestimate their fitness. "As coaches, we need to spend more time talking to the young females about what they can be," he said.
Long-time high school coach Tim Lear reports that girls find more pleasure in the team bond than their male counterparts; the friendships built out of shared effort and common goals draw girls into sports and cement loyalties to the team. Katie McCafferty, a senior at Georgetown who runs Division 1 track and cross-country, put it this way: "The boys don't seem to have the same close, intimate bonds. They don't possess that same drive that our girl's team has to achieve that one goal together. And that's been the key to our success." That's true even at the elite level; Rebecca Lobo, the former WNBA star center and self-described "Title IX baby" says, "Camaraderie and team unity, creating a family atmosphere, is one place where you do have a difference between men and women. The women care about the 'we' and the guys care about the 'I.'"
For her part, Gouraige, once at college, quickly found herself dreading practices. "You always had to be on your game, study what was in your binder, know the plays, get out there and be your best, be the fastest, score the goals," she says. "It felt like a tryout at every practice."
Though she loved lacrosse, she didn't want to spend all her time playing it. She was eager to explore other things, and with a push from the coach, she left the team during her sophomore year. "When you go to college, it's all about how to win the national championship," says Gouraige, now 21. "Why can't sports just be fun?"