How the Westminster Dog Show Eclipsed a Legendary Track Meet
Both the dog show and the Millrose Games used to be held at New York's Madison Square Garden. This year, only one remains.
Both the dog show and the Millrose Games used to be held at New York's Madison Square Garden. This year, only one remains.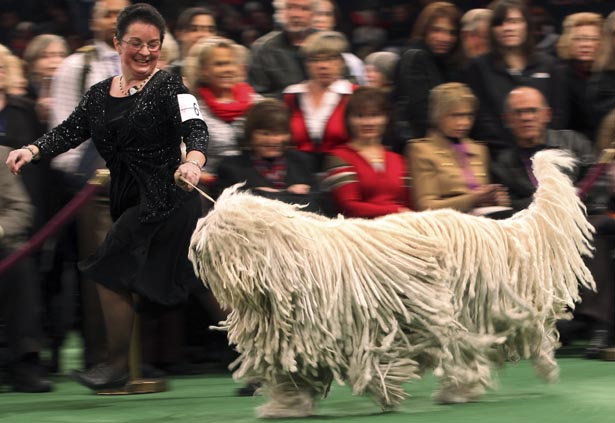 Reuters
Two long-time fixtures on Madison Square Garden's winter calendar have been in the news in recent days—or at least that portion of Madison Square Garden news not given over to Linsanity. But the news about each could not be more different.
First, there has been the departure of the Millrose Games, "once the center of indoor track and field" from the Garden (in three of its successive incarnations) after 98 years to a much smaller 5,000-seat arena in Upper Manhattan. It is an event that has a long and much-celebrated history of record-breaking achievements. As Wikipedia relates,
Some of the most memorable moments in Millrose history include Ray Conger's 1929 upset win over Nurmi in the Wanamaker Mile; pole vaulter Cornelius Warmerdam becoming the first person to vault 15 feet (4.6 m) indoors, in 1942;John Thomas hitting the first 7-foot (2.1 m) high jump, in 1959; Mary Decker's thrilling run to a 1500-meter World Indoor Record to ear-splitting encouragement from the crowd, in 1962: John Uelses becoming the first person to pole vault the height of 16 feet, Carl Lewis in 1984 shattering the World Indoor Record with a jump of 28 feet (8.5 m), 10.25 inches, a mark that still stands; Eamonn Coghlan notching his then record seventh Wanamaker Mile in 1987, Bernard Legat breaking Coghlan's record with his eighth Wanamaker Mile triumph in 2010, and Stacy Dragila setting a late-night pole vault world record in 2001.
But in recent years the meet has played to a half-empty Garden and been unable to attract a television audience in a sports culture in which track and field is increasingly marginalized—even in an Olympics year as this is. Perhaps underlining the point, more media attention was devoted to the move of the Games out of the Garden than to the results of the inaugural competition this past Saturday at a Washington Heights armory by the largely anonymous corps of today's track athletes, however accomplished. Once bereft of that no longer timely angle hereafter, one wonders whether even that much attention will be paid to future renewals of the event.
Second, there is the Westminster Kennel Club Dog Show, which concluded Tuesday night, and which remains—as the Millrose Games is no longer—"synonymous with Madison Square Garden." Outdoing even the now departed track meet in longevity, "the annual gathering of purebred dogs has been held at one of the four Gardens since 1880 with the exception of seven years." And the show remains a crowd pleasing enterprise, attracting more than 35,000 improvers of the breed(s) to the two days of competition and garnering the kind of extensive newspaper coverage that track and field no longer rates. The live television coverage each evening features is sponsored by an extensive array of dog-related products that make it—as my wife and viewing companion observed—a kind of Super Bowl for the dog-lover. There seems little danger of this particular Garden perennial retreating to an out of the way downsized venue.
Textbook charts trace a progression upwards on the evolutionary scale from the four legged to the two legged among us. But not in February at Madison Square Garden.