Does a Bicycle Book's iPad App Show the Future of Publishing?
The dazzling Cyclepedia app demonstrates the digital potential for visual books.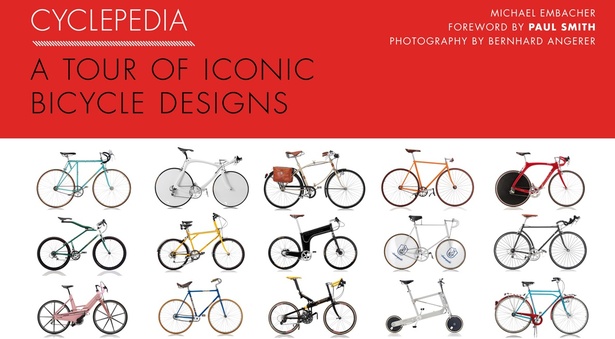 Thames & Hudson
Publishers everywhere are scrambling to find the best way to transform ink on paper visual books into immersive media experiences. For the time being, most use readable PDFs from print files. This enables digital viewing, but offers little added value. Thames & Hudson, the U.K. and U.S. publisher, released the book Cyclepedia: A Century of Iconic Bicycle Design by Michael Embacher in August 2011 (Chronicle Books co-published it in the U.S.). Six months later, it followed up with the Cyclepedia: Iconic Bicycle Designs application, their very first immersive iPad app, which was featured on Apple's prestigious "New and Noteworthy."
It is indeed noteworthy, indeed captivating, for the manner by which content is made accessible as moving image. The beauty of the bike designs is enhanced by the ease with which the reader can experience 360-degree views of each bicycle—almost like being in a showroom. They can also track the cycle's evolutionary path along an illustrated timeline.
Since I publish books with Thames & Hudson, I wanted to learn more about how this app was created and what it means for other books, including my own past and future ones. Is Cyclepedia the perfect vehicle or model book for interaction, or will all visual books be looked upon as potentially viable? And what does this work-intensive technological engagement mean to the publisher's and author's bottom lines?
I asked Lucas Dietrich, Thames & Hudson's design editor, tasked with developing eBooks, about this new platform in general and Cycledia's unique challenges.
"Cyclepedia for the iPad seemed an ideal convergence of subject enjoying great popular resurgence with a design-oriented presentation aimed a target market we believed would be among the most likely to own an iPad," Dietrich said. "The nature of the subject—which is also fun—allowed us to explore a variety of interactive modes that could apply to other aspects of our program, from art and sculpture to fashion, design, architecture and landscape."
The subject is, in fact, fun and alluring. But did Thames & Hudson produce the app content as the book was being done, or was it necessary to go back and develop costly assets for the digital product? "The book was produced first and assets for the app added to the original content and animated through software design," he said. "But my ambition is to acquire projects that are conceived for both print and digital from the outset. Ultimately, this offers illustrated publishers like Thames & Hudson exciting new prospects, [and] we must retrain ourselves in order to do this effectively. The best apps are those not that take existing content augmented with new audio or visual or interactivity, but those [that] present a subject with an understanding that software is the medium, not the device."
For the average (or technologically backward) author, this prospect of thinking in terms of added interactivity can be daunting. I asked Dietrich to outline some of the distinct features that could not be possible in the printed form. Without hesitation, he rattled them off as if on a spec sheet. "Rather than having a contents page ordered by page, the bicycles are presented in one of several ways: alphabetically, chronologically, by country, by weight and by type (race, mountain, collapsible). Extreme zoom capability: Users can zoom up to 20x into each bike, giving phenomenal detail. User-defined animations, particularly the folding and unfolding of collapsible bikes. And, of course, video."
This impressive array of value-add-ons must, however, take a financial bite, especially since apps cannot sell for more than a dollar or so. How much cost does this add to the Thames & Hudson bottom line? "I would answer this obliquely," Dietrich said. "To develop a content-rich, highly interactive app requires practically the same amount of investment in out-of-house costs as it does to produce a beautiful, four-color hardcover book. The difference is that there are no printing costs and no warehousing, sales, and distribution, so fewer people are involved, which is no small saving for a medium-size publisher like Thames & Hudson."
MORE ON VISUAL DESIGN
Therein lays the paradox. For those who love the physical book, warehousing and resource depletion are increasingly critical concerns. I asked Dietrich if he found that Thames & Hudson's electronic book was a magic bullet. "Given the economics of apps in the context of iTunes/App Store, I'm reasonably certain that we, like most publishers, will choose to develop apps selectively," he said. "Even if software design costs begin to diminish, it will always be expensive to include original content, for any medium, or sophisticated programming, so unless the climate for free downloads changes radically, it's hard to see how large-scale production of content-rich apps will be commercially viable in the short term. I hardly need to say, however, this is a highly dynamic area."
Finally, I asked Dietrich what, as he sees it, is on the horizon for the e-Book? "I'm less excited by the prospects for 'enhancing' eBooks than by the multiple forms of delivery that will be offered by ePub3's incorporation of HTML5 and by software developments such as the new Liquid Layout system Adobe is developing for InDesign," he said.
Of course, these are just technologies, and content is an equally valuable commodity. "We need to find creatives who can reimagine how words and pictures are presented with these tools rather than simply bolting-on audio or visual content onto existing books," Dietrich said. "On the other hand, I continue to believe—and I'm not alone—that the printed book will assume a new status among connoisseurs the more commonplace digital reading becomes. I see exciting possibilities for integrating content through both craft-based printed books and the latest forms of digital-content presentation, whatever form they may take."