Derek Jeter's Uncertain Future
The Yankee great will turn 38 this summer—and no major league team has ever won a pennant with a 38-year-old shortstop.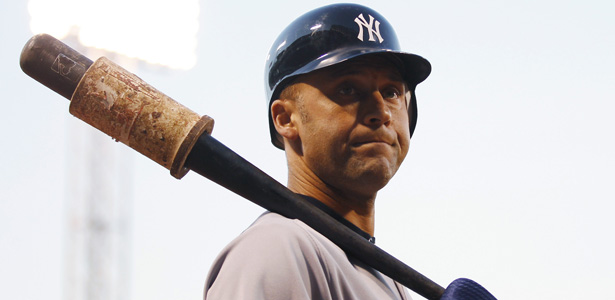 Reuters
If I had a vote, I'd probably have given Derek Jeter the MVP in 1999, which was won that season by Texas catcher Ivan "Pudge" Rodriguez, while Jeter finished a ridiculous sixth. So much, at least, for the notion that playing in New York gives players an unfair advantage in MVP voting.
That Jeter has never won an MVP will not, I think, have any impact on his Hall of Fame credentials. His lifetime batting average is .313, he's shown more than respectable power with 240 home runs, and has displayed excellent speed, as evidenced by his 339 stolen bases. He has done his principal job—get on base and score runs—with dazzling efficiency: 13 seasons of at least 100 runs scored. He's been selected to 12 All-Star teams.
MORE ON BASEBALL
I don't believe that one single statistic should automatically get a player into Cooperstown, but Jeter's 3,088 career hits (and counting) ought to seal the deal. And if that doesn't do it, we must consider that he has been the most important regular player on Yankee teams that won 7 pennants and 5 World Series.
I don't know exactly how to measure the value of intangibles, and I don't know anyone who does. The most I can say about them is that I agree with the elderly Irish woman in a Sean O'Faolain story who, when asked if she believed in the fairies, replied indignantly, "I do not!" Then, after a pause, "But they're there."
But Jeter doesn't need any subjective arguments to boost him into the Hall of Fame. Let's just go ahead and concede that when we watch him, we're watching a first balloter.
Where he is going to need some support, subjective or otherwise, is remaining at shortstop for the Yankees this year. It's very likely going to be painful season for Jeter, the team, and the fans. In June Derek will be—can you believe it?—38 years old, and no major league team has ever won a pennant with a 38-year-old shortstop. For that matter, no team has ever won a pennant with a 37-year-old shortstop.
He batted just .270 in 2010, the worst average of his career except for the
the .250 he hit in his first 15 big-league games in 1995. Many commentators, certainly myself, were saying this was the beginning of the end for Jeter and that the Yankees had a huge problem coming at them down the road. We also speculated they were responding to that problem by pretending it didn't exist: Namely, where were the Yankees going to put Derek Jeter when he could no longer make it at shortstop?
Jeter made us all look foolish last season by having a pretty good year: .297 in 131 games with 16 stolen bases and a much better performance in the field than he had any right to at his age. (In 2010 he had slowed down so much that Alex Betlh, host of the Bronx Banter website, called him "The Ancient Mariner: He stoppeth one of three.")
Okay, fine; baseball fans are happy to be wrong about Derek Jeter, and I, for one, would be happy to be wrong about him this season. But I probably won't be. What are the odds that he will hit as high as .297 this year? And did he really hit all that well last year? His 6 home runs in 2011 were the lowest season total of his career.
And who's going to make up all that extra ground Jeter will no longer be able to cover on balls hit up the middle?
Here's a truly horrible thought: When it becomes painfully obvious in the midsummer heat that Jeter can no long cut it, where are the Yankees going to hide him? Second base is a less strenuous position, but Robbie Cano has that one nailed down. If there were any thoughts of moving Jeter to third base (assuming Alex Rodriguez gets injured again) or left field, the Yankees will surely have to start grooming him for those positions sometime soon ... like in a couple of weeks. And there hasn't been a word about any plans to do so.
There is speculation that with the retirement of Jorge Posada and the departure of Jesus Montero, the Yankees can move Jeter into the designated hitter spot. But can the team really flourish with a DH who hits maybe 6 home runs a season? No, but it's a sight that Yankee fans would much rather see than the unthinkable: a September game at Yankee Stadium with Derek Jeter looking forlorn and lost, alone on the bench. All the subjective qualities and all the intangibles in the world can't help you when you're not in the game.