Can Soccer Heal Tucson's Wounds?
For the next two weeks, David Beckham, Landon Donovan, and other MLS stars will play in the city as part of the Diamond Desert Cup.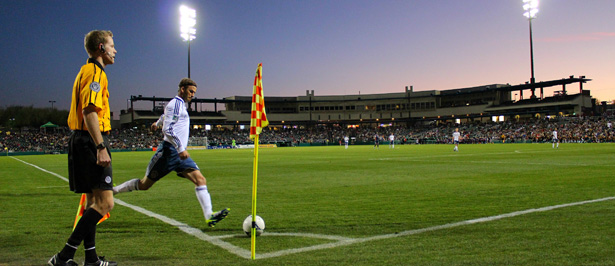 Chris Feliciano Arnold
On Ash Wednesday at sunset, more than 5,500 fans streamed into Kino Stadium in Tucson, Arizona for the opening doubleheader of the Desert Diamond Cup, a pre-season Major League Soccer tournament. Over the next two weeks, the New York Red Bull, the New England Revolution, Real Salt Lake, and the L.A. Galaxy will compete for the first trophy of the MLS year, drawing spectators and sports media from both sides of the U.S.-Mexico border. If organizers get their wish, global stars like Rafa Márquez, Thierry Henry, and David Beckham will bring positive vibes—and tourist dollars—to a community facing one of the most tumultuous periods in its history.
Even with 350 days of annual sunshine, Tucson has been gloomy lately. Like many Arizona cities, it was crippled by the housing crisis. Early last year it was in the headlines for all the wrong reasons after the horrific shooting spree that wounded Gabrielle Giffords and killed six others. For nearly a decade now, the city's proximity to the border has made it a flashpoint for debates on bilingual education, immigration policy, and most recently, ethnic studies in public schools.
It's easy to see why folks around here might want to get away for an afternoon at the ballpark, yet even the sports landscape has been unstable. When Major League Baseball withdrew its Cactus League spring training outposts from Tucson in 2010, a 65-season legacy came to a close, draining millions of dollars from the local economy at the worst possible time.
"Baseball leaving devastated us in some ways," says Richard Elías, a Pima County Supervisor. "It was a great tradition thrown out the window." Fans who cherished stories of seeing Willie Mays or Randy Johnson play over the years now watched teams migrate north to avoid the bus rides back and forth to games in the Phoenix area. The exodus turned Tucson's baseball facilities from a source of profit and pride into a drag on the county budget.
In 2011, a group of local soccer aficionados seduced Major League Soccer on a whim. Exhibition matches between the Red Bull, Sporting K.C., and the fledgling hometown semi-pro club FC Tucson sold out despite a shoestring marketing budget. Four partners purchased FC Tucson and convinced the MLS to commit to an Arizona pre-season training schedule that could grow the regional soccer community and rally fans on both sides of the border.
"Everybody's welcome in this game," said Chris Keeney, a managing member of FC Tucson Events. "There's massive potential for a clean slate. We want this team to be the pride of Tucson."
MORE ON SPORTS
FC Tucson planned for months to host to six MLS teams this year, paying $110,000 to resurface local baseball diamonds into pro-caliber soccer fields. The San Jose Earthquakes and Sporting K.C. used the Kino Sports Complex for training, followed by the four clubs competing in the Desert Diamond Cup at the former spring home of the White Sox and Diamondbacks. Beyond the field, MLS players have reached out to the community, officiating a street soccer shootout, playing in a golf tournament to benefit a school for low-income students, and visiting a youth detention center for a Q&A. (The first question posed to the players: "Are you here for the publicity, or are you here to help us?")
This vision is this: In the years to come, Tucson emerges as a western hub for MLS pre-season, hosting a combine, several weeks of training for up to 8-10 teams, and a high-profile Cup. Keeney and his partners would use the proceeds to subsidize their FC Tucson club, which is already cultivating fans internationally thanks to grassroots support from a squad of volunteers from the city soccer leagues, 15 interns from the University of Arizona, and two full-time volunteer staff.
On the Saturday before the tournament, Keeney and his partners led youth soccer players and their parents on a mission to the neighborhood soccer fields. They parked the FC Tucson van (donated by a sponsor) beside an ice cream truck and went to work canvassing the crowd. Then it was on to the nearby Food City to slip fliers under windshield wipers and make a pit stop at the Sonoran-style hotdog vendor in the parking lot.
"FC Tucson will go as far as the community takes it," Keeney says. "We want to create an atmosphere that's like a 2,000 person block-party where a soccer game happens to break out."
Yet even community soccer has at times been a source of tension for Tucson. The population here is more than 40 percent Latino, with thousands concentrated in low-income neighborhoods where teams have lacked access to the same training and equipment as their white counterparts in wealthier areas of the city. While Tucson has a strong link with Hermosillo, Sonora across the border, recent state legislation requiring immigrants to carry identification at all times has offended many Latinos here and in Mexico. A 2010 bill that banned all public school curricula of which "race, ethnicity and oppression are central themes," led to the dismantling of Tucson USD's celebrated Mexican-American Studies program despite months of fervent protest, and a state-funded audit that concluded the program should be expanded.
"Right now there's a lot of distrust in the Latino community in regards to the laws that have been created here in recent years," says Jose Gonzalez, a curriculum specialist in the Mexican-American Studies program at TUSD. "The message being sent is: 'You're not appreciated here. The language you speak is in question. You being here is in question.'"
It's a message that's causing headaches for those who rely on Tucson's idyllic winter climate to generate tourism dollars. Businessmen here speak in terms of putting "butts in seats" and "heads in beds," filling local stadiums, restaurants, and hotels. A 2007 study found that more than 22 million visitors from Mexico pass through the community each year (legally, officials are quick to add), pumping nearly $1 billion into the economy. Arizona's Republican-sponsored legislation has caused "a perception problem," according to a representative from the Convention and Visitors Bureau's "Vamos a Tucson!" program, which aims to foster positive relationships with Sonorans. "Mexicans think they are unwelcome in the U.S., just like U.S. tourists see Mexico as being unsafe."
Last month, Tucson sent a soccer delegation across the border to Hermosillo, where fans agonize over the lack of a Division I soccer team. MLS Executive Vice President Nelson Rodriguez joined the coalition in an ongoing effort to "export the league," visiting Mexican media and school sports directors to whet the region's appetite for MLS soccer. "They welcomed us with open arms and invited us back," Rodriguez says. "It's a symbol of the success of the work that FC Tucson has done locally, and that MLS is doing globally."
Tucson leaders paint a utopian future: youth and professional teams alike regularly crossing the border to revel in soccer (and spend freely.) But FC Tucson head coach Rick Schantz wants his team to transcend business and politics. "We can be a unifying force in the community," he says. "When our fans are sitting in the stadium, for at least those two hours, all the worries in their life should be gone."
FC Tucson already has a newly incorporated support club, The Cactus Pricks. (Their motto: "We're a thorn in your side.") Club vice president Magdalena Barajas says that by drawing crowds to Kino Stadium, the tournament welcomes newcomers to a primarily Latino neighborhood far from the amenities of downtown. "There is a stigma to the south side. Some people won't come south of 22nd. This tournament draws people from all over the city to one place to enjoy a beautiful game."
Here in the shadow of the Santa Catalina mountains is a city that wants to restore its pride. "This has probably been the most terrible chapter that I've witnessed in Tucson history," says Elías the County Supervisor, a seventh-generation Arizonan, recalling a peaceful pro-Mexican-American studies protest last May that was met by police in riot gear. "Real Tucsonans want desperately to show the world what we're really like: fair minded, loving people.
"Historically, this community has always been a crossroads," Elías says. "Soccer can help Tucson hearken back to another time when we truly were a regional center." For inspiration, he points just a few miles south of Kino Stadium to the Valencia Archaeological Site, purchased by the county in 2010 to conserve a large, prehistoric Hohokam settlement that dates back to 800 A.D., and an ancestral home to the Tohono O'Odham people. Two plazas on site converge on a ceremonial ballcourt where archaeologists speculate that for 300 years people from miles around gathered to feast, trade, and play an ancient sport to resolve disputes and integrate the community.
Perhaps in hoping for a game to bring people together, Tucson is grasping for its deepest roots. If this new spring doesn't materialize, it won't be for a lack of soccer passion. Wednesday night in Kino Stadium, ESPN Deportes is live on the scene. The MLS delivers a big-time play right away when the Revolution's Benny Fielhaber scores on a bicycle kick in the second minute of the opening match versus the Galaxy. A crowd that spans the city and the border rises to its feet, many with ashes on their foreheads. Kids lean over the outfield walls, going bonkers every time the ball lands within 20 yards of David Beckham. At halftime, children's squads take the field for a friendly under the stadium lights while their parents cheer from the sidelines. New England defeats L.A. 3-2, but Beckham plays the whole 90 minutes and lingers afterward to sign autographs and field questions from the media scrum. By the next match, beer is flowing steady and the party kicks in to second gear. Salt Lake and New York lock horns in a close contest, and RSL's Brazilian striker Paulo Jr. scores late in the second half to hand Salt Lake a 1-0 victory.
Fans are already buzzing about next Wednesday's match between the Galaxy and the Red Bull, when Beckham, Márquez, Henry, and World Cup sensation Landon Donovan will be on the field at the same time. The tournament final on Saturday, March 3rd is nearly sold out. For at least the next two weeks here in Tucson, Arizona, the gates are open and the fans are singing.