Bill Monroe's Bluegrass Legacy: A Genre Forever Driving Ahead
Tony Rice's new The Bill Monroe Collection shows how the music style Monroe invented endures.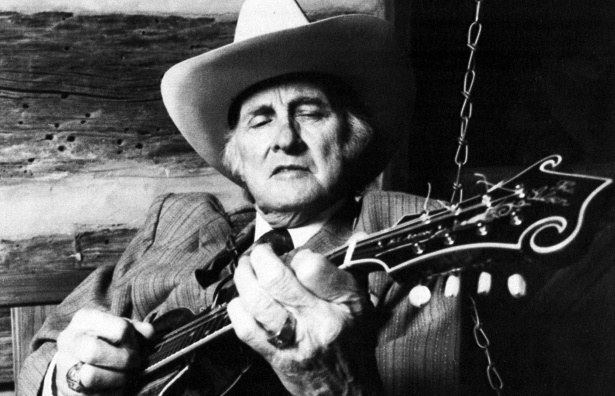 AP Images
In 1953, Bill Monroe, the father of bluegrass music, was driving home to Nashville in the early hours of the morning with his bass player and girlfriend Bessie Mauldin. According to Richard Smith's 2001 Monroe biography Can't You Hear Me Calling, Mauldin noticed there was a vehicle coming towards them, and told Monroe, "Bill, he's coming into our lane, get over."
Monroe, though, was having none of it. He was in the right lane, by God, and there was no way he was going to let some random idiot run him out of it. "Let him get over!" he said. Seconds later, they collided. Mauldin wasn't seriously hurt, but Monroe broke 19 bones, including his spine, and avulsed one of his eyes out of its socket. Even so, he got himself out of the wreck, walked around to Mauldin's side of the car, and pulled her free of the wreckage. After he was taken to the hospital, he was in a body cast for three months.
Monroe, in short, was a stubborn, stubborn man. Bluegrass, the music he created, has been stubborn too; a rough-hewn bone lodged irremovably in country music's smooth pop larynx. Last September marked what would have been Monroe's 100th birthday, and his music stands alone among the mélange of early country styles that were current when he was performing in the '30s, '40s, and '50s. Western swing, hillbilly boogie, honky tonk, rockabilly, blues, old timey -- they're all been assimilated into a largely undifferentiated substratum, barely audible under country's dominant blend of retro-pop and retro-rock. Only bluegrass remains a coherent subgenre, and as such, a touchstone of authenticity. When Patty Loveless wanted to show her rootsy bona-fides a couple years back on her Mountain Soul II album, she naturally gravitated to bluegrass, covering (among other things) the traditional, Monroe-associated "Working on a Building" in the company of reigning bluegrass king Del McCoury.
Del McCoury himself released an album this past October called Old Memories in honor of Monroe's centenary. As you'd expect given McCoury's reputation as the most prominent keeper of the bluegrass flame, it's an extremely, even excessively, faithful set. McCoury, who played and sang with Monroe briefly in the '60s, nails the master's high, lonesome tenor vocals. His band, too, could have stepped right out of the '40s, with a scraping, old-timey edge that makes the music sound tightly wound and ready to snap rather. Playing tracks like "Close By" and "Girl in the Blue Velvet Band," I kept forgetting that I wasn't listening to the original Monroe recordings.
That might have pleased Monroe, who, as his determination to stick in his lane suggests, liked things to be done the way they were supposed to be done. Still, bluegrass as embalmed period piece is not exactly in Monroe's spirit. Now that the genre has become the icon of all things authentic and traditional, it's easy to forget that the music was originally a syncretic innovation. Monroe and his bandmates (like the brilliant banjoist Earl Scruggs) combined elements of old timey and hillbilly music with the drive, energy, and soloing structure of then-modern jazz. Alan Lomax called it "folk music on overdrive."
He might have called it "folk music as pop." Before it was a festival staple, Monroe's music was a popular style. He had hits, and he kept looking for gimmicks that would allow him to get more of them. One of the most notable experiments was his 1954 revamp of his own "Blue Moon of Kentucky" which shamelessly rips off Elvis' uptempo cover version. The 1957 "Sally Jo" has a mandolin intro that almost quotes the guitar of Monroe fan Chuck Berry. And then there's "Scotland" from 1958, a remarkable combination of old and new in which the twin fiddles keen like bagpipes and Monroe's mandolin solo has the joyous percussive force of clog dancing.
MORE ON MUSIC
McCoury's note-for-note imitation, then, may actually be less in the spirit than guitarist Tony Rice's The Bill Monroe Collection, released last week. An anthology of Rice's Monroe covers from 40 years of picking with the Bluegrass Album Band, as a solo artist, and with other combination, the album stays away from Rice's most newgrass and jazz impulses. Even so, it has a very different feel from classic Monroe. On his version of "Mule Skinner Blues", for example, Monroe would soar up into the ether, yodeling like his voice was determined to scramble out of his throat and never come back. Rice's version has little of that urgency; instead, it's a shoulder-shrugging roll, the yodel less a yodel than a lazy, comfortable, drawn-out phrase. Similarly, when Monroe performed an instrumental like "Kentucky Mandolin," he bludgeoned folk music till it turned into death metal, every note a hammer cracked against the inside of a skull. Rice's instrumental, like "Jerusalem Ridge", on the other hand, are certainly fleet-fingered, but they aren't driven. Far from metal, they instead tremble on the verge of New Age comfort music.
This isn't to dismiss Rice. On the contrary, I have a lot of affection for his easy version of bluegrass. For example, I love his 1992 spiritual "You're Drifting Away," included here as the final track. The duet vocals with Rice's brother Larry alternate, not pushing each other so much as lending each other a hand. "You're drifting away, you're drifting away...don't wait to let Jesus hear you pray," they sing, and the performance itself is as smooth and gentle as the water, poignantly lyrical brimstone.
Not everything that's happened to Rice's brand of bluegrass has been pretty; Bela Fleck is an abomination, and the bulk of Alison Krauss gives me stomach pains. Still, for better and sometimes for worse, bluegrass remains relevant not because it's a pure repository of ye olde tradition but because, at least to some extent, it isn't. As a driver, Monroe might not have swerved, but as a musician he and his legacy have been quite willing to veer about, from Monroe's flirtations with rockabilly, to Emmylou Harris' influential mixture of bluegrass, country and folk, on over to the Del McCoury band's interesting, if not exactly successful, album last year with the Preservation Hall Jazz Band. With any luck, the music will continue to experiment with new forms, both sublime and misguided, for the next 100 years.