At Wing Bowl XX, Two Competitive Eaters' Legacies Are on the Line
Takeru Kobayashi and Bill "El Wingador" Simmons will face each other at Philadelphia's annual wing-eating competition.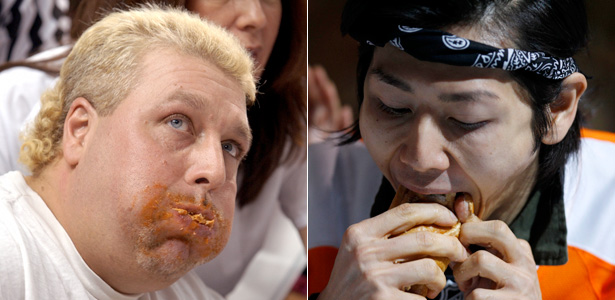 AP Images
Al Morganti knows the Wing Bowl has gotten out of hand. When it comes to a party, no competitive-eating event does it quite like the annual chicken wing-eating contest, a 6 a.m. Mardi Gras-type atmosphere full of beer, bare breasts, big personalities, and about 3,000 Buffalo wings. It's an unofficial holiday for South Philly where those who've tailgated all night in the Wells Fargo Center parking lot gather—and sell out—the arena the Friday before the Big Game.
"No one has the carnival we have," says Morganti, the host of Sports Radio WIP's "The Morning Show" and founder of the Wing Bowl, which is happening for the 20th year in a row this Friday.
"It's one of the politically incorrect events that you'd be correct to attend. There's no redeeming social value to it and we don't pretend that there is. You're not going to meet afterwards and discuss the lessons you learn in life."
The Wing Bowl's began as a barroom wing-eating contest at a local Philadelphia hotel, an excuse to fill the void of the Eagles not making the Super Bowl in 1993. Since then, Morganti and SportsRadio WIP have helped turn Wing Bowl into one of the preeminent events in competitive eating. "When you do morning radio, there's a certain time of the day or certain period of the year where most men just want to go back to the seventh grade," he says. "Fortunately for us, we kind of live in the seventh grade, so we can go back to junior high and the girls come back to life and everybody's coming out to [the Wells Fargo Center] hoping not having to go to detention at noon."
You couldn't make up the ways this year's competitors made it into Wing Bowl XX. One veteran ate four pounds of lasagna in five minutes. Another vet ate 6 feet, 9 inches of sushi off Wingettes, the bikini-clad assistants who escort the Wing Bowl competitors to the stage. One rookie scarfed two pounds of pasta and one pound of rabbit (yes, rabbit) in 10 minutes. Another rookie, the only female in the competition, standing all of 5-feet tall, ate 10 feet of sausage in under five minutes. That's just an appetizer. They're all up against the three-time defending champion, Jonathan "Super" Squibb, a 20-something New Jersey accountant coming off a record-breaking performance last year.
And then there's the icon and the legend. One will be reintroducing himself to a major competitive eating competition, looking for a win in his first Wing Bowl. The other will say goodbye to the event that made him famous, hoping to bring home his sixth Wing Bowl title. They're friends and admire one another, but not when the competition is underway, not when parts of their legacies are on the line.
TAKERU KOBAYASHI CAN'T STOP taking pictures of his food. Shortly after entering Petite Abeille on a rainy Friday morning in Manhattan's Chelsea neighborhood, Kobayashi begins snapping photos of the Belgian restaurant, his latte, our mozzarella and tomato sandwiches, and the three baskets of French fries on the table. Snap, snap. Snap, snap. He is observant of the mostly-empty restaurant, his parted, shaggy jet-black hair covering his right eyebrow, still looking like a teen idol. "When he eats, he's not trying to eat a lot of it," says Maggie James, his publicist. "He's the first person to make sure we're going to a place with good ambiance, making sure we're trying something new. He's so detailed about how the food is good and how it's not good. He could have been a food critic."
Just like that, we're reminded of the artistry and the subtlety of Kobayashi, the methodical devourer of food who helped take competitive eating to new heights thanks in part to his six consecutive titles at the Nathan's Hot Dog Eating Contest, becoming the face of the sport and a national hero in Japan in the process. And subtlety can be elusive when you hold or have held world-eating records for hot dogs, Twinkies, meatballs, pasta, and hamburgers.
But things are a little different now. At 33, he is still considered one of the world's premier competitive eaters, this despite not participating in a sanctioned International Federation of Competitive Eating event in about two years as a result of a contract dispute. He's still just as impressive as any eater, but some of the luster has come off, due in part to the rise of Joey Chestnut as the face of the Nathan's competition and Kobayashi staying out of the bigger competitive eating events, opting to try to develop and organize smaller, upstart competitions. This Kobayashi sitting in front of me is at peace with himself and his place in the sport, knowing he now has control of his career.
"To work with freedom is completely different," he says. "I feel happy every morning I get up and to do this now. It just feels good. It feels right."
As a 23-year-old college student at Yokkaichi University, a private school in Yokkaichi, Japan, Kobayashi and his friends went to a local curry chain in 2001. When they arrived at the restaurant, there was a challenge menu that dared anyone to eat 1,300 grams, or almost three pounds, of curry rice. By the time Kobayashi finished the challenge, he had eaten around 5,100 grams of curry rice, equaling more than 11 pounds, almost four times the amount of the stated challenge. After dominating two television challenge shows in Japan, he competed in his first Nathan's competition later that year, a contest he would go on to win six consecutive times. His success was all the more impressive considering his relatively small size: He's just 5-foot-8, 128 pounds. But he was bested by Chestnut for three consecutive years before the contract dispute. Since his 2010 arrest at the Nathan's competition for attempting to charge the stage, he has kept a relatively low profile, while still doing other events such as the July 4th exhibition he put on at a New York rooftop bar that ran simultaneously against the Nathan's competition. (He ate 69 at the event, a personal best.)
"No one will ever see me on the Coney Island stage again," he tells me.
"That stage was something that was a part of him and now he's doing new things," James says for him. "That's a chapter of his life that is closed."
Much is expected of Kobayashi, and he knows it. He also understands the challenges going into his first Wing Bowl. His arthritic jaw still bothers him when he trains too hard. Wing Bowl will be the longest competition he's been in since his 2007 injury. Until this week, he hasn't had a chance to train with the actual wings to be used in the competition. And there's still a curiosity of seeing if Kobayashi will lose. Yet he's not nervous or anxious but instead excited and ambitious about what he can do in Philadelphia.
"I definitely want to eat 300," he says. "The record is 255. I certainly want to go to 300, no matter what." He adds later: "I know that Philadelphia is the place where they wrote the Declaration of Independence, and realizing that and reading history about that made me feel like that's the next step. I kind of felt like it was something I needed to do."
He demonstrates his technique, moving the French fry baskets to show me what goes through his mind as he decides which hypothetical wing he was going to eat first, what angle he was going to pick it up from, which wing he was going to have next, if the angle would be different on that one, and over and over again. He dips his hand into his glass of water to show that he needs his water at a certain height. He's cerebral, even professorial as he explains it to James for me. It's a balance that he says he got from his father, Yasouo, a historian at Japan's first Buddhist temple, and his late mother, Toshiko, who died about five years ago.
Wing Bowl won't be a completely new experience for Kobayashi—he ate a cheesesteak in 24 seconds at last year's halftime show - he admits that he doesn't fully grasp the enormity of this year's event. That is starting to change.
"I don't really feel nervous or anything, but now that you're saying it to me, it's kind of making me excited," he says. "I haven't had a moment to get excited."
"He's thanking you for that," James says.
SHORTLY AFTER CROSSING OVER the Walt Whitman Bridge, the El Wingador-mobile pulls up to Vitale's Bistro in nearby Gloucester, N.J. Walking out of the car, Bill Simmons—not to be confused with the ESPN personality—is an intimidating figure at 6-foot-5, 330 pounds, dressed in a red T-shirt from a South Jersey pub and metal blue cargo shorts. He says to me that it will be a light lunch today. "I do dress better than this," he tells me, nodding his bleach-blonde hair, "but it's Saturday." He again insists that it's going to be a light lunch. Walking inside the dimly lit Italian restaurant and bar, several sets of eyes turn to El Wingador as he makes conversation with the bartender, making time for each person who passes by to wish the local legend good luck; one man brings over his son to remind Simmons how he once tossed his boy a bandanna at an event. Soon, he becomes the main attraction.
"I'm not nobody's hero," he turns to me before ordering the "light lunch," which consists of a Caesar salad, a chicken cheesesteak with French fries, and mussels marinara over a heap of linguine. "It's just an eating disorder and I'm really good at it."
El Wingador has one more Wing Bowl in him and he knows it. He couldn't step away after last year's one-wing loss to Squibb, not after he ate 254 wings, the second most in the history of the competition. One more run, that's what he needs.
"I got a family I have to worry about," he says. "I always go to the edge."
Simmons' story remains the stuff of local folklore once reserved for fictional boxers. Coming from a humble Woodbury Heights, N.J. home—his father a truck driver for a food services company for 35 years, his mother a homemaker—Simmons was a tall, skinny kid who loved baseball and tried out for the Philadelphia Phillies and Atlanta Braves when he was 19. He also had a penchant for skipping school—he ditched class and baseball practice on the day that then-Temple baseball coach James "Skip" Wilson was supposedly going to offer him a full ride. Soon thereafter, he got his first wife pregnant, putting baseball and college ambitions on hold indefinitely. Simmons would follow his father's path, working as a truck driver for almost 19 years, driving tractor-trailers, dump trucks, cranes, anything.
Things would change. In January of 1999, Simmons' friend, Kevin "Heavy Keavy" O'Donnell, was bowing out of Wing Bowl after winning it twice. Organizers wanted him to find a replacement. Enter Simmons, a guy who ate chicken every day of his life and ate it fast, thanks in part to the dinners he would crush as a kid when all he wanted to do was go outside and play sports. He would go on to redefine the event, winning five of the next seven Wing Bowls, cementing his place in Wing Bowl and Philly lore.
"He's become sort of a local face of the event and maybe the face of the event," Morganti says. "I really think the fact he's a local guy has meant a lot."
Simmons goes at one speed: max power. He's naturally hyper, texting on his phone, eating, calling people, eating, talking Philadelphia sports, eating some more. He keeps talking about life after Wing Bowl, how he and his management are taking meetings for a proposed competitive-eating show to find the biggest eater. He admits that he's had trouble sleeping lately amid the training.
"I'm not nervous, but I'm very anxious," he says, knowing his wife and his managers feel like he's one of the favorites to take out Squibb, Kobayashi, and co. on Friday. "I love to compete. I know a lot of people depend on me."
In the middle of the third part of his lunch, Simmons mentions to his friends that Joseph Paul, known as Wing Bowl VIII champion Tollman Joe to Wing Bowl loyalists, recently died. At 50, Simmons understands the risks involved with continuing to put a straining level of physical and mental pressure on his body. During the four-month period of training, he eats 15 pounds of food a day. To keep his blood pressure and cholesterol in manageable shape, he takes morning two-mile walks on his treadmill, does some work with weights, and walks another two miles at night with his wife, Debbie. He's anything but lazy.
"I didn't want to be perceived as a fat guy who eats a lot," he says. (When baseball player Jose Canseco originally brushed off the idea of fighting Simmons in a celebrity-boxing event because he was a chicken-wing eater, El Wingador recalls Canseco saying, "Dude, I didn't know you were that big.")
But he gets that this year has to be his last Wing Bowl. He said the same thing last year, too. Seeing one of his former Wing Bowl brethren die at 60 is a reminder of the long-term risks involved. He gets it. He pauses.
"I've thought about that before," he says in between bites of his linguine. "There's no turning back now. Let's hope they don't have to take me out in a body bag because I put my heart on that table."
Leaving Vitale's, he meets with his family and management team at a nearby bowling alley. He shakes more hands, talks to more people, bowls for a few frames, and eats some pizza. The eating will stop two days before the competition, sticking exclusively to coconut water, making him downright irritable the morning of the competition. Simmons wouldn't have it any other way if it meant riding off into the world of reality television with a sixth Wing Bowl championship.
"I'm not even full," he says, exiting the bowling alley in the El Wingador mobile, the sun beginning to set on the sunny day in the Philadelphia area.
YES, WING BOWL XX is going to be a spectacle, but it has also become a staple of the sports diet in Philadelphia, where names like El Wingador and Super Squibb have become part of the order of local athletes. For Morganti, Wing Bowl's staying power remains amazing. "Some of these [Wingettes] that are 20 or 19 weren't even born when we started this thing," he says. "Every year, I think it's going to be the last one. So far, every year I've been wrong."