Why Aren't These Two Players in the Baseball Hall of Fame?
No, we're not talking about Shoeless Joe Jackson and Pete Rose.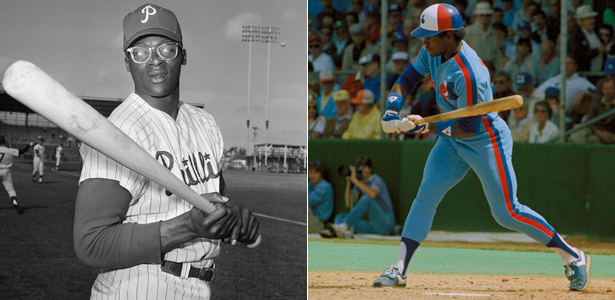 AP Images
If you didn't hear yesterday's announcement that former Cincinnati Reds shortstop Barry Larkin had been elected to the Hall of Fame, then you understand how the HOF voters get away with some of the selections they make—or in some cases, don't make. This isn't a knock against Larkin, who deserves a plaque in Cooperstown; in 19 seasons Larkin hit over .300 nine times, made twelve All-Star teams, and stole 379 bases. He was as good or better than most shortstops already in the Hall—Phil Rizzuto, Pee Wee Reese, Luis Aparicio.
But there should be several other players joining Larkin at the induction ceremony in July—players, to be honest, who are more worthy than Larkin and who have been waiting around even longer. Only in a sports week dominated by the NFL playoffs and the college football championship could the Hall of Fame slip by with such omissions without being criticized for them.
I'm going to put aside discussion of the obvious merits of Shoeless Joe Jackson, a .356 hitter for 13 seasons banned from baseball forever for his part in the 1919 Black Sox Scandal, and Pete Rose, baseball's all-time hits leader under suspension for having bet on games while managing the Cincinnati Reds. Jackson will probably never be exonerated. Rose will eventually be reinstated and become a first-ballot Hall of Famer.  But no matter how many hits Rose got, there are at least two players I regard as more worthy of the Hall than he is.
MORE ON BASEBALL
Dick Allen—known for most of his career, to his intense irritation, as Richie—may be the best player eligible for the HOF who isn't there.  Allen played just 10 full seasons over a 15-season career between 1963 (when he played just 10 games) and 1977, though he lost a significant number of games to injury.  He was Rookie of the Year in 1964, led the National League in home runs twice and RBIs once, on-base average twice, and slugging average three times.  He won the 1972 American League MVP award and made seven All-Star teams.  And he did it all while playing in perhaps the worst period for hitters since baseball's dead ball era back before World War I.
That Allen has been virtually forgotten by HOF voters—both the regulars and members of the Veteran's Committee—is puzzling. Orlando Cepeda, a contemporary of Allen's who also played most of his games at first base, hit 379 home runs to Allen's 351. Cepeda, despite being involved in a post-career drug scandal, was voted into the Hall in 1999.   But Cepeda batted nearly 1,600 more times than Allen to produce those 28 more home runs.  Another HOF first baseman who played in that era, Harmon Killebrew, hit 573 home runs in 22 seasons, but Allen hit him .292 to .256, won three slugging titles to Killebrew's one, and hit more doubles, triples and stolen bases while batting 1800 fewer times.
Nearly all deserving players who have been denied Cooperstown have been kept out by involvement in some kind of scandal such as gambling or drugs.  With Allen, the problem is harder to pin down.  William C. Kashatus, a Philadelphia-based historian and author of a book on the Phillies 1964 collapse, September Swoon, says, "Dick had a very undeserved reputation as a malcontent.  For several years he clashed with the Philadelphia sportswriters, who were then the hardest to deal with in the country, and Phillies fans who believed what they read."  This is a polite way of saying that Allen was young, black, and defiant in a time when the sports press, by definition white, preferred their black athletes to be jovial and humble in a Willie Mays mode.
In 1965, Allen brawled with a white teammate who had been making racial slurs about another black player on the team. For the next four years until the Phillies finally traded him to the Cardinals in 1969, life in Philadelphia was hell. Ever since, most sportswriters who assess Allen's career and HOF chances have pretty much taken their lead from the Philadelphia press of that period. And yet, nearly all Allen's former managers and teammates have openly supported him and championed his HOF credentials.  In fact, Allen worked for several years for the Phillies in a community relations capacity.  Isn't it about time the HOF voters came around and stopped nursing grudges that those who were there during Allen's career forgot long ago?
Tim Raines is an even odder omission from the HOF. Raines admitted to using cocaine during the Pittsburgh drug trials of 1985, but plenty of players have been forgiven for recreational drug use. However Raines, who is now in his fifth year of eligibility, has never garnered as much as 50 percent of the vote. (This year he got 48.7 percent, well short of the 75 percent needed). Raines, who played for 23 seasons in the major leagues, was, at his peak, a better player than another switch hitter, Pete Rose, whom everyone agrees would be in the HOF except for his gambling.
In Rose's 15 best seasons—according Total Baseball's Total Player rating—he played in 204 more games than Raines, 2,256 to 2,052. Rose had 543 more hits, but Raines had more home runs (149 to 129), more walks (1,134 to 1,040), and—here's the clincher for me—a huge edge in stolen bases (770 to 117).  He also ground into just 57 double plays to Rose's 173.
That's if you simply want to compare the two of them at their peaks.  For their careers, Raines—who batted 581 more times, the equivalent of one full season—hit more home runs (170 to 160) and, though Rose has nine-point edge in batting average (.303 to .294), he trails Raines in on-base average (.377 to .385) and slugging (.409 to .425).
So why didn't the voting members of the Baseball Writers Association of America  jump at the chance to make him a first-ballot Hall of Famer in 2008? Probably because unlike Pete Rose, Tim Raines left no single identifiable mark or statistic behind.  Rose, of course, broke Ty Cobb's all-time hits record and retired with 4,256.  Raines walked far too often to accumulate a hit total like that; in fact, though he reached base more frequently than Rose, he never seriously approached 3,000, retiring in 2002 with 2,605. But Raines had more power and more speed than Rose and used up fewer outs to produce runs.
Yes, baseball needs to settle up with Pete Rose, but that's going to require a major reconciliation between Rose and Major League Baseball—specifically the office of Commissioner Bud Selig.  Tim Raines, though, doesn't need forgiveness for anything.  Even if they vote him in next year, the baseball writers should be asking his forgiveness  for making him wait so long.