What the Epic, Six-Hour Australian Open Final Says About Tennis Today
Is the brutal style of the Djokovic-Nadal match here to stay?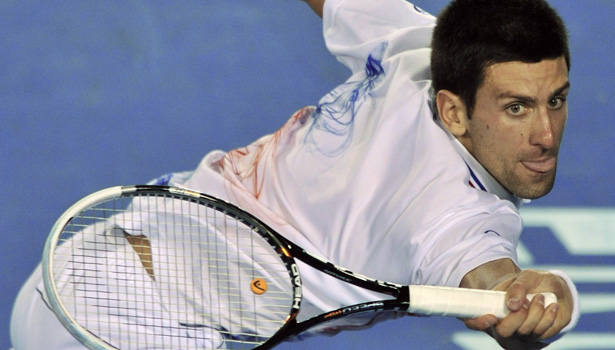 Reuters
After I failed to allot enough time on my DVR to record the entirety of Andy Murray and Novak Djokovic's five-set semifinal match at the Australian Open on Thursday evening (Friday, Australian time), I was determined not to make the same mistake with the men's final between Djokovic and Rafael Nadal. ESPN2's overnight coverage was scheduled for three and a half hours, and I extended this by another three—the maximum possible on my system for one program. Six and a half hours should do it, I thought, even assuming the match wouldn't start until a half hour or so into the broadcast.
Silly me. I woke up Sunday morning and watched the match through to the agonizing fifth set, when, after an exchange of breaks, Djokovic finally managed to take the lead, 6-5, with a chance to serve for the title. Then my recording cut off, one game short, it turned out, of the denouement--yet another Djokovic victory against Nadal in a championship match, and the third consecutive in a Grand Slam final.
The two men played for five hours and fifty-three minutes, a record length of time for a Grand Slam final. But considering that in 2009 they played a three-set match on clay that lasted four hours, it's hard to be shocked that once they finally did play a five-setter, it would approximate the length of a trans-Atlantic flight. On Sunday, the first set took an hour and 20 minutes, on pace for a nearly seven-hour encounter. Given their eleven-hour match at Wimbledon in 2010, John Isner and Nicholas Mahut may not have been particularly impressed, but at least they had the luxury of playing on grass, which is easier on the players' bodies. Nadal and Djokovic, playing a grueling series of matches in the last couple of years on hard courts, have likely shortened each other's careers.
MORE ON SPORTS
Still, a note of skepticism may be in order: Though yesterday's final will deserve its place as a historic match of two players in their prime, it's not because of the sheer time it takes them to play. Both Nadal and Djokovic are notoriously slow players —between points, that is. Both men often take longer than the allotted 30 seconds between points, a habit that has often irked Roger Federer, who likes to play quickly and smother his opponents rather than engage in a prolonged dogfight where endurance and mental stamina become paramount. Of course, what Andy Murray called the "brutal" nature of some of today's tennis rallies means that the 30-second rule should not be enforced too literally at the wrong moment, especially in a final. It's hard to imagine umpire Pascal Maria penalizing Djokovic when, after losing a 31-shot rally in the fifth set, he fell to the ground and began huffing and puffing like a drowning man.
Stephen Tignor, of Tennis magazine, wittily described Djokovic as the Benjamin Button of tennis, since he often begins matches in a state of seeming exhaustion and decrepitude before looking fresh as a daisy four hours later. There is undoubtedly an element of melodrama, showmanship, and gamesmanship in Djokovic's displays, and before he became the invincible player he appears to be today, the same habit got him into trouble with other players and with fans. Now that he does the same thing and wins, it can make him seem charming and heroic, battling his partly real, partly feigned bodily weakness to overcome all opponents, even the implacable Nadal, whom he has now beaten in seven consecutive finals.
This "brutal" tennis, with long rallies and hence long breaks between points, may be here to stay. The hard courts of the Australian Open and the US Open are not fast surfaces, and other tournaments, partly in reaction to improved racquet technology, have in recent years slowed down their courts and begun using heavier balls, thus making it harder to hit someone off the court. Such conditions, which work against an aggressive player like Federer, are ideal for Djokovic and Andy Murray, who both play incredible defense and use combinations of shots, rather than outright power, to wear down their opponents.
For unrepentant Federer fans, the five-hour semifinal between Djokovic and Murray, then the six-hour final between Djokovic and Nadal, should be cause for worry. It looks as though it may now routinely take a kind of masochism, a relishing of suffering and lunging and sliding and diving, to outlast opponents in the key matches of Grand Slams. In his distinctly idiomatic but strangely eloquent way, Nadal spoke about this suffering in his post-match press conference: "But that's nice be there fighting, you know, trying to go to the limit, bring your body to the limit of his chances. Something I really enjoy, and I always said is good suffer, enjoy enjoy suffering, no?" This is the language and the psychology of endurance sports, such as distance running and cycling. It is a mind-set that seems to be shared more closely by Nadal, Djokovic, and Murray than by Federer. Federer is proud of playing and winning quickly; his main rivals seem to draw their strength, paradoxically, from the very rallies that exhaust them.
Matches like Sunday's between Djokovic and Nadal raise the question of how much more punishment these athletes can take—not to mention whether the tennis season, in its current form, is too long. But neither Murray nor Nadal seemed at all dispirited after what must have been devastating losses to Djokovic. On the contrary, and defying all psychological expectations, they seemed energized, even encouraged, by their losses. No matter which two players make it to this spring's French Open final, then, I'm setting my DVR to record for at least ten hours, just to be safe.