What Linda Lovelace's Story Does and Doesn't Say About Porn Today
Two biopics about the Deep Throat star are in the works. Hopefully, they acknowledge the limits of her tale—and how much the adult industry has changed.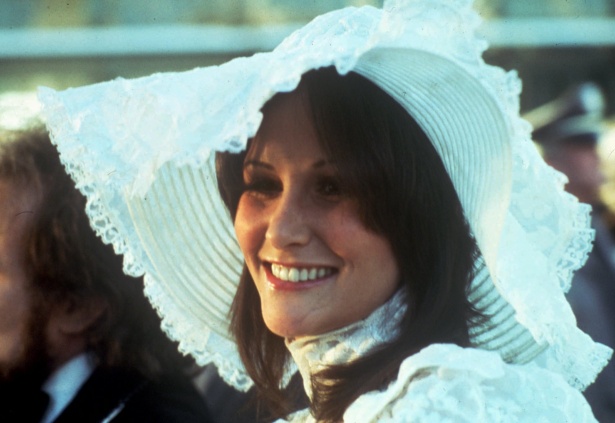 AP Images
We'll be hearing a lot about Linda Lovelace in 2012. This June marks the 40th anniversary of the release of Deep Throat, the classic adult film that starred her. In commemoration of that milestone, Hollywood filmmakers are in the process of producing not one, but two, biopics of the late porn star: both Lovelace, with Amanda Seyfried in the title role, and Inferno: A Linda Lovelace Story, starring Malin Akerman (who replaced Lindsay Lohan after a whirlwind of tabloid drama).
The fact that there will be two competing Linda Lovelace stories coming out in succession isn't such a surprise. Think of it as a pornier version of the phenomenon that brought us both Friends with Benefits and No Strings Attached in the summer of 2011. Far more interesting is the sudden fascination with the woman behind Deep Throat—and what, exactly, her twin biopics will attempt to tell us about her life, her work, and our modern relationship to the adult industry.
Linda Lovelace's tale is both compelling and tragic. Drawn into the world of adult entertainment by husband Chuck Traynor, Lovelace was catapulted to international fame with the release of Deep Throat, one of the first pornographic films to garner any kind of mainstream media attention. Alas, fame did not lead to happiness. Instead, Lovelace's post-Deep Throat years found her leaving the world of porn, struggling with drug addiction, and ultimately allying with anti-porn crusaders like Andrea Dworkin and Catherine MacKinnon, fortifying their claims against the adult industry with tales of her own mistreatment and abuse. But even that did not result in a redemptive denouement for Lovelace: She later claimed that, in the end, the anti-porn feminists had exploited her as well.
Given the drama and tragedy of Lovelace's story, it's easy to see how it makes a compelling film. And living as we do in a world that's "gone porn"—at least if you believe the countless trend pieces about the topic—it's almost impossible to not try and draw some broader lesson about the modern world from Linda Lovelace's tragic tale. But leaning too heavily on the Lovelace story in an attempt to understand the modern world is a mistake. For as much as the success of Deep Throat informed and shaped the trajectory of adult entertainment for years to come, the adult industry that existed in the '70s bears little resemblance to the one that creates the porn many of us enjoy today.
At the time that Lovelace shocked the world with her prodigious fellatio abilities, pornography was technically illegal to produce in the United States. In fact, it was not until the late '80s, when California v. Freeman effectively legalized the production of pornography in the state of California, that porn was able to move into a more legitimate space, and away from the black market ties that enabled and facilitated many of the abuses that Lovelace railed against during her anti-porn crusade.
And the legal status of the adult industry isn't the only thing that's changed. Over the past few decades, numerous factors—political, financial, and health-related—have worked to professionalize and transform the industry. Greater awareness of STIs and HIV has led to rigorous testing regimens intended to keep performers safe; government records keeping regulations (also known as 2257 regulations) have forced companies to be on their toes about proving that their performers are of legal age; and, most recently, rampant piracy has forced companies to professionalize and produce quality products or ultimately shut down. True, Porn Valley still isn't home to anything resembling a typical office environment, but it's dramatically different from the mob-run free for all that existed in the Deep Throat days. Tellingly, the closest thing that 2012 has to a Linda Lovelace is adult performer-turned-actress Sasha Grey (who, incidentally, is featured in Matthew Wilder's Inferno)—and though Grey seems to have no love for the industry that made her a household name, she's never once described her former work environment in anything but the most professional terms.
It remains to be seen how Hollywood will ultimately frame the story of Linda Lovelace and the industry that thrust her into the spotlight. But I'd offer that, instead of using the 40th anniversary of Deep Throat as a time to decry the assumed evils and abuses of the world of porn, we might all be better served by taking a moment to be grateful for how dramatically far the industry has come. I'm not sure what sort of lesson audiences will take home from seeing Malin Akerman and Amanda Seyfried reenact the story of Linda Lovelace. But I think it's pretty clear what lesson the adult industry learned from the woman herself.