The Where and Why of Coachella 2012
From which cities do the bands playing the iconic rock festival hail?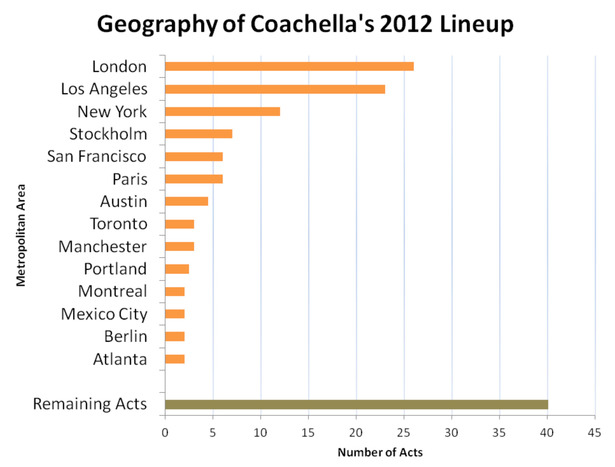 Making the bill at Coachella signals a certain level of value to big labels and record industry tastemakers as well as to the wider public. The rapper Azealia Banks rode a wave of Internet buzz to this year's Coachella stage before she signed to a major label or even made a full-length record. Being a big act's protégé can help too. Rumor has it, for example, that Dr. Dre only agreed to perform when the festival booked his protégé , Kendrick Lamar.

Coachella thus provides an interesting lens into the evolving geography of popular music, enabling us to map the locations and music scenes where not just the most established acts, but some of the most intriguing up-and-coming acts hail from.MPI alum Patrick Adler, now a grad student in Urban Planning at UCLA, gathered locational data on the 2012 Coachella acts from multiple sources, including band websites, MySpace, Sound Cloud, All Music, Pitchfork and music journalism. When possible, he gave priority to locations entered by the acts themselves. For veteran acts, he used their location when they achieved their greatest popularity. For acts with multiple locations, he gave fractional points to each location.
Read the full story at The Atlantic Cities.