The Revenge of the Paperback Book
A new book series attempts to revitalize the printed word with innovative design.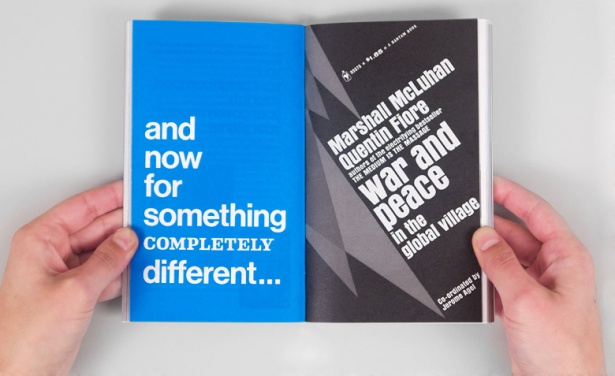 The Electric Information Age Book
Before Kindle and Nook, the mass-market paperback book was the publishing industry's crown jewel. Convenient and compact, it was the inexpensive alternative to bulky tomes and ripe for avant garde experimentation. During the 1960s, experimentation is exactly what pioneer book producer Jerome Agel and graphic designer Quentin Fiore did by turning otherwise static pages into cinematic displays of word and image. Now, with the book becoming a multi-sensory, multi-media experience, Adam Michaels, a co-founder of the New York design firm Project Projects, has partnered with Princeton Architectural Press in creating a series of mass-market-sized paperbacks as a bridge between then and now—and as a celebration of Agel and Fiore's vision.
"Neglected by publishers in recent years, the mass-market paperback format remains highly desirable for its accessibility, both in terms of portability/usability and its low production and purchase costs," Michaels says. He believes the paperback provides the ideal format for creating experimental books and experimental design to enhance "a reader's reception of content."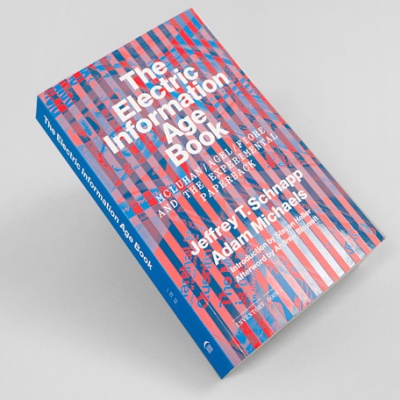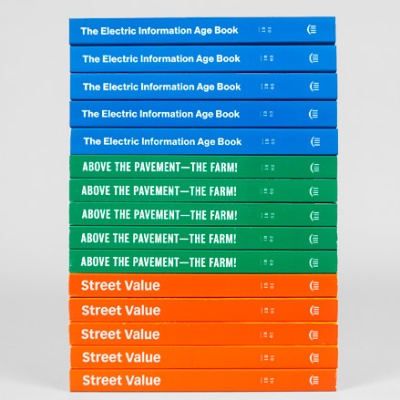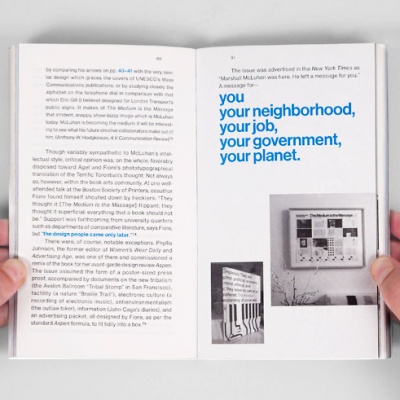 A mixture of wishful thinking and practical wisdom guides Michaels's launch of Inventory Books, a series exploring topics that combine social engagement and design. The first two of three books are Street Value: Shopping, Planning, and Politics at Fulton Mall by Rosten Woo and Meredith TenHoor with Damon Rich, and Above the Pavement—the Farm: Architecture & Agriculture at Public Farm 1, edited by Amale Andraos and Dan Wood. Each book shares the same physical format and nearly identical print specifications, yet each interior is different, with an editorial and design approach tailored to the particulars of subject matter and visual materials, and with textual and visual information conveyed through varied use of typography. "In a sense, this is the work that I always aspired to do as a designer," Michaels says.
Michaels has been collecting experimental paperbacks from the '60s through '80s for a number of years. Noteworthy for their kinetic attributes and bold typographic schemes, the most influential is The Medium is the Massage, produced in 1967 by Agel and designed by Fiore, which showcases many of Marshall McLuhan's prognostications on the future of media through photomontage and other optical trickery. Agel also produced I Seem to Be a Verb by Buckminster Fuller (1970), which Michaels notes was "mind-expanding as a design object that was much more confusing in terms of content."
Michaels's recent book, The Electric Information Age Book, co-authored with Jeffrey Schnapp, a Harvard University professor of romance languages and literatures, affiliated with comparative literature and the Graduate School of Design, is an overview of the nine-year window of mass-market publishing "when formerly backstage players—designers, graphic artists, editors—stepped into the spotlight to produce a series of exceptional books." These inexpensive volumes brought ideas of contemporary thinkers, including Marshall McLuhan, R. Buckminster Fuller, Herman Kahn, and Carl Sagan to the masses, through unique visual and textual compositions, collages and typographic innovations. The Electric Information Age Book is the first book-length history of this brief yet influential publishing phenomenon.
In this age of diminished print projections, The Electric Information Age Book (to which I contributed an essay) is a paradoxical manifesto on the future of the book. Although a great deal focuses on presenting and analyzing the historical artifacts, "this book, and Inventory Books in general, stand in opposition to the vast, self-defeating conservatism of the publishing industry," Michaels says. In fact, he argues for more printed books of the kind that Fiore and Agel produced as means to illuminate complex themes. "Their work was vital work to translate McLuhan's thought into an accessible form for the masses," he explains, "bringing his far-reaching insights into a more legible form than McLuhan could have possibly achieved on his own."
Michaels adds The Electric Information Age Book is "structurally most similar to [another interpretation of McLuhan] that of War and Peace in the Global Village, consisting of running texts punctuated by visuals, rather than the punchier, more fragmentary approach of Medium."
The so-called electronic age paperback book has circuitously evolved into the current digital book. And although Michaels insists he is enthusiastic about the potential of digital publishing, he is "thoroughly underwhelmed by present offerings." He adds, "The innovations of The Medium is the Massage and the other featured experimental paperbacks [discussed in The Electric Information Age Book] appear highly instructive as a starting point for expanded narrative possibilities in digital books." For those of us who refuse to accept the extinction of ink-on-paper books yet embrace the potential of digital media, Michaels and Schnapp's homage proves the past can guide the future—and just as the vinyl record is enjoying a comeback, the kinetic paperback book may have a future too.