The NHL's Superstar Problem
Would people care more about hockey if there were better players to root for?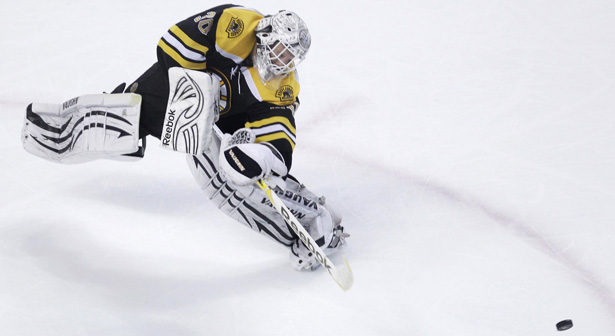 AP Images
Every week, our panel of sports fans discusses a topic of the moment. For today's conversation, Hampton Stevens (writer, ESPN and The Atlantic), Patrick Hruby (writer, ESPN and The Atlantic), and Jake Simpson (writer, The Atlantic) talk about pro hockey.
---
With the always-interesting Pro Bowl coming up on Sunday, let's delve into the matchups... ORRR we could talk about the most interesting regular season going on (at least on this side of the Atlantic). That would be the NHL, where a combination of Original Six teams and marquee franchises are tearing up the competition and setting the stage for the most exciting postseason since this happened.
Just like in 1994, the Rangers are atop the points standings and rounding into form thanks to Henrik Lundqvist's superb goaltending and a series of memorable game-winning goals by the team's stars. I've stayed away from the Rangers since they plunged into mediocrity around 2000, but Brad Richards' impossible game-winning goal with one-tenth of a second left earlier this year sucked me in. Now that the Blueshirts have won the Winter Classic and beat Boston on another last-second game-winner, I'm ready to break out my Mark Messier jersey.
New York will have to compete with the Boston Bruins, Philadelphia Flyers, and Pittsburgh Penguins in the East, not to mention the Detroit Red Wings and Chicago Blackhawks in the West. For those of you scoring at home, that's four of the Original Six franchises—the four U.S. ones. Sounds like a good recipe to get the general public back into hockey.
There have been off-the-field concerns, sure, from Sidney Crosby's aborted return to issue of transparency. What've you been following, Hampton? Or are you too busy watching Kansas basketball?
–Jake
Oh, is it is college basketball season? I must have missed it when 17-0 Baylor came into Allen Field House, and left sans mojo. You know the best part? When KU won, the fans just did the chant as usual and went home. We don't storm courts.
But let's put our conversation on ice. Sorry, that was bad—"spilled milk" bad. Nevertheless, hockey season is heating up (shoot me), with the league's 38 best vets and 12 top rookies gathered in glamorous Ottawa, Ontario, for NHL All-Star Weekend. You may have noticed, though, something missing. Thursday night, captains Zdeno Chara and Daniel Alfredsson choose their teams, schoolyard style, just like Major League Lacrosse, for Saturday's skill competition and Sunday's All-Star Game. But they had no stars to choose from.
Like a great boxer with glass jaw, Sidney Crosby can't stay on the ice, plagued by concussions. No one knows what to make of Alex Ovechkin. Washington's Russian star, who's been decidedly dimmer the last two seasons, backed out of the league's festivities at the last minute, ostensibly pouting over a suspension. The pair's much-hyped rivalry—that once looked like The Future—now seems to already be in the past. Just who's hockey biggest star? Probably Tim Thomas. No, not the Villanova forward drafted by the Nets, the Boston goaltender and Stanley Cup MVP. Thomas, an out conservative, recently boycotted a White House ceremony for the Bruins in protest of what he called "excessive government."
Principled stupidity at best. Can you imagine poor Gary Bettman's hair-pulling reaction to hearing that news?
You know what, though? The NHL has always been a mess, at least in living memory. For me, that's part of the appeal. Like a great, scruffy dive bar, the game isn't for everyone. It's not hip, and should stop trying to be.
Oh, speaking of. Hipness, that is, and trying to be. There will be one at least one very famous person at the All-Star game. Drake is performing. Yes, Drake. The hyper-slick Afro-Canadian-Jewish-American hitmaking R&B superstar. He's set to perform at halftime.
Patrick, talk hockey with us. Is it Rangers or Red Wings for the cup? What's good and bad about the league? And isn't Drake at halftime a whole lot better than Madonna?
–Hampton
Hampton,
In the great halftime case of NHL Drake v. NFL Madonna, I'm not sure the outcome matters—after all, Drake will undoubtedly get his shot at the Super Bowl someday, provided he manages to remain semi-relevant into his 50s. Indeed, what worries me about Madonna's upcoming occupation of a gig once dominated by Up With People! isn't the pop matriarch's ballyhooed supposed plan to "bring the gay" to the big game—football, like pro wrestling, already is rife with homoerotic content, and so what?—but rather the NFL's looming shortage of adult contemporary aging megastar performers. U2? Been there. Prince? Done that. Petty and McCartney, the Boss and the Stones? Quadruple-ditto.
In other words, I have seen the future, and it is KISS. Gack.
But as usual, I digress. We're talking hockey. Thanks to the ongoing concussion crisis, the sport seems to be in the early stages of a culture war—old school violence against new school brain science—that could potentially remake the game as we know it. You can see this in the ultra-cautious approach the Pittsburgh Penguins are taking with Crosby's return—Eric Lindros, he isn't—and also in the three-game suspension the NHL doled out to Ovechkin for apparent headhunting.
Speaking of Ovechkin's suspension: former player and current NHL discipline czar Brendan Shanahan appeared on an official league video explaining exactly what the Washington Capitals star did wrong and why he was punished. In fact, Shanahan has been releasing similar videos all season—a revolutionary, largely unheralded practice that could usher in a new era of sports transparency. When it comes to officiating, fines and suspensions, leagues traditionally have adopted a policy of never apologize, never explain. The result? Player grumbling. Fan dissatisfaction. Widespread conspiracy theories.
The NHL's new approach is different. Open. Educational. It offers clarity and treats everyone—fans, the media, even suspended players—with respect, replacing the athletic Star Chambers of yore with something more in tune with our collaborative, information-sharing culture at large. It's forward-thinking—surprisingly so, for a league that still condones fighting—and a practice I hope the rests of the sports word adopts. Imagine if the NBA had provided a detailed video explanation of the calls in the fourth quarter of Game 6 of the 2002 Western Conference Finals. Or if the NFL broke down the infamous Tom Brady "tuck rule" fumble that wasn't. Allowing the public a well-lit look behind the curtain would build trust, enhance legitimacy and foster confidence in the games we watch (and gamble on).
Besides, I'd love to see Roger Goodell explain precisely why the league went with Madonna—and not, say, Bryan Adams. Is Duran Duran still touring?
–Patrick