The Last Undefeated Team in NCAA Men's Basketball
Why you've (probably) never heard of the Murray State Racers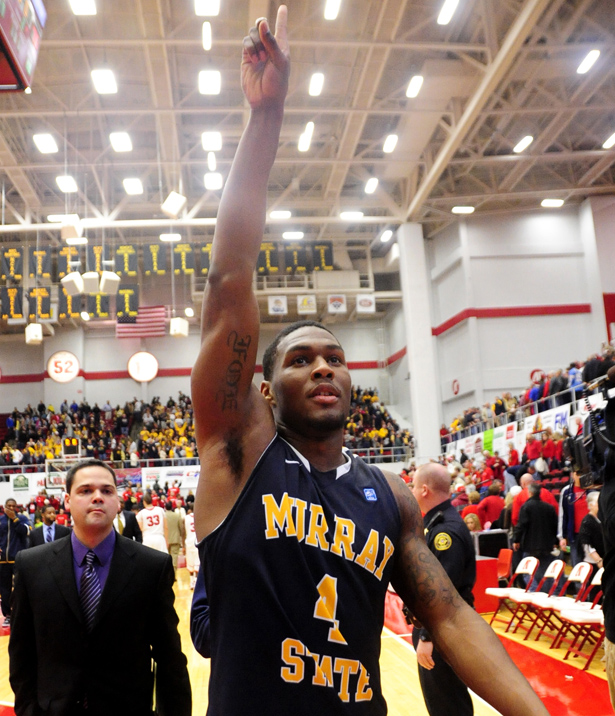 AP Images
The last undefeated team in Division I men's college basketball has never won an NCAA title. It has no famous NBA alumni, and none of its current players (or its coach) is known on the national stage. It's not even ranked in the top five in the national rankings right now, currently sandwiched between four-loss Michigan State and three-loss UNLV at No. 10 in the Associated Press poll.
But the Murray State Racers have not lost a game this season. And judging from their schedule, there's a good chance they'll be undefeated come Selection Sunday.
Nestled in the southwest corner of Kentucky, Murray State's biggest claim to fame is being the only No. 16 seed in the NCAA tournament to take a No. 1 seed to overtime. The Racers eventually lost that game 75-71 to Michigan State in 1990, but they came closer than any 16-seed has to pulling off the ultimate upset.
MORE ON SPORTS
This year the Racers won't be sneaking up on anyone. Spurred by a December road win over then-No. 21 Memphis, Murray State has rolled through the competition in the Ohio Valley Conference on its way to a 21-0 record. Barring a massive upset by one of its conference opponents—all of whom have lost at least eight games—Murray State will be undefeated going into the NCAA tournament, a feat that hasn't been accomplished in more than two decades.
Several teams have made runs at the Holy Grail of an undefeated season since Indiana won the 1976 NCAA title with a 27-0 record. The last team to enter the NCAA tournament without a blemish was the 1990-91 UNLV team, but unlike Murray State, the Runnin' Rebels were the defending champs and undisputed No. 1 team. UNLV rolled into the Final Four with a 34-0 record but fell to Duke 79-77 in the national semifinals.
Since then, no one has made it to the Big Dance without a loss. St. Joseph's was the last team to enter its conference tournament undefeated, and like Murray State the Hawks are not in a power conference (though the Atlantic 10 is much stronger than the Ohio Valley). Led by future Orlando Magic point guard Jameer Nelson and future Cleveland Cavaliers chemistry-destroyer Delonte West, St. Joe's fell to Xavier in the quarterfinals of the A-10 tournament and eventually lost in the Elite Eight to Oklahoma State.
Murray State does not have the talent of either the UNLV or St. Joe's squads, both of which featured multiple future NBA first-round draft picks. But the Racers have junior guard Isaiah Canaan, who's averaging 18 points and four assists a game and is  determined to atone for his last-second blunder in Murray State's 2010 NCAA tournament loss to Butler. And they have a roster loaded with experienced upperclassmen—all but two players on the team are juniors or seniors.
The Racers may also benefit from a relative obscurity that most undefeated squads could never have. Both UNLV and St. Joe's spent the majority of the season ranked No. 1 in the country, while Murray State has been unable to crack the top five. The reason? Strength of schedule. While the Runnin' Rebels and Hawks played in conference with multiple NCAA tournament teams, the Ohio Valley Conference is among the worst in the country. No team other than Murray State has received a single vote in a national Top 25 poll.
The result is a putrid strength of schedule for Murray State, a fact that has not gone unnoticed by NCAA pollsters. The Racers' schedule is ranked 160th out of 298 Division I teams, behind no-names like UNC-Greensboro, Appalachian State, and Oral Roberts. As a result, their ratings percent index (RPI), which balances a team's win-loss record with its schedule strength and several other factors, is just 33rd in the country.
The easy schedule could lead to the absurd-on-its-face result of an undefeated team failing to get a No. 1 seed in the NCAA tournament. In fact, the latest bracket predictions from ESPN's Joe Lunardi have Murray State as a No. 6 seed, with a matchup against the ninth-ranked Spartans in the second round.
The Racers' low ranking is hardly unfair—they have exactly one quality win all season, the Dec. 11 triumph at Memphis. And that 76-72 win, spurred by 20 points and a career-high six 3-pointers from senior guard Donte Poole, was hardly a statement victory. But Murray State has won every game it has played this season, something none of the other 297 Division I teams have been able to do. That's a streak worth paying attention to, no matter how low the Racers' schedule strength is.
I don't think the Racers will win it all. They certainly have a far slimmer chance of a Final Four appearance than No. 1 Kentucky, the real basketball hotbed in the state. But for all its talent, John Calipari's squad has already lost one game this season. It may be a long time before we can say that about Murray State.