The Gloomy, Star-Studded, Still-Relevant Sundance Film Festival
This year's slate features higher-profile actors than ever, but many of the films look like downers.
This year's slate features higher-profile actors than ever, but many of the films look like downers.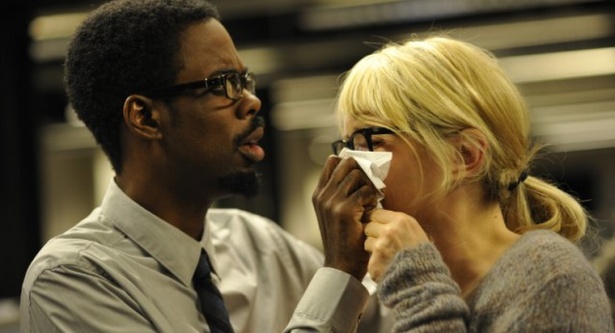 Chris Rock and Julie Delpy in 2 Days in New York (Polaris Films)
The arrival of the annual Sundance Film Festival signifies a rebirth of sorts for the film industry. It comes at the perfect time, with the Oscar contenders playing out their runs in theaters, awards season growing tedious, and January's new multiplex fare proving a typically uninspired collection of mediocre thrillers and halfhearted comedies.
The Park City fest, the world's biggest showcase of independent film, offers the first taste of a fresh batch of hard-hitting documentaries, sincere dramas, whimsical comedies, and innovative experimental works produced outside the Hollywood mainstream. As journalists, industry players and audience members descend on the Utah mountain town each year, they face a roster of movies that are without advance buzz and return with a clearer sense of what might be the next big, breakout indie success a la Little Miss Sunshine or The Blair Witch Project.
The 117 feature films premiering at the 2012 festival, which runs today through Jan. 29, offer a gauge of the current state of independent film. There are movies from established directors and first-timers, films boasting A-list casts and boundary-pushing no-budget works. Politically oriented documentaries mesh with other non-fiction movies centered on outsized personalities. Despite the unwieldy corporate intrusions on the fest (Main Street is a hellish den of gifting suites and pop-up boutiques) it has never lost its sense of the independent film industry's pulse. The buyers' market is expected to be strong, so these movies will play a major role in shaping the cinematic year ahead.
Of course, the absence of buzz makes it hard to get a solid feel for what to expect from the fest ahead of time. To kick things off with a preview, then, we've gone through the roster and identified some of the pertinent themes in play at this year's Sundance:
Hollywood stars, out in force
Sundance fare has traditionally appealed to big-name actors looking for a way to break free from their usual big-budget restraints. But this year, Park City will be flooded by more top-of-the-line talent than usual, turning the town into a mountaintop Hollywood.
Robert De Niro and Sigourney Weaver will appear on festival screens in the thriller Red Lights. Bruce Willis stars (alongside Catherine Zeta-Jones and Vince Vaughn, among others) in Stephen Frears's comedy Lay the Favorite. Chris Rock co-stars in the romantic comedy 2 Days in New York. There's Kirsten Dunst in Bachelorette, which sounds like the unofficial sequel to Bridesmaids, and Richard Gere in the hedge-fund thriller Arbitrage.
Programmers have been criticized for booking films with big names, with the general argument holding that such a move runs contrary to what Robert Redford's festival is "supposed" to be about: identifying the unknown next big thing. That knock is unfair. Any high-functioning festival needs an influx of star-power to attract attention and eyeballs in this media-saturated world.
The sheer volume of stars packing this year's edition, though, could be seen as a test of the Sundance brand going forward, as its organizers straddle a line between commercial and artistic interests that in a sense seems more malleable than ever before.
Pessimistic documentaries
Sundance's documentary program is traditionally one of the festival's crown jewels. Many major doc filmmakers, from Errol Morris to Alex Gibney, have premiered new works at the fest.
The 2012 collection of documentaries explores "very topical issues on a much bigger, more comprehensive scale" than last year's slate, which was comprised of a greater share of personality-driven pieces, festival director John Cooper told Reuters.
This year, there are serious films about urban decay (Detropia), life in a Long Island nuclear-reactor community (The Atomic States of America) and the war on drugs (The House I Live In), not to mention the American healthcare system (ESCAPE FIRE) and the economy (We're Not Broke and several others).
MORE ON MOVIES
As many of these issues are publicly weighed by candidates during this election year, it will be interesting to see the degree to which the films taking them on shape and influence the debate. It's hard to quantify the extent of documentary filmmaking's influence on the outcomes of the political process. In fact, if anything, it's negligible. At the very least, though, the wide-ranging topical slant of the 2012 festival's documentaries offers an effective reminder of the wary mood of a nation facing a key decision this November and a future rife with worsening problems.
Gloomy narratives
Gloom and doom is the overarching theme of the narrative slate as well. Sundance paints a picture of America as "a broken place filled with broken people," Brooks Barnes wrote in The New York Times, and the roster includes a wealth of fiction films about 30-somethings struggling through serious identity crises.
Among them: Celeste and Jesse Forever, starring Rashida Jones and Andy Samberg, which depicts the dissolution of a marriage between former high-school sweethearts. In Liberal Arts, a depressed 35-year-old (Josh Radnor) is reinvigorated by a romance with a college sophomore (Elizabeth Olsen). Facing a rough patch, 35-year-old Amy Minsky (Melanie Lynskey) is forced to move back in with her parents in Hello I Must Be Going.
Other movies deal with different dark forms of heartbreak and social malaise, including Simon Killer, about a young man's unhappy journey through Paris, and the closing-night selection The Words, in which a writer confronts the personal ramifications of living a lie. Arbitrage dramatizes economic corruption, and an alcoholic musician faces deportation in California Solo.
In the end, Sundance reaffirms its continued relevance through its receptiveness to movies like these, which are resolutely geared toward achieving something more than the usual commercial, star-driven escapism. The fest, then, is where we go to find art that helps us better understand ourselves by giving us, as Cooper put it to The New York Times, "the honest answers."