Whatever else it does, the beloved coach's death deprives the rest of us of his sworn testimony about the Penn State scandal.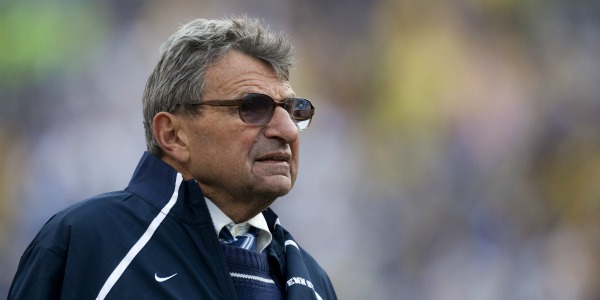 I wouldn't wish a death by cancer on my worst enemy, let alone Joe Paterno, and today is a day to allow his family and friends and supporters, the millions of them, to mourn his death and to grieve for their loss. For decades, for generations, he meant an awful lot to an awful lot of people and those feelings, that love and reverence, cannot simply be washed away by the terrible events and allegations of the past few months in the kingdom, the "Happy Valley," that Paterno built at Penn State University.
Whatever else it does, Paterno's death -- so soon after his dismissal as Penn State's head football coach -- so soon after the allegations of child rape against longtime Penn State coach Jerry Sandusky -- deprives the rest of us of his sworn testimony in the depositions and trials to come. Paterno won't be around to hear the full public disclosure of the details of the allegations against Sandusky, which I am sure his family considers a blessing. But he also won't be around to further defend himself, either, which perhaps his supporters would consider a curse.
Here's the lead paragraph from Paterno's obituary in The New York Times, posted Sunday morning:
Joe Paterno, who won more games than any other major college football coach, and who became the face of Pennsylvania State University and a symbol of integrity in collegiate athletics only to be fired during the 2011 season amid a child sexual-abuse scandal that reverberated throughout the nation, died Sunday. He was 85.
Imagine how different that obit would have read had Paterno died six months ago or if the Sandusky allegations had surfaced six months from now. Just about 10 days ago, Paterno told Sally Jenkins of The Washington Post, in the only full interview he ever gave about the scandal, that he wished, in hindsight, that he had "done more" when confronted in 2002 by the allegations against Sandusky. I believe that. So, for me at least, the only relevant question now about Paterno and the scandal is how soon after the 2002 incident that hindsight formed. With his death Sunday, alas, it's a question that will never be answered.

Image: Scott Audette / Reuters