The 4 Female Characters You'll See on TV for the Foreseeable Future
As the women-in-comedy trend grows, certain archetypes for fictional funny ladies are beginning to emerge.
As the women-in-comedy trend grows, certain archetypes for fictional funny ladies are emerging.
One of the most heralded trends of the fall television season was the heavy investment by networks in female-centric comedies. Not all of them have panned out entirely as expected. Whitney's ratings started at 6.7 million viewers, fell to 4 million, and sputtered back up again to 6 million ahead of the premiere of Are You There, Chelsea? in January, hardly a huge hit. And the biggest success of the bunch, 2 Broke Girls, is mired in a swamp of ethnic humor that would have seemed cutting edge in 1952. (The show's executive producer, Michael Patrick King, vigorously defended that direction for the show in a wildly contentious session at the Television Critics Association press tour in Pasadena, Calif. last week.)
But networks are sticking with the funny ladies (in scripted television and not, as David Letterman fired his comedy booker Eddie Brill after Brill suggested women weren't as comically authentic as men) in spring television. And the tropes for a generation of funny fictional ladies are starting to emerge. Here are the four types of women you can expect to see on TV for the months (and possibly years) to come:
1. The Woodland Creature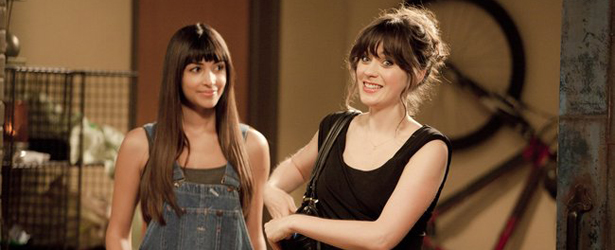 Fox
This genre is defined by Zooey Deschanel, whose eyes may come mail-order from Disney rather than Mother Nature, but uses them to convey an impression of vulnerable adorability. New Girl's Jess, her well-meaning free-spirit who is baffled by many of the rules of human society, has been one of the breakout characters of fall. At Fox's comedy panel at press tour, all the other actors on stage with Deschanel found themselves commenting on their own "adorkability." And Jess's unworldliness has become the spark for a debate about whether twee naivete is feminist self-expression or evidence of arrested development.
It's also hard not to see Jess as an influence on Dee Dee (Lauren Lapkus), the wacky roommate to the title character in NBC's Are You There, Chelsea? Among the things the show finds amusing about Dee Dee are her lack of knowledge about pot brownies, her conviction that Chelsea's cat is frustrated by his inability to communicate verbally, and her commitment to her virginity. Where Jess's three male roommates on New Girl offer her a chance to learn from her mistakes—a setup that shows some actual respect for her capacity to learn—so far Chelsea and her best friend are meant to be the sophisticates to this naif, introducing her to the ways of bars and men as if she's the human equivalent of a baby duck. While I've found myself wishing Jess would just grow up already, I sort of want Dee Dee to keep doing her baby duck thing just to drive Chelsea and Olivia nuts.
2. The Crude Broad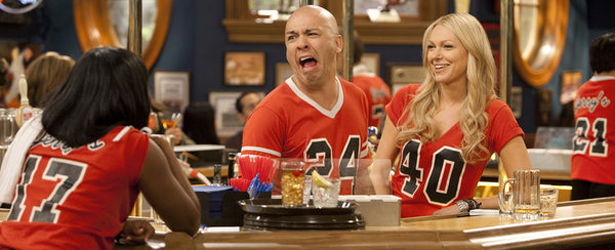 NBC
That's because Chelsea in particular is the most egregious example of a second comedic trope: the gal we're supposed to appreciate because she's like some people's conception of a guy. She drinks, she behaves badly, she talks about sex crudely. In the much-commented opening of Are You There, Chelsea?, our leading lady gets busted for drunk driving, plays gay in prison, prays to vodka (in the show's best line, she tells her sister that the liquor is like God because "They're both invisible and have a hand in unplanned pregnancies"), and when bailed out by her sister changes her life by drinking her car instead of her drinking habit. Perhaps we're meant to think she's a truth-teller, or getting what she wants because she's claiming prerogatives men normally reserve for themselves. But when she suggests that a red-headed date trim his pubic hair in the heat of the moment or mocks Olivia's attempts to get a job in the field she actually studied for, Chelsea just seems like an jerk, independent of whatever gendered traits have made her that way.
Fortunately, the two other hard broads the networks have given us are defined by more than their attachments to their shot glasses. On CBS's smash hit 2 Broke Girls, Max may make awfully frequent reference to her vagina, but we also know her dream of illustrating children books is on hold while she services her student loan debt. We also know that she's capable of falling hard, whether for hipster graffiti artist Johnny or roommate Caroline's horse Chestnut. The tough exterior she projects in the diner where she and Caroline work is actually protecting something.
Chloe (Krysten Ritter), the main character in ABC's upcoming Don't Trust the B— In Apartment 23, may be a worse human being than Chelsea is and is certainly less sensitive than Max. But show creator Nahnatchka Khan's given us a delightful twentysomething anti-hero. Chloe makes a living taking on roommates and then harassing them into leaving so she can keep their security deposits. When it turns out she can't drive away June, the small-town dreamer who falls into her trap, she decides to help her adjust—but her chosen method of getting June out of a bad situation includes seducing June's boyfriend. Her best friend is James Van Der Beek playing a fictionally sexed-up version of himself. And Chloe doesn't have to try to be a dude: she's just delightfully, evilly herself.
3. The Rueful Blonde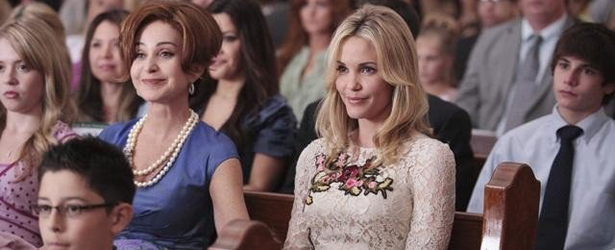 ABC
Part of what makes Don't Trust the B— In Apartment 23 work is Dreama Walker's work as June, Chloe's roommate. While June moves to New York with high hopes, they're quickly dashed: her job vanishes after the company is wiped out in Bernie Madoff's Ponzi scheme and Chloe rapidly divests her of her steady. But instead of being crushed or getting bitter, June fights back, selling Chloe's furniture out from under her. She's part of a new species of comedy blondes who are bruised but unbowed—and they're far from dumb.
June's joined by Jeannie (Kristen Bell), the number-two consultant to the wildly anti-social Marty Kaan (Don Cheadle) on Showtime's House of Lies. The lovely woman in a club of disgusting boys, Jeannie suffers her disappointments—there are hints of an abortion or miscarriage in her past, and she goes on a date with a handsome college classmate only to discover he's recruiting her for a job instead of trying to go out with her. Jeannie's a straight woman to a pack of sex-obsessed workaholic men. And as a result, most of the laughs she generates come from acting as surrogate for an audience that vacillates between not being able to believe what it sees and being utterly disgusted as they watch Marty's team run rampant through American capitalism. In this very dark comedy, Jeannie's a dash of bitters, but she's one of the least alienating things in House of Lies, where her dark perspective on the proceedings surround her feel like sanity.
Finally, there's GCB's Amanda Vaughn (Leslie Bibb), the former high school Queen Bee who finds herself back in her Dallas childhood home after a divorce. If that wasn't bad enough, she's facing comeuppance from her high school targets, particularly fellow blonde Carlene Cockburn (Kristin Chenoweth), which gives us two rueful blondes for the price of a single hour. It's a nice little reversal from the blonde-brunette showdowns of the fall, with the novel setting of a large Texas church. And in a moment of recession, there's something appropriate about Amanda and Enlightened's Amy Jellicoe (Golden Globe winner Laura Dern) moving back in with their mothers. They may not be foreclosed upon, but they're facing a downturn of the heart and spirits, and entertaining us all the way.
4. The Somewhat-Wise Woman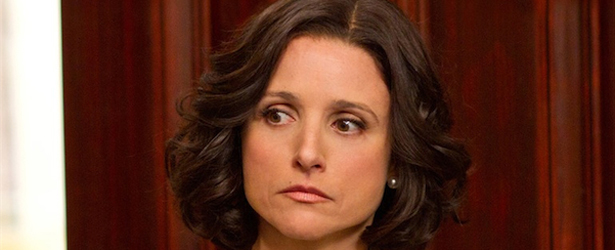 HBO
While the rest of these categories are filled with the twenty- and early thirtysomething characters who dominate pop culture, the midseason brings us two genuinely seasoned—and very funny in their own ways—female characters.
First, there's imperious producer Eileen (Anjelica Huston) on musical drama Smash. The show is more drama than comedy, as befits a program that has least two power ballads per episode. But watching Eileen scheme to bring bring together feuding writer (Christian Borle) and director Derek (Jack Davenport), and in the process, restore her own fortunes after her divorce locks her production company in escrow is a grand, snappy spectacle. Without her swanning around, Smash might risk sinking under the weight of its portrait of creativity at work.
Unlike in Smash, where Eileen buoys an ensemble, Julia Louis-Dreyfus carries HBO's upcoming Veep on her immaculately tailored shoulders as Vice President Selina Meyer. It's a role that shows there are some circumstances where no amount of wisdom will suffice. Whether she's accidentally offending first the oil industry and then disabled Americans, greenlighting a complicated operation to recover a card to a dead Senator's wife to which her chief of staff has accidentally signed the wrong name next to the president's, or waiting for a call from the Oval Office that never seems to come, Selina is constantly five minutes behind. She's got Gary, her right-hand man, and "spinning" sessions in a very twirly leather office chair for consolation, but not much else. When you're the theoretically second-most-powerful woman in the world, it's impossible to catch up, much less work ahead.
Are these archetypes perfect? Not exactly: some of them still rely on awfully reductive gender politics and old-school narratives about little girls and big cities. And the actresses who get to play the parts are almost entirely white. But maybe the first step in getting past reductive tropes is having someone make up tropes for you to play in the first place. And these shows are a forceful reminder that while academic debates rage about the humor or lack thereof possessed by women, network television is convinced there are a lot of ways for women to be hilarious.