Sundance's First Breakout Hit Is Part 'Tree of Life,' Part 'Treme'
Beasts of the Southern Wild offers a surreal portrait of a bayou community on the brink of ruin.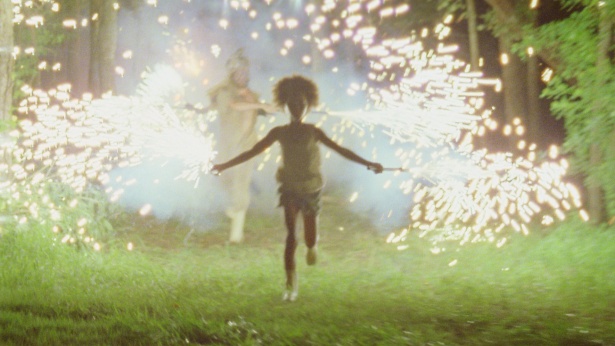 Cinereach and Journeyman Pictures
The most exciting thing about the Sundance Film Festival is the way a totally unexpected movie, one without a recognizable star or otherwise established pedigree, can suddenly turn into the talk of Park City.
Nothing that played during the first weekend this year wowed critics and audiences (and, reportedly, buyers) quite like Beasts of the Southern Wild. From first-time filmmaker Benh Zeitlin, the picture is a wholly original post-Katrina bayou fairytale: an amalgamation of iconic Cajun imagery, end-of-the-world allusions, roving monsters, and family drama, made on a small budget with a lead actress who was five years old and had never acted before, and a novice lead actor who is actually a New Orleans baker.
That sounds like the recipe for an off-the-rails disaster. Really, Zeitlin and his inexperienced team had no business tackling a project of such considerable scope, in which many scenes unfold in a ruined, flooded world. Yet their ambition pays off in a film that offers a heady Louisiana fever dream and a unique cinematic vision that never spirals out of control.
It's set in The Bathtub, a mystical, close-knit Louisiana community isolated from the rest of the mainland by a levee. Six-year-old protagonist/narrator Hushpuppy (Quvenzhané Wallis) lives there with her father Wink (Dwight Henry, the baker) in a run-down, ramshackle home built on stilts. They're the poorest of the poor, slaughtering animals for food and traveling the drowned territory surrounding The Bathtub's patch of land in a boat made from a truck flatbed.
In spite of the grime, The Bathtub is a happy, communal place, a sort of damp marsh where people and animals roam blissfully unconstrained by materialistic standards. When we first see the Bathtub residents, they are running and screaming through the streets as sparklers alight, in a massive, distinctively Louisianan celebration.
This is a tenuous, ephemeral world. And from Hushpuppy's perspective, Zeitlin and co-writer Lucy Alibar (who wrote the play on which the film is loosely based) depict its destruction. Wink becomes seriously ill, sinister giant warthogs travel the countryside promising doom, and the long-predicted devastating rains finally arrive.
The film offers a resounding tribute to the resolve of The Bathtub's hardy locals, who refuse to abandon their homes or their dreams of maintaining their unlikely, magical community. It's also a masterful example of that trickiest of storytelling feats: Conveying the emotional truths of a complex narrative from the point-of-view of a child.
MORE ON MOVIES
Hushpuppy is played with intelligence by Wallis, who's all of eight years old now. There's an old-soul quality to the character that comes out in her determined faithfulness to her sickly, flailing, emotionally ravaged father. She's an ideal conduit for the viewer, observing this strange and wondrous world with fresh eyes that afford a mix of deep affection and healthy skepticism.
It's fitting that Hushpuppy also serves as the film's narrator. To have a six-year-old narrator is widely considered a cinematic faux pas, a violation of one of the most basic tenets of moviemaking: Don't rely too heavily on kids. But it's the perfect move for a film that utterly defies convention at every turn.
Of course, that means Beasts of the Southern Wild can come across as a bit of an unfocused mess. At times the frenetic qualities overwhelm, transforming the film from an affectionate, surrealistic show of admiration for the besieged culture at its heart into a jumble of big, bold ideas and stylized flood zone imagery.
But the film's careful injection of a warm, humanist spirit into an elaborate magical realist vision sets it apart. This is simultaneously a work of enormous vision and ambition, a thoroughly impractical moviemaking enterprise of extraordinary scale, and a love letter to the people of the Bayou State, who have persevered in the face of apocalyptic tragedy. Part Tree of Life and part Treme, it might not be the best film to come out of this year's Sundance Film Festival, but it's certain to be the most-remembered.