Spike Lee's Sundance Fiasco: 'Red Hook Summer'
The apparent Do the Right Thing descendant is a lecture, not a film.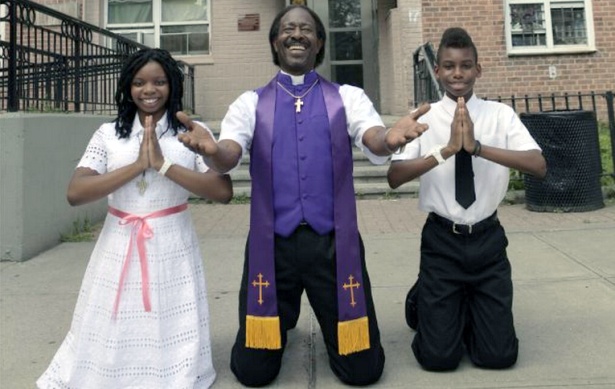 40 Acres and a Mule Filmworks
Spike Lee's Red Hook Summer has been billed as a return to form for the famed director, who hasn't directed a narrative feature since 2008's poorly received Miracle at St. Anna. This new movie, which premiered at Sundance this past Sunday, is supposedly a small-scale, semi-autobiographical journey back to the filmmaker's Brooklyn roots, made in the tradition of Crooklyn and Do the Right Thing. He even turns up in front of the camera, reprising the role of Mookie, Do the Right Thing's pizza-delivering protagonist.
Dreams of vintage Lee's return go sadly unfulfilled, however, as the film is a long-winded, rambling mess. Far from a personal, character-driven production, the movie offers Lee's grandiose take on what it means to be African American in the 21st century (with an assist from co-writer James McBride). There's a lot to be said for such an enterprise, particularly when it comes from the mind of one of our premiere social chroniclers. But this is a 135-minute harangue, not a movie.
There's virtually no narrative to speak of and little elaboration on the basic premise. Flik (Jules Brown), a 13-year-old from Atlanta, spends the summer living in Red Hook, Brooklyn with Bishop Enoch Rouse (Clarke Peters), the grandfather he's never met. Grandpa makes it his mission to bring Jesus to the secular-minded Flik, who is forced to work at the church, where he befriends a teen girl named Chazz (Tony Lysaith).
Instead of spinning a story out of that promising set-up, Lee lets loose on the audience a barrage of angry ideas. Plot and character development are sacrificed, replaced with endless sociological conversations and impassioned sermons about the struggles of being poor and black in an industrial neighborhood dominated by an Ikea and a cruise terminal. There's a wealth of tepid, meandering scenes in which the Bishop introduces his grandson to various one-dimensional members of the community—a collection of Lee archetypes assembled without the nuance of his earlier works.
Red Hook Summer could have been tightened and focused in the vein of Do the Right Thing, which offered a vibrant snapshot of a day in the life of a tumultuous street in gentrifying Bedford-Stuyvesant. This new picture is similarly energized with its wide collection of characters, and it's got similar goals (no matter what the filmmaker says). But there's no conflict here, none of the tension that brewed beneath the surface of Do the Right Thing, promising to erupt and destroy the neighborhood's fragile ecosystem.
The filmmaker has a lot to say here, touching on everything from the AIDS epidemic to unemployment and the changing role of the church in the African-American community. He does so in part through his trademark fourth-wall-defying techniques, as characters address the audience about life in Red Hook and stare into the camera during a closing montage shot in Super 8 mm film. But the tactic feels timeworn and superfluous, as if it was a further attempt to distract from the simple fact that Lee didn't really have a film here.
MORE ON MOVIES
That sense is worsened by the subpar digital cinematography, which flattens the spaces and robs them of their lyrical qualities, effectively transforming the neighborhood into a dull set. Except for the terrific Clarke Peters, whose convincing screen presence worthy of a better film, the actors offer amateurish performances that rely too heavily on overplaying things, hitting every beat with a sledgehammer.
Despite all this, Lee remains an important filmmaker, with a singular point-of-view and style that defy clichéd renderings of urban life. His Do the Right Thing is perhaps the definitive modern statement on the changing face of racism in America; if it were the only movie Lee had made, he'd be worth remembering. Add Malcolm X, Crooklyn, Clockers and The 25th Hour, among others, and it's inarguable that American film culture is better when Spike can make the movies he wants to make.
That enormous potential is what makes Red Hook Summer so frustrating. This is an illustrated lecture—a jumbled, rushed cinematic rant with a ridiculous plot twist tacked on for good measure. The ideas are there. The story is not.