Quantifying the Golden Age of Television: It Really Was 1950-1970
Proof that
I Love Lucy
really was the pinnacle of filmed entertainment. Except for the
The Wire
, of course.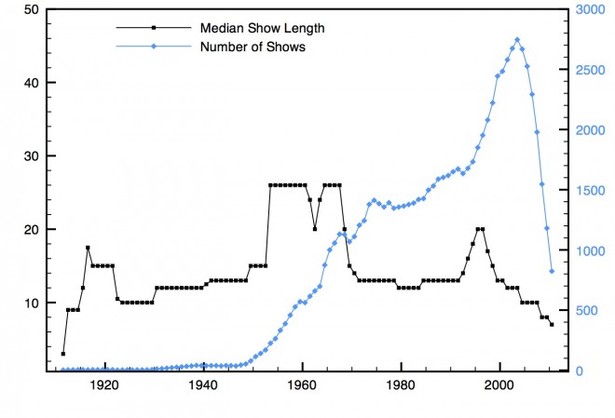 Samuel Arbesman has a fascinating post up in which he attempts to
quantify the Golden Age of Television.
His method was to use how long a show ran as a proxy for its quality, which seems like a decent option. By that metric, as you can see above, the period from 1950 to 1970 produced a remarkable number of long-lived shows. He also notes that there was a brief quality (or popularity) bubble in the last 1990s. That would be due to shows like the West Wing and Friends.
Completely unrelated but fascinating datapoint: 40 million American still see an episode of I Love Lucy each year. The show debuted in 1951.