Our Big NFL Playoff Predictions
Thoughts on whether the Texans can beat the Ravens, Tebow will pull of a miracle, and more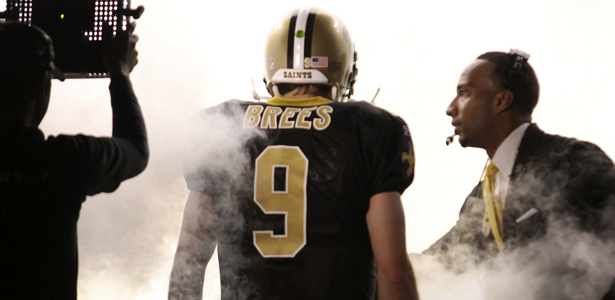 Reuters
Every week, our panel of sports fans discusses a topic of the moment. For today's conversation, Patrick Hruby (writer, ESPN and The Atlantic), Jake Simpson (writer, The Atlantic), and Hampton Stevens (writer, ESPN and The Atlantic) look ahead to this weekend's pro football games.
---
Hey guys,
With a scandal- and corruption-besotted college football season finally, mercifully behind us—has any championship squad ever served as a better unwitting metaphor for the state of entire sport than Nick Saban's death-by-defensive-asphixiation-and-or-sheer-boredrom Alabama crew?—it's time to focus our attention on the games in which the players at least get paid to smash their brains into the equivalent of a  mouse embalmed in Mountain Dew.
So, yeah: it's NFL playoff time!
MORE ON FOOTBALL
There's a game between Baltimore and Houston, which is just swell if you live in Baltimore or Houston. But let's talk glamour: Tom Brady. Versus Tim Tebow. Otherwise know as the game that will send the great-great-great-grandchild of a sports television network executive to college, and on to a career in personal philanthropy. It's almost inconceivable to think that the Denver Broncos will stay within two touchdowns of the New England Patriots. Not when the Pats are playing at home; not when Brady is a proven playoff commodity;  not when Josh McDaniels, the man who made Tebow a Bronco, is sneakily rejoining the Pats' coaching staff; definitely not when New England lit up Denver's vaunted defense less than six weeks ago.
On the other hand: Everything Tebow does is almost inconceivable. Was Kyle Orton getting Twitter shout-outs from Lady Gaga? I'm not a betting man, but if I were, football's most popular player would force me into early gambling retirement. Tebow has to be the greatest no ... yes! player in pro football history, and considering Brett Favre played for nearly two decades, that's saying a lot.
Next is my favorite matchup of the weekend: New Orleans versus San Francisco, which pits the loneliest punter in pro football (the Saints' Thomas Morestead) against a run-often, defense-first squad that seems to have forgotten what decade it is. In a way, this game is a strange inversion of the old school showdowns between the high-scoring Joe Montana-era 49ers and the hard-hat linebackin' Dome Patrol Saints; this time around, it's San Francisco that wants to grind things out. Also, I find it rather amusing that people are just now noticing that Drew Brees is having a pretty, pretty, pretty good year, a phenomenon that speaks to just how inflated NFL passing numbers have become.
Speaking of which: Aaron Rogers leads mostly-dominant Green Bay against the suddenly-surging New York Giants. I don't think the Giants have much of a chance; then again, I didn't think they had much of a chance facing a similarly high-octane opponent in the 2008 Super Bowl.
Jake, what are you looking forward to seeing this weekend—and unlike me, will you man up and make some predictions?
–Patrick
Of course I'll make some predictions, Patrick. But first I think you're overlooking the real team of destiny here—the New York Football Giants.
Sure, Tebow's great in a completely inexplicable way. But so, to some degree, is Gaga, or Four Loko. And while Denver has proven to be gangbusters at winning low- to medium-scoring, tightly played games, that won't fly in Foxboro against a loaded Pats squad that hung 41 on Denver earlier this year—in the mile-high air, no less. New England 38, Denver 24, Tebowings by Tebow 3, Brady touchdowns 4.
The Giants, meanwhile, shellacked a perfectly slightly-above-average Falcons team and have their troika of defensive line stars—Osi Umenyiora, Justin Tuck and JASON PIERRE-PAUL—healthy for the first time all season. They lost to the best team in football 38-35 in the regular season and now get a rematch in the playoffs. They were written off as recently as Week 15. And they're headed to Lambeau Field for a postseason game. Any of that sound familiar? Sub in Michael Strahan for JPP and you've got a carbon copy of the 2007-08 team that shook up the world in Super Bowl XLII. Giants 23, Packers 20 (yes I'm aware that's the same score as the '08 NFC championship game—what of it?).
As for the other games, I agree that Saints-Niners is the most compelling matchup of the weekend. Drew Brees has indeed been unstoppable this year—his season is certainly in the top four QB campaigns in NFL history—but he'll be on the road, outside and on grass, a point no one seems to be making that could be the key to the game. And he'll go against the old-school 49ers, who look more and more like a poor man's '85 Bears. Niners 24, Saints 21.
Oh yeah, the Baltimore-Houston game. Whatever. Enjoy the elite running-back matchup of Ray Rice and Arian Foster and close your eyes and think of England for the rest. Ravens 16, Texans 10.
Where do you stand on this weekend, Hampton? And would you please take Patrick to task for wimping out on making predictions?
–Jake
Nah. But I will take him to task for slipping his all-purpose rant about college football into a post about the NFL.
First, let's relax about the Giants. The rush for that bandwagon this week looked like a Black Friday sale at Wal-Mart. News flash: Pierre-Paul is not Michael Strahan. Newsier flash: Aaron Rodgers isn't Brett Favre. Rodgers definitely isn't the "chuck it because I'm going to the Vikings" Favre of 2008, who went 19-of-35 with two (horrible) picks in Ice Bowl 2.0. Figure the Pack to pull away in the third quarter. Call it, oh, 28-17.
As someone who predicted that Houston would miss the playoffs, I shouldn't talk about the Texans game in Baltimore. That won't stop me, though.
If this was really a battle of Rice against Foster, Texas would have a shot. But it's Rice against the Texans' run defense, and Ray ran for 161 yards when the two teams played earlier this season. Baltimore rolls, 17-9.  Free watches for everybody!
Before we get to the main course, a note about the NFC West. Jake, if you think the playing surface in San Francisco will slow the Saints' pass-happy juggernaut, you're the one who's on grass. (Thank you, ladies and gentlemen. I'll be here all week.)  N'Orluns scores early and often for a 35-17 snooze-fest.
Tebow is a joy unto the league for a lot of reasons.  First, the hype is just plain fun. Like the mind-blowing incongruity of Playboy Playmates "Tebowing". Or the big smoke ring over Mile High that people called a "halo." Come on. That's good stuff. We could be talking about Michael Vick.
One of the things that makes Tebow so entertaining is that people love bashing him. For me, his success despite his famously ugly mechanics proves that the know-it-alls in NFL front offices don't know it all. His frantic, dramatic style is a wildly refreshing change from the surgical sterility of the "pure" pocket passer. I've a friend here in K.C. , though, who squirms every time Tebow makes a play. He swears Tyler Thigpen has a better arm.
Maybe.
But people don't believe Tyler Thigpen is going to win on a last-minute play. For whatever reason, Tebow inspires hope. He inspires his teammates to focus, fight fatigue, be less selfish, and believe that good things will happen. "Positive visualization," to be New Age-y about it. In a league where a few tenths of a second separate the best from the worst, that can be enough. Even without divine intervention.
Still, does anyone (outside of Colorado) really think Denver will play David to Boston's Goliath? Surely, no sane human would pick Denver over mighty Boston? How should I know? And don't call me "Shirley." My prediction is for Denver to lose by a score of, say 66-6. My hope, however, is that I'm wrong. My hope is that Tebow wins, and we get to have this whole conversation again next week.
–Hampton