Our Big NFL Playoff Predictions, Championship Sunday Edition
Thoughts on whether the Patriots will make it all the way, Eli Manning can keep up his hot streak, and more
Thoughts on whether the Patriots will make it all the way, Eli Manning can keep up his hot streak, and more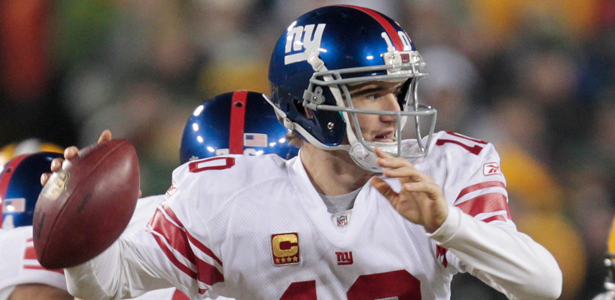 AP Images
Every week, our panel of sports fans discusses a topic of the moment. For today's conversation, Hampton Stevens (writer, ESPN and The Atlantic), Patrick Hruby (writer, ESPN and The Atlantic), and Jake Simpson (writer, The Atlantic) look ahead to this weekend's pro football games.
---
Hey, guys,
This is a special time of year. When arctic winds blow and John Facenda's voice seems to echo on the frozen ground, it can only mean one thing for sports fans: tennis! The Australian Open is on down under, and defending champ Kim Clijster looks like she's on a collision course with a rejuvenated Serena Williams. I kid the tennis fans, of course.  All three of you. The rest of us, though, will be enjoying the best darn day in the whole football season: sweet Championship Sunday. Four teams, two games, one day-long orgy of pigskin, and absolutely none of the cultural baggage that comes with that other game—the one with Roman numerals. There are be no parties to attend, no fighting for seats with people who hush you during commercials. It's just the game, and only the game. Like a Super Bowl for pro football.
Predictions are in order, certainly. Yours truly has been on a roll.
MORE ON FOOTBALL
Straight downhill. I scoffed, for instance, when Jake predicted the Niners would beat the Saints. Then I chortled when he picked his Giants to upset the Pack in Lambeau. But who's scoffing and chortling now? Lots of folks, probably. With good reason. Nevertheless, undaunted but running out of space, we'll make this brief.
In the AFC, common sense says New England's double tight end offense wrecks the Ravens. So does Vegas, who have the Patriots favored by more than a touchdown on the road. That's a lot. If the guys in purple will remember to give Ray Rice touches in the first half, maybe, just maybe...aw, who am I kidding?
Smoke-and-mirrors defense or not, Pats win big, 28-17. In the NFC, the Giants have sold me. And how. That pass rush can't be stopped, and Eli will be the best quarterback on the field. Plus, the New Yorkers think they can win. Lord knows, they aren't afraid to travel. Giants by a touchdown, and the Super Bowl XLII rematch is on.
Patrick, you didn't make picks last week. But since I've already walked out on a limb, maybe you'd care to join me?
–Hampton
Hampton,
Big, dopey commercials—talking animals = funny! High fives and early martinis at Bud Light's creative agency!—and a bigger, dopier pre-game show. The inevitable rollouts of a Cold War-era halftime musical act (as risqué and dangerous as an arthritic old golden retriever sleeping by a fireplace, but I'm not here to slag the Rolling Stones or Madonna) and a too-big-to-fail, until-it-does network series premier. Beer, snacks and DUI checkpoints. Our unofficial national Corporate Appreciation Day. You call it cultural baggage. I call Super Bowl Sunday the purest known expression of unchecked American consumer id, with the possible exceptions of the Food Network and Internet pornography. Besides, the day can actually  kill you. Isn't that exciting?
But yes: let's talk about the NFL's conference championship games. With predictions, even. Like you, I expect New England's two tight-end passing attack—note: Aaron Hernandez and Rob Gronkowski are nice players, and worth a bit of hype, but aren't nearly as important as the guy throwing them the ball—to score a lot of points against a Baltimore defense that remains good but is no longer scary, much like aging linebacker and team leader Ray Lewis. As for the Ravens' offense? They ought to be able to keep up, given the utter putridness of the Patriots' defense. Thing is, I don't trust Joe Flacco, a quarterback who seems just good enough to let you down when it matters most, like a less nimble, less flashy AFC version of Tony Romo.
As such, I'll take the Pats and the points. As for the NFC, I like New York. Eli Manning is enjoying the most impressive stretch of his career, Victor Cruz might be one of the five best receivers in the sport, and the Giants' running attack is good enough to move the chains and kill clock. Plus, their front-four pass rush gives them defensive flexibility, which should prove useful against a 49ers offense that is far more balanced than Green Bay's aerial circus. I do think the 49ers will keep the game close—they're playing at home; tight end Vernon Davis is probably the top player on the field; under Jim Harbaugh, the team never seems to panic—but in the end, New York's superior talent should prevail. Remember: San Francisco took advantage of five New Orleans turnovers last week and still won in nail-biting fashion; that's the equivalent of shooting 70 percent from the floor in a basketball game and triumphing on a buzzer-beater.
Imagine that: I actually agree with Hampton. Jake, is this a sign of the looming Mayan apocalypse, or just good reason for you to go the other way with your predictions?
–Patrick
I'm just overjoyed that you manned up and made picks this week, Patrick. And frankly, I'm feeling a little pressure here after my 4-for-4 showing last weekend—particularly since my beloved Giants are two wins away from an '08 redux that would make my winter.
First things first, though—Pats-Ravens. The conventional wisdom—and Hampton and Patrick—says New England, particularly after their throttling of the Fighting Tebows. But nobody has mentioned Sunday's dirty little secret: It's gonna be cold in Foxborough. Like 30-before-the-wind-chill-in-a-post-snow-blustery-day cold. When it's cold AND windy, offense usually gives way to defense (see: The Ice Bowl or the 1981 AFC Championship game). If that holds true, the formula for this one becomes pretty simple. Ravens defense + Ray Rice + average game from Joe Flacco > Tom Brady + passing options - no running game - terrible defense. Flacco almost scares me into picking New England, but I'm predicting he'll only have one turnover, which should be just enough for Baltimore. Ravens 20, Pats 16.
Now for the main course—a Giants-Niners game that evokes memories of the epic 1990 NFC championship game, a 15-13 win for the Giants that included Leonard Marshall abruptly ending Joe Montana's prime and Roger Craig earning permanent goat status in the Bay Area. Sunday's game should be equally close, assuming the Giants team that trounced the Packers shows up. The G-Men have been vulnerable to the run for most of the season, and a big game from Frank Gore—or the suddenly nimble Alex Smith—could be disastrous for New York. But the Giants' offense will put up its share of points on the stout Niners defense because even they can't stop all of New York's receiving weapons at the same time. I'm thinking this game comes down to the quarterbacks, which if you watched the Niners-Saints game seems to bode well for San Fran. But I'm not a believer in Alex Smith's clutch chops just yet, and Eli Manning has proven beyond a reasonable doubt that he's a big-game cooler of a quarterback. That's good enough for me. Giants 27, Niners 20.
Oh, and welcome to the Big Blue bandwagon, guys. There should still be some room out there in the back.
–Jake