NFL Playoffs: What to Watch For in This Weekend's Divisional Round
New Orleans' unstoppable offense meets San Francisco's immovable defense, the Giants seek revenge on the Packers, and Tim Tebow tries to keep his magic playoff run alive.
The best weekend of the NFL season is upon us, as the eight remaining teams pair up in the divisional round of the playoffs. Let's face it, if it weren't for that Steelers-Broncos game, last week's wild-card round would have been a complete dud, because the Texans blew out the Bengals, the Saints blew out the Lions, and the Giants blew out the Falcons. The Pittsburgh-Denver game had the makings of a blowout, too, with the Broncos ahead 20-6 at halftime. But the Steelers are a championship-level club that doesn't roll over, and they charged back in the second half to at least force overtime—an overtime you probably missed if you went to the bathroom. Ben Roethlisberger and the defending AFC champions are now out of the tournament, but the divisional round still features an astonishing four quarterbacks who've won Super Bowl MVPs. And who knows, maybe Tim Tebow will earn the honor this year. (Go ahead, bet against it.) Here are the key storylines to this weekend's games.
New Orleans (3 seed, NFC) at San Francisco (2 seed, NFC), 4:30 p.m. Saturday on Fox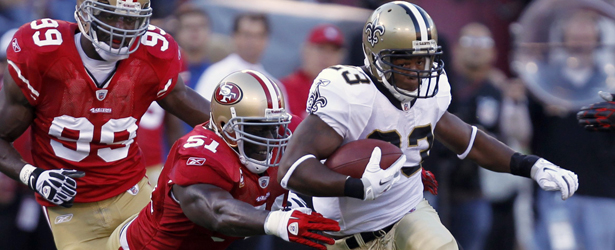 This is San Francisco's first playoff game since 2002. If this proud franchise—winners of an NFC-high five Super Bowls—are to attain any semblance of their past stature, they'll need to stop a New Orleans offense that has scored 45 points in three straight games and decimated the Lions 45-28 in the wild-card game last Saturday, amassing a playoff-record 626 total yards and scoring on five straight second-half possessions. Unlike Detroit, though, San Francisco has a staunch defense. Led by All-Pro defensive end Justin Smith, a Defensive Player of the Year candidate, and inside linebacker and perennial Pro Bowler Patrick Willis, the Niners were among the league leaders in scoring defense, rushing defense, sacks, and turnovers. They won't be eviscerated like the Lions, especially playing in their own outdoor building, where the swirling San Francisco winds might present a problem to the Saints and MVP candidate Drew Brees, who threw for a league-record 5,476 yards this year. The Saints were 11-1 playing indoors, but only 3-2 outdoors, losing to Green Bay and Tampa Bay (a terrible team), while beating the mediocre teams of Jacksonville, Carolina, and Tennessee.
Oddsmakers seem confident the Saints can succeed, favoring the visiting team by 3 1/2 points and making the Niners the only home underdog in this divisional round. That betting line is a reflection of the Saints' devastating offense (including running back Darren Sproles and tight end Jimmy Graham), but it's also a comment on the Niners' pedestrian offense. Quarterback Alex Smith attempted the fewest passes of any quarterback who started every game this season, with the team leaning heavily on the two-pronged running attack of smash-mouth Frank Gore and change-of-pace back Kendall Hunter. Throughout the year Smith, who threw for 17 touchdowns and five interceptions, has been asked to manage the game and not make turnovers—a formula that worked exceptionally well, as San Francisco led the league in turnover differential (+28). The Saints do not have a good run defense, allowing the third-highest yards per carry average this season (5.0), so if the Niners can run successfully, control the clock, and keep Brees and his fleet-footed arsenal of weapons off the field, the Niners could very well win their first playoff game in nine years.
Denver (4 seed, AFC) at New England (1 seed, AFC) 8 p.m. Saturday on CBS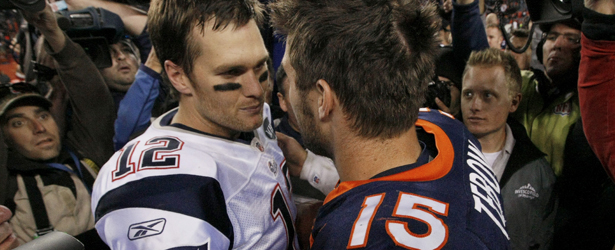 In last Sunday's wild card, the Steelers' plan against Tim Tebow and the Broncos was to stack the box, shut down the run, and dare Tebow to throw the ball and beat them. Tebow connected on less than 50 percent of his passes (10 of 21), but boy did he make those completions count—amassing 316 yards passing, with two touchdowns, and no interceptions. The Steelers didn't sack him once, and Tebow committed no turnovers. For the Broncos to go into New England and win this week, they'll have to get more of the same; because unlike the Steelers, the Patriots don't have injuries throughout their lineup, and their offense is capable of putting up offense in a hurry.
When these two teams met in Week 15, Denver got off to a fast start, scoring on their first three possessions and leading 16-7. But then the Patriots' offense—led by quarterback Tom Brady, wide receiver Wes Welker, and the unmatched tight end duo of Rob Gronkowski (NFL-record 17 touchdowns at his position) and Aaron Hernandez—rattled off 20 points in the second quarter. Tebow had two rushing touchdowns, but he only completed 50 percent of his passes and had no touchdowns through the air. He couldn't rally his team to a comeback, even though the Patriots had the second-worst pass defense in the league. New England sacked him four times, recovered three fumbles, and won in a runaway, 41-23.
As we said last week, if Denver can play good defense and protect the ball, Tebow has proven he can produce in late, pressure-packed situations. It's not hyperbole to say he had the passing game of his life last week in beating Pittsburgh's top-ranked passing defense. Can he replicate that success against the Patriots? New England is a 13.5-point favorite, so obviously a lot of people think it's safe to bet against Tebow. Good luck with that.
Houston (3 seed, AFC) at Baltimore (2 seed, AFC) Sunday 1 p.m. on CBS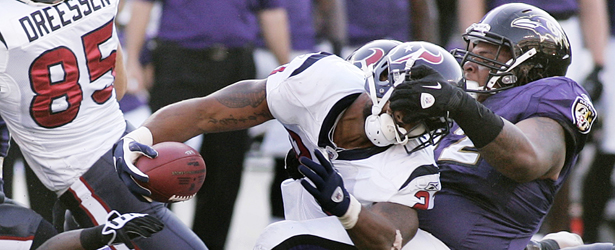 The AFC North entered the playoffs with a league-high three participants, but after losses by the Bengals and Steelers in the opening round, only the Ravens remain. There's a lot to like about this Ravens team (so long as you're not a Steelers fan). Baltimore was 6-0 against this year's playoff teams, including series sweeps against the Bengals and Steelers and a week six victory over the Texans. While that Houston team is markedly different than the current incarnation—quarterback Matt Schaub had not yet suffered a season-ending injury, while star wide receiver Andre Johnson was out with an injury at the time—the Ravens were successful in shutting down the one element that has remained central to the Texans' offense all season: Pro Bowl running back Arian Foster.
Foster managed only 49 yards rushing in that game, which isn't surprising since the Ravens' defense—including perennial Pro Bowlers Ray Lewis, Ed Reed, Haloti Ngata, and Terrell Suggs—allowed the second-fewest rushing yards in the league (behind San Francisco). For Houston to continue its magical season, rookie quarterback T.J. Yates is going to have to make plays—more than he did in last week's win over the Bengals, when the Texans relied on Foster (153 yards rushing and two touchdowns) to win the franchise's inaugural playoff game. Yates was his typical mediocre self, completing 11 of 20 passes with one touchdown and no turnovers. That'll suffice if Foster is finding consistent holes against the Baltimore front seven; but that seems unlikely.
Nevertheless, if Yates can eliminate costly mistakes, the Texans' defense is more than capable of keeping them in this game. After a poor three-game stretch at the end of the regular season, their defense rebounded nicely last week and reminded everyone that this was a squad that finished second in the league in yards per game allowed (behind the Steelers and just ahead of the Ravens). Last week they forced three interceptions from another rookie quarterback, Andy Dalton of the Bengals. The Ravens' Joe Flacco is not so green, and yet his lackluster numbers in seven career playoff games—53.3 completion percentage, four touchdowns, seven interceptions, and a 61.6 passer rating—remind no one of Tom Brady. Houston can expect to see heavy doses of running back Ray Rice, the Pro Bowl starter in the AFC who was second in the NFL in rushing with 1364 yards.
The Texans, like the Broncos, are playing with house money at this point, and the pressure is definitely on the Ravens to take care of business at home and beat a third-string rookie quarterback.
New York Giants (4 seed, NFC) at Green Bay (1 seed, NFC) Sunday 4:30 p.m. on Fox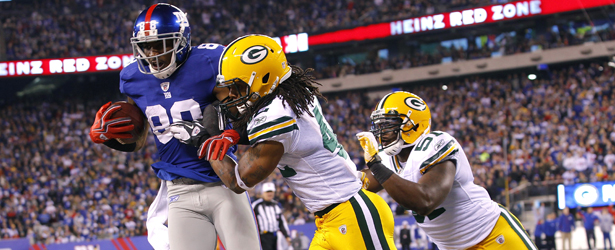 Last weekend's drowning death of Michael Philbin, the 21-year-old son of Packers' offensive coordinator Joe Philbin, helped remind everyone of the relative meaninglessness of sports. Philbin is not with the team right now and will stay away for as long as he needs to deal with the heartbreaking loss of his son. The Packers, meanwhile, will play this game with a heavy heart. It's an intriguing rematch between the reigning Super Bowl champions and a team they barely beat (38-35) during the regular season. Green Bay is the eighth different team with the top seed in the NFC in the past eight years, yet only the 2009 Saints used it to win the Super Bowl. The Giants, meanwhile, are confounding as always, peaking at just the right time and reminding many of the 2007 team that shocked the previously undefeated Patriots in that season's Super Bowl.
The 15-1 Packers are led by MVP favorite Aaron Rodgers, who this season set the NFL record for quarterback rating (122.5) as Green Bay led the league in scoring with 35 points per game. Rodgers has a slew of weapons at his disposal, including Pro Bowl wide receiver Greg Jennings; wide receivers Jordy Nelson, Donald Driver, and James Jones; and tight end Jermichael Finley. The team's running game pales in comparison (James Starks led the team with 578 yards rushing); but when your passing game is this relentless and sublime, you don't need much of a ground attack.
The Giants will need another outstanding game from their defense, which they received in walloping the Falcons 24-2 last week. Atlanta quarterback Matt Ryan was sacked twice and Pro Bowl running back Michael Turner was held to 41 yards rushing. The Giants' offense, for their part, put together the kind of big plays that will almost certainly be necessary to upset the Packers at Lambeau Field. Wide receiver Hakeem Nicks caught a 72-yard score, and running backs Brandon Jacobs and Ahmad Bradshaw both rattled off runs of more than 30 yards. That kind of balance will be vital to New York's success in this game. Green Bay had the worst pass defense in the league this year, but they have Pro Bowl game-changers at all three levels—defensive end B.J. Raji, linebacker Clay Matthews, and cornerback Charles Woodson—and they led the league in interceptions with 31. This game figures to be a cold-weather shootout and a suitable conclusion to the best weekend of the NFL season.