'Justified' Season Premiere: Who's the Villain Now?
The new season opens with a host of bad guys vying for power.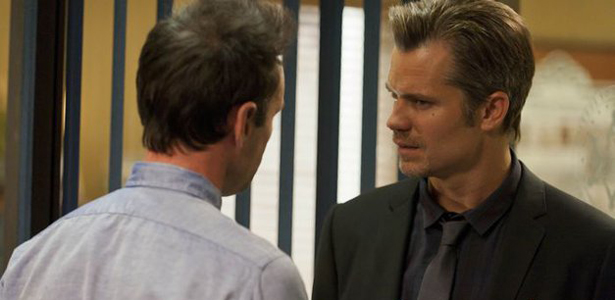 FX
At a time when many are sounding the death knell for print media, TV executives—ever-hungry for the next ratings hit—continue to search for new, potentially lucrative series at the library. From zombies series The Walking Dead to the BBC's Sherlock, there are too many to list here. But of the numerous book-to-television adaptations that have aired over the past year, two stand out from the pack: HBO's Game of Thrones and FX's Justified. Game of Thrones has drawn praise from fans for hewing so closely to original novels; the first scene in Game of Thrones is the novel's first scene, and the last scene in Game of Thrones is the novel's last.
Justified , by contrast, has forged its own path from the very beginning. The series originally sprang from Elmore Leonard's short story "Fire in the Hole," but has expanded so far beyond its initial premise that it has eaten its own tail: Leonard's latest novel, Raylan , uses the plot of Justified's second season as its jumping-off point. Though the series successfully mimics Leonard's trademark razor wit, there's a level of danger and unpredictably that renders Justified one of TV's most reliably thrilling dramas. Justified's season two finale left Harlan County in chaos; in addition to protagonist Raylan's latest, perhaps inevitable gunshot wound, his former lover Ava was shot, his current lover (and ex-wife) Winona learned she was pregnant, and the venerable Bennett clan—which had ruled Harlan County's marijuana trade for a century—collapsed in an orgy of bullets.
MORE ON TELEVISION
"The Gunfighter," last night's season three premiere, had the difficult task of settling the leftover business from Justified's stellar season two and setting the table for the action to come in season three. Season two will be a hard act to follow. Justified will miss the incomparable Margo Martindale, whose stunning turn as the villainous Mags Bennett earned her a richly deserved Emmy last year. Her absence looms large over "The Gunfighter," as sole heir Dickie sits in jail and heir apparent Boyd Crowder hoards the remnants of her vaunted marijuana empire.
But it seems that there are many tiers of villainy in Harlan County that still remain to be exposed. Nature, as the saying goes, abhors a vacuum, and Mags's death has created the largest vacuum rural Kentucky has seen in decades. "The Gunfighter" opens a number of possibilities for season three's most dangerous villains, from earlier-season stalwarts, like psychopath Wynn Duffy or Raylan's frenemy Boyd, to Fletcher "The Ice Pick" Nix, a chilly hired gun who finds himself on the losing end of a duel with Raylan by the episode's end.
But the greatest threat to Harlan County seems to come from the north, in the form of ruthless businessman/hitman Robert Quarles. Much of Justified's first season built toward a confrontation with crooked businessman Emmett Arnett, who seemed at the time to be at the top of Harlan County's criminal ladder. But Arnett is penny-ante compared to Quarles, who dispatches him in "The Gunfighter" without a second thought. If Quarles has his sights set on Harlan County, he's less reasonable than Mags Bennett, who at the very least always had a logical cause for the ruthlessly pragmatic violence she wrought. Quarles may have a reason to shoot Arnett's duplicitous secretary Yvette—she is, after all, a loose end—but there's no mistaking the pleasure he takes in the killing, and his amorality makes him an unusually unpredicatable threat.
Of course, our hero's record isn't exactly clean, either. Though the episode's title is ostensibly a reference to him, "The Gunfighter" finds Raylan Givens at less than his best, as he recovers from his gunshot wound. In the series' pilot, ex-wife Winona described Raylan as the angriest man she'd ever known, and there's no evidence that's changed. Raylan will be a father soon, but he's not spending his spare time reading What To Expect When You're Expecting; he's standing at the shooting range, working out every possible way that he could shoot someone in light of his newly-acquired handicap.
It would be nice to believe that Raylan could find some peace, some sense of contentedness, but it's impossible to imagine him without a loaded gun at his waist. It's unclear what that will mean for his future, or for the future of his friends and enemies. But if there's a single thread that runs throughout all of Justified, it's the idea that no matter what we do, we can't escape who we are. Raylan wears a marshal's badge and a white cowboy hat, but at his core, he's pure, violent Harlan County, and that's something he can never run away from.
Quip of the night: Boyd Crowder, to Raylan Givens: "If a book could only be judged by its cover, you'd be a bestseller."