Joe Paterno's Disappointing Last Decade at Penn State
Why did the legendary coach keep going, even after his best days were behind him?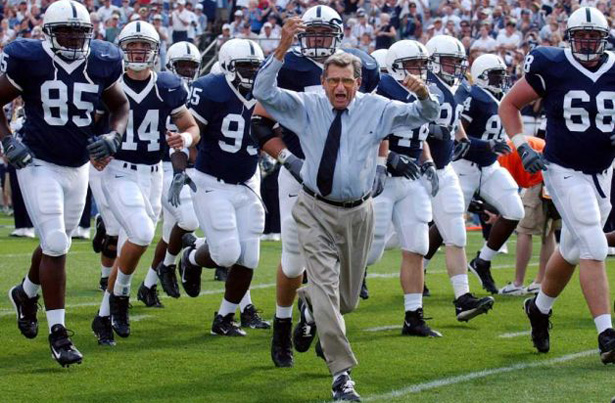 AP Images
How much simpler Joe Paterno's life would have been had he gotten out when the getting was good.  At the end of the 2000 season, Paterno was already regarded as one of the all-time greats, with a career record of 322-90-3.  He had won two national titles, in 1982 and 1986.
But 2000 was a bad season for the Nittany Lions. Hampered by age and illness, and, let's be honest, declining mental faculties, Paterno's team finished 5-7 and failed to get a postseason bowl game invitation for the first time in 12 years.  Though it is now forgotten, there was a great deal of criticism of Paterno at this time, not all of it from outside the Penn State area. I made some of it in a column for Salon in 2001 after Penn State had gone through another dismal season with a 5-6 record:  "Paterno can't get out there and recruit the way he used to, and his game plans, never models of imagination in the first place, have become predictable."
MORE ON FOOTBALL
It was obvious that what was keeping Paterno coaching into the 2001 season was the pursuit of  Alabama coach Paul "Bear" Bryant's Division 1-A record for coaching victories, 323, which he broke on October 27 that year.  Joe Paterno was obsessed with Bear Bryant, a coach he both admired and was intimidated by.  Bryant was the only major college coach Paterno had never defeated, going 0-4 against him in head-to-head competition. In one of Penn State's most famous defeats—and one of Alabama's most famous victories—the 1979 Sugar Bowl, Alabama won the national championship by stopping Penn State on four consecutive plays from inside the 3-yard line. The loss haunted Paterno; he said as much on numerous occasions.
But why did Paterno stick around after breaking Bryant's record in 2001? So he could pass up Eddie Robinson's' record for total victories, 408, which he did near the end of last season? Not likely.  Robinson was a great coach, but he spent his entire career at a smaller college, Grambling University, and no one compared Paterno's achievement to Robinson's.  I think that once again he did it because of Bear Bryant.
In his 2006 biography of Paterno, The Lion in Autumn, the Philadelphia Inquirer's Frank Fitzpatrick disclosed that Bryant had once told Paterno that "If I quit coachin,' I'll probably croak in a week."  Bryant's predictions were usually spot-on, but he was a little off on this one. He lasted nearly four weeks after his last game, dying on January 26, 1983.  Paterno, thought Fitzpatrick, was terrified that the same fate awaited him when he left coaching.
Joe Paterno died early Sunday of lung cancer at age 85. He passed up Bryant in this, too, making it 74 days after his last day as head coach at Penn State.
What if he had quit coaching after the 2000 season? The last 11 seasons of Paterno's career did nothing to enhance his football reputation. From 1966 through 2000, he won 317 games, lost 83, and tied 3 for a won-lost percentage of .790.  After that, his record for the decade wasn't terrible at 87-46 for a .654 W-L percentage.  There were, after all,  three seasons with 11 wins. But it was a second-rate record with two losing seasons, as many as Penn State had suffered since Paterno began coaching in 1966. And it included three seasons in which the Nittany Lions weren't invited to a postseason bowl, as many non-bowl seasons as they'd had in the previous 34 years.
In the wake of the sorrow over his death, a lot of people now want to pretend now that they weren't calling for Joe Paterno to step down about a decade ago. "What a magnificent gesture," I wrote in that Salon story,
if he had decided to call it quits and step down, telling the world in no uncertain terms that a mere record for the moot coaching wins meant nothing to him. But no, he went for the gold, and he's had to wade through a lake full of dross to get a lousy handful of it. And at what cost? Is it possible that Joe Paterno simply cannot see the damage he is doing to the Penn State football program, that it has been run into the ground and that he is the man who has run it there?
I wasn't quite right about that; Paterno's declining abilities as a recruiter and a coach did not run the program into the ground. But Paterno did live long enough to preside over its sharp decline. At the end, the team could no longer compete even with the best teams in their own conference—they were crushed by Wisconsin in the Big Ten championship game back in November, 45-7—let alone the nation's best teams. (They were whipped by Alabama in consecutive seasons, scoring just one touchdown in the two games.)  Since 1999, Penn State has won just 4 bowls.
And, of course, if Joe Paterno had retired gracefully after the 2001 season, he would not have been the one that Penn State assistant coach Mike McQueary reported to in the spring of 2002 when he claims he saw former assistant coach Jerry Sandusky sexually abusing a young boy in the football facility's showers.
In virtually all the postmortem statements I've read, the case has been made that—let me see if I can do a collective paraphrase here—"a lifetime of achievement should not be wiped out by one terrible decision." Meaning, of course, Paterno's failure to notify legal authorities when McQueary came to him.  If only it were that.  We must add a second  failure, one which Paterno's apologists, particularly Sports Illustrated's Joe Posnanski, have tried to do an end run around: Joe Paterno did not come out immediately and apologize and take full responsibility for the horror of the abuse and the damage done to the boys Sandusky is accused of raping.
The enormous problem in assessing Paterno's legacy is that his moral failure in the Sandusky scandal undermines precisely what his true greatness as a football coach and a leader were supposed to be about.  From now on, whenever Joe Paterno's name is mentioned, the shame of the sexual abuse scandal will be attached to it.  There is simply no going around that and no sense in pretending otherwise. Or, as Bear Bryant once said in a different context, "You get the credit for the wins, you got to take the blame for the losses."
In mourning Joe Paterno, we're also mourning, at least in part, our loss of faith in what we thought he represented. If he had done the right thing when McQueary came to him in 2002, the scandal would still have broken, but his funeral might now be an occasion to bring us together, the beginning of a healing process, especially for the university and its followers rather than a reminder of the overwhelming sadness all of us who admired him now feel for what we've lost.