Joe Flacco Is a Great Quarterback, Even Though the Ravens Lost
It's easy to forget how heavily quarterbacks rely on their teammates.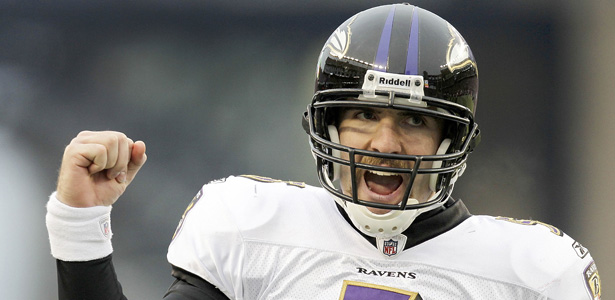 Reuters
In the rush to glorify individual quarterbacks as the heroes of professional football franchises, we often neglect to recognize that quarterbacks, perhaps more than players at any of the other celebrated positions in professional sports, are heavily dependent on their teammates.
If Dwight Clark didn't make a fingertip catch in the back of the end zone during the 1982 NFC Championship Game, then Joe Montana and San Francisco 49ers might never have won Super Bowl XVI, and Montana's legacy would be significantly different. The same can be said of Eli Manning and David Tyree: It was Tyree's now-famous helmet catch that extended the game winning drive of Super Bowl XLII, which gave Manning his induction into the elite fraternity of Super Bowl-winning quarterbacks.
MORE ON FOOTBALL
Considering the indelible contributions of those receivers is particularly apropos today, since last night it looked as if Baltimore Ravens quarterback Joe Flacco would etch his name into NFL lore by leading his team on a last-minute, game-winning drive in the AFC Championship. That all changed when one of Flacco's teammates dropped the ball. Literally.
Conventional wisdom holds that if an NFL quarterback wants to be considered an elite player, he needs to be capable of leading game-winning drives in pressure situations. Flacco almost did just that in the Ravens' conference championship game against the New England Patriots, and the failure to actually get the win was not his fault. The Ravens offense got the ball on their own 21 yard line with 1:44 left to play and the Ravens trailing 23-20. Flacco proceeded to march his offense 65 yards—gaining all those yards through the air—putting the team in prime position to either win the game with a touchdown or tie it with a field goal. On a second-and-one from New England's 14-yard line, Flacco dropped back and threw a perfect pass to wide receiver Lee Evans, who seemingly caught the ball in the end zone for the go-ahead touchdown before Patriots defensive back Sterling Moore stripped the ball from Evans' grasp, denying Flacco his moment of glory in the process.
Two plays later Ravens placekicker Billy Cundiff missed a 32 yard field goal that would have sent the game into overtime, giving the Patriots and their vaunted quarterback Tom Brady a fifth AFC title in the last 11 seasons while Flacco and his teammates could only watch from the sideline and ponder what almost was.
It's reasonable to surmise that the loss was particularly difficult for Flacco, because going into the game his play was under increased scrutiny. In the week prior to the contest, Baltimore's Pro Bowl safety Ed Reed, a player some consider a first ballot hall-of-famer, criticized Flacco during an on-air interview with Sirius XM NFL Radio, saying Flacco looked "rattled" during the Ravens' previous game against the Houston Texans. Reed emphasized his displeasure with the quarterback by saying, "He can't play like that."
The comments highlighted the fact that many sportswriters and pundits see the Ravens as a team that for the past decade has been one good quarterback away from winning multiple Super Bowl titles. During that time, Reed and linebacker Ray Lewis have helmed what has consistently been one of the league's best defenses, but the Ravens offense has struggled to match the defense's production. As a result the Ravens have often come up short while conference rivals such as New England and the Pittsburgh Steelers, both of whom have All-Pro quarterbacks under center, have each won multiple Super Bowls. Reed's comments seemed to exasperate the perceived offense-defense divide in the Ravens locker room and to alert the public that Ravens defenders were becoming tired of being asked to always shoulder the load. The fact that Reed made the statement on a radio program showed he wasn't afraid to publicly demand a better performance from his quarterback, and as a result one of the popular narratives going into Sunday's game put the responsibility for winning squarely on Flacco's shoulders. In other words, it was time for Flacco to play well and prove to his teammates once and for all that he was the quarterback who could put this team over the hump and back in the Super Bowl.
Such narratives are overly simplistic, but the idea that this game was a chance to prove something may have resonated with Flacco. According to ESPN.com, Flacco told reporters after the game, "I don't know if I ever will prove anything." This is where I disagree with Flacco, because on Sunday he catalyzed what should have been a game-winning drive, proving he is up to the task of winning games in the clutch. Unlike Montana and Manning and other quarterbacks of years past, Flacco was simply not fortunate to have a sure-handed player on the receiving end of his would-have-been-game-winning touchdown pass.
I'm not suggesting that fans gang up and blame Evans for ruining Flacco's moment in the spotlight—in fact Moore deserves significant credit for stripping the ball from Evans' grasp rather than giving up on the play—but if the litmus test for separating great quarterbacks from run-of-the-mill quarterbacks is the ability to lead game-winning drives in postseason play, Flacco passed with flying colors. He did everything that was expected of him on Sunday by leading a 65-yard drive and delivering a perfect pass into the end zone during a championship game played in a hostile environment. The fact that the receiver did not complete the play should not reflect poorly on Flacco or diminish his reputation.
Flacco's counterpart in Sunday's game, the great Tom Brady, built his reputation for being a clutch player by doing even less than Flacco did. In Super Bowls XXXVI and XXXVIII, Brady found himself in more favorable conditions. In both games he got the ball late in the fourth quarter with the score tied, meaning that he only had to put his team in field goal range in order to win the game. He did just that, and the onus for actually winning those games fell to former Patriots placekicker Adam Vinatieri who, unlike Cundiff, put the ball through the uprights on both occasions, giving his team two come-from-behind championships and cementing the reputation of his quarterback.
On Sunday Flacco played just as well as Brady did in those two Super Bowls but didn't get as much support from his teammates. That doesn't mean he's as good a quarterback as Brady, but it also doesn't mean he's a player who should be doubted by teammates, fans and members of the media. Flacco may never have another opportunity to play in an AFC Championship game, but regardless of what the box score says or how history remembers him, Flacco proved his worth Sunday.