Is This Baby Thoroughbred Destined for Greatness?
A young colt is born to racing royalty and an entire industry pays close attention.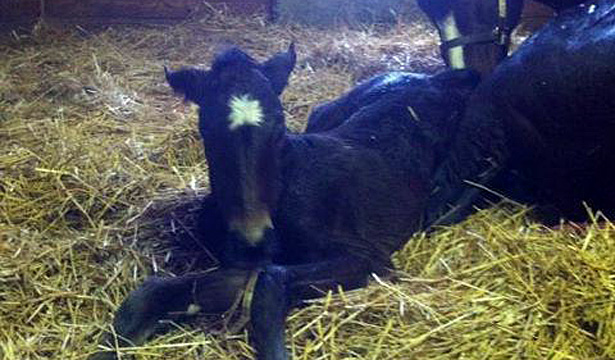 Stonestreet Farm
"Rachel Alexandra has an announcement," cooed the Blood-Horse's online edition Sunday afternoon when it provided on Facebook, exclusively as near as I can figure, a few back-lit photographs of the "child of the year." USA Today was quick to add later in the day that the boy weighed a healthy 125-pounds at his birth. His mom, the birth manager said, was a "natural mother." And thus it came to pass that a regally bred Thoroughbred colt, the result of an historic union between the best and the best, came into the world. And a January foal, too!
The young colt's father is the legendary Curlin, one of the greatest racehorses of this or any other generation. The lad's mom is Rachel Alexandra, one of the greatest mares ever to grace a racetrack. Both won Horse of the Year honors. Both have millions of fans all over the world. It's entirely possible, of course, that the result of this blessed mating will be a horse that cannot put one fetlock in front of the other. But it's also possible that we have just marked the birth of a transformative figure in horse racing. We likely won't know the answer until 2014.
I will lay odds on the former—I'm a pessimist, after all—but there is little doubt that everything this colt does, from this day forward, will be chronicled and scrutinized by the thoroughbred community with all of the hype and attention that surrounded his birth. It is unlikely that he will ever be offered up for sale at public auction—you wouldn't sell him if you owned him, would you?—but if he were, and if his legs look the part, he'd likely bring a fortune. Even if he runs like Bea Arthur, after all, he'll still have some value as a future stallion.
The colt was bred in the Bluegrass, at Stonestreet Farm, which owns both the sire and the dam, and it's a crying shame that Jess Jackson, who founded the farm, did not live long enough to see this day. So how much is the colt worth, all things being equal, if he were sold as a yearling next year? I asked two men in racing whose opinion I trust and respect. Bill Oppenheim, a thorougbred industry market analyst and columnist for the Thoroughbred Daily News, offered this assessment:
Curlin's first 2-year-olds will be racing this year, so the market value of a yearling colt foal by him out of Rachel Alexander would depend quite a bit on how he is doing as a sire when it would sell, say in September, 2013. Curlin would then have 3-year-olds, and if he was a big bust—it can happen—the yearling night 'only' be worth, say $1 million. But if he is, as we all hope, a good sire, I'd say $5 million. But you also have to remember, for sentimental reasons, a collector's item like that might be worth more to its connections than it would be worth in the marketplace. But the short answer: $5-million; and today $3 million. I know some people might say, oh it would be worth $10 million, but I don't think so. I'd say $5 million would be quite enough if you keep the sentiment to a minimum.
I also posed the question to Eric Mitchell, the editorial director at the Blood-Horse, for his view. He told me Monday via email:
If the colt ends up going through a sale, I would say he has a base value of $1 million because Rachel Alexandra was sold for $10 million and the colt has parents who were both Horse of the Year. The top yearling at Saratoga last year was a Bernardini colt that brought $1.2 million and was a physical standout and the top horse during the select Keeneland September sessions was a $1.4 million A.P. Indy colt. You get two people hooked up at a sale who both absolutely want the Curlin—Rachel Alexandra colt, then who knows?
Who knows. There you have it. This little colt doesn't know his mom and dad are racing royalty. He doesn't know how much he is worth now or how much he would bring at auction. And the other horses against whom he'll one day compete sure won't be looking for a price-tag when they all enter the starting gate. That's the great thing about horse racing. You breed the best to the best and then hope for the best. But hope is all you really have until you see with your own eyes your horse get under the wire first.