How Coming Out Became Cool for Celebrities
For some famous, secure people, official confirmation of their sexual orientation isn't just a matter of honesty: It's a highly valuable commodity.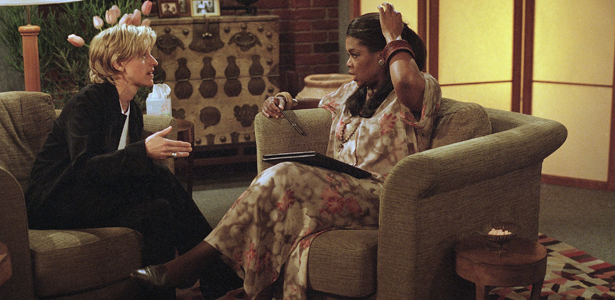 AP Images
Anderson Cooper has evaded questions about his sexual orientation for years. He may clarify the question soon, though: Rumors swirled recently that the CNN reporter and daytime show host will come out on Anderson in February—and lend his fledgling talk show a ratings boost. While it might seem slightly crass, it's not particularly surprising. Coming out remains a fraught process for many Americans—particularly for young people who still rely on their parents for emotional and financial support—but for some famous, secure people, official confirmation of their sexual orientation isn't just a matter of honesty: It's a highly valuable commodity.
The coming-out process has become yet another celebrity experience to be packaged up for consumption, along with weddings, divorces, weight loss, and first baby pictures. Famous people ranging from Neil Patrick Harris to country singer Chely Wright to boybander Lance Bass have announced their sexual orientations in splashy features in People magazine. Harris is perhaps the only one of those three whose career was sufficiently hot to have landed himself that cover for any other reason. Former American Idol runner-up Clay Aiken pulled a twofer in 2008 when he both came out and introduced the world to his infant son on the cover of People. Even straight guys can get in on the act. This July, former Dallas Cowboys wide receiver Michael Irvin landed the cover of Out magazine with an exclusive interview about his gay brother, who died in 2009, and his subsequent work encouraging sports to become more gay-friendly.
MORE ON TELEVISION
It wasn't always this way, of course. Just as the treatment of gay people has evolved in the United States, it's the coming out process itself has changed. It was only a few decades ago that celebrities started to feel comfortable discussing their sexuality publicly. Despite the fact that there are still no out, active athletes in American professional team sports today, athletes actually beat Hollywood in beginning the public coming-out process. Former NFL running back David Kopay came out in an interview with the Washington Star in 1975, and tennis star Martina Navratilova followed six years later after she'd finished the process of becoming an American citizen. But those revelations carried greater personal and professional risk in a time before gay sex had been decriminalized, and as the rise of AIDS stoked anti-gay panics.
AIDS became an impetus for more stars to come out of the closet, not always at the rate they'd wished, and not always in their lifetime. People's status as the vogue venue for coming out stories began after Rock Husdon's death in 1985 when the magazine published a major story about Hudson's AIDS diagnosis and homosexuality, something his agent had kept a carefully if incompletely guarded secret during the star's life. Keith Haring was openly gay during his lifetime, but as HIV created a new kind of coming-out process as people disclosed their sexual orientations and their HIV status, he was vocal about his illness and used the Keith Haring Foundation in part to provide financial support for and images that AIDS organizations could use to communicate their messages.
It was Ellen Degeneres who set a new model for coming out that was designed both to help her life a more honest, fulfilled life, and to bolster her career int he process. In a coordinated campaign, Degeneres personally came out on the  cover of Time 16 days before "The Puppy Episode," in which her character on her sitcom Ellen joined her outside of the closet. She went on Oprah Winfrey to discuss the revelation the morning before "The Puppy Episode," and then had Winfrey serve as her confessor again on Ellen that same night. At the time, Degeneres said, "I did it selfishly for myself and because I thought it was a great thing for the show, which desperately needed a point of view."
And in the long arc she's been proven right. 42 million people turned in for the coming out episode, and after two seasons where the ratings had averaged 10.6 million viewers per episode, Ellen's numbers rose to 12.4 million viewers per episode in the final season. There were bumps along the way: her follow-up, The Ellen Show, only aired 8 episodes before it was cancelled. She's found new success as a daytime talk show host where she averages 2.74 million viewers per episode, a star on a smaller stage—though she's graced bigger ones, including hosting the Academy Awards in 2007. While her decision to come out may have made her a hot commodity in the gay market—the Human Rights Campaign and lesbian-oriented Olivia Cruises tried to advertise on "The Puppy Episode" to replace lost sponsors—Degeneres used that base to build a national audience composed of gay and straight people alike. Neil Patrick Harris followed in Degeneres's footsteps, coming out on the heels of high-profile playboy roles in Harold and Kumar Go to White Castle and How I Met Your Mother to show that gay actors shouldn't be limited to gay roles. He later hosted the Emmys and Tonys. When Degeneres and Harris came out, audiences could feel good rooting for a brave gay actress and a gay actor who transcended stereotypes. Those fans have stuck around because Harris is tremendously funny, and Degeneres is a charming host and interviewer.
That's the dream scenario, of course. When Chely Wright became the first mainstream country singer to come out last year, Lifted Off the Ground, the album she released in conjunction with her coming-out memoir, sold only 21,000 copies. Chaz Bono's documentary about his sex reassignment surgery was one of the few things that went right for Oprah Winfrey's fledgling and struggling OWN network. But it seems unlikely to move him beyond turns on Dancing With the Stars and a continued—and important—role as a celebrity spokesman.
And at a time when, as Out puts it, "many otherwise responsible adults slipped into a Glee-induced coma" about the obstacles young gay and transgender people face, we're not at a point where we no longer need role models. Between 20 and 40 percent of the homeless youth in the United States are gay, lesbian, bisexual or transgender—26 percent of young people who came out reported that they were asked to leave home, a risk rather more considerable than a television show cancellation. A study that focused on gay youth in Oregon, published in May, suggested that gay, lesbian, bisexual, and transgender young people are much more likely to attempt suicide than their straight peers. 21.5 percent of gay youth interviewed for the survey had tried to kill themselves, compared to just 4.2 percent of straight students. And the numbers were 20 percent higher for gay students who didn't have access to support systems like a gay-straight alliance. Even students who get help can get worn down: Jamey Rodemeyer, a 14-year-old who made a highly publicized video as part of Dan Savage's It Gets Better campaign, and who had the support of his parents, a therapist, and a social worker, committed suicide in September.
The coming-out process Cooper would go through, if he indeed reveals his sexual orientation in February, exists in a whole different universe than the one entered by vulnerable young gay people who risk homelessness, bullying, and vastly elevated risks of suicide. He has a solidly established professional pedigree, and doesn't need to lock up a segment of the gay market to maintain a tenuous foothold in the entertainment business. And Cooper hasn't made an effort to make any particular secret of his personal life for years. When he went on vacation with his presumed boyfriend Benjamin Masiani in 2009, Gawker sighed in exasperation: "Cooper's see-through closet is such a joke that it doesn't make sense to call him in the closet anymore. If he won't say it, we will: Anderson Cooper is officially out." If he does decide to put a rubber stamp on that fact during February sweeps, it'll be hard to imagine who the declaration will surprise. And while it might make him a role model, Cooper won't even be the first enterprising CNN reporter to come out of the closet. Don Lemon beat Cooper to the punch earlier this year.
Anderson Cooper's life is his own, and he can tell us as much or as little about it as he wants. But if he's treating his own coming out story like a commodity rather than a personal journey, we can act like educated consumers, deciding whether he's setting a positive example or profiting off his safe distance from real-world homophobia. For young gay people, not enough has changed in America. But just because the coming-out process has become beneficial for some celebrities doesn't mean we're required to buy what they're selling.