Good Writing Isn't Enough: How to Sell a Book in the Digital Age
The digital revolution is not only changing how books are read—it is also changing the how they are written, produced, and promoted.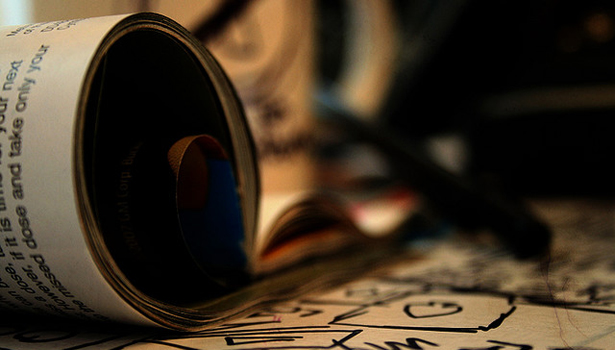 Orangeya/Flickr
Nieman Reports is the venerable quarterly of the Nieman Foundation for Journalism at Harvard. The current issue ends Melissa Ludtke's 13-year run as editor. She is now at Brandeis University's Schuster Institute for Investigative Journalism. For her grand finale, Ludtke devotes the issue to articles aimed at journalists whose goal is "Writing the Book." Featured among the 24 pieces are thoughtful discussions of "concept, voice, style, length, audience, platform, self-publishing and marketing." (Included, I need to acknowledge, are excerpts from an interview Ludtke did with me, under the headline "Transformation in Publishing and Optimism About Books.") The entire issue is available gratis. As a contributor, I was sent the print version, which sells for $7.50 (a $25 year's subscription is the standard payment for articles). If you are among the legions of journalists who regard publishing a book as a professional goal, there is a lot to read in the magazine that will be helpful, so go ahead and splurge on the purchase price.
The overriding message in the articles is that books are an entrepreneurial exercise, combining the selection of a subject, the self-confidence to stay with it through the reporting and writing ordeal, and a commitment to marketing the results, which for many authors is an especially unfamiliar process. Among the multiple subjects covered, one of the most informative is how traditional sales strategies are adapting to the digital age. Here's one example: William Wheeler is a freelancer who has endured frustration in landing a book contract, but has the persistence and a resume (a recent New York Times story about Libya was supported by the Pulitzer Center on Crisis Reporting) that should eventually lead to success. "What transforms journalists into nonfiction authors," he writes, "is the heft of their voice, the narrative arc of their idea and its marketability. These aren't lessons that tend to be reinforced on the way up the newspaper ladder... Marketing the idea—and selling you as its author—is everything in getting to write a book." With the support of an agent, Wheeler circulated a conventional proposal about environmental crises and collected rejections from publishers who said they liked the idea but felt that the genre was too crowded. Recovering from the disappointment, Wheeler then sold an expansion of another Libya story to Byliner, an innovative new e-book publisher whose founder, John Tayman, writes in his Nieman Reports article that "our idea was to create a new way for writers to be able to tell stories at what had always been considered a financially awkward length."
Byliner has released e-books by such stellar authors as Jon Krakauer, Ann Patchett, Mark Bittman, and William T. Vollman. The prices are low—Krakauer's 22,000-word takedown of Greg Mortensen's bestseller Three Cups of Tea released last April goes for $2.99—and, crucially, the marketing reflects today's increasingly influential methods of digital communication. "We didn't want to rely on the customary book publishing model," Tayman writes. "We wanted to upend that scenario by aggregating an audience via an author's social network; in this way we could commission an original e-book and publish it (essentially presold) into that targeted fan base... Byliner.com utilizes well-known social media techniques, such as a Twitter-like system alert so that readers don't miss the publication of an e-book by their favorite writers, as well as a Pandora-like recommendation system that helps readers discover new authors."
Gayle Tzemach Lemmon, whose success with her book The Dressmaker of Khair Khana: Five Sisters, One Remarkable Family, and the Woman Who Risked Everything to Keep Them Safe I've mentioned before, provides another vivid account of how persistence, a fervent belief in the story being told, and the adroit use of digital promotion are the alchemy that can produce a hit. Lemmon first describes the patronizing sessions she endured as she made the rounds. "What I knew was that everyone who said there was no audience for this story was wrong," she writes. "In the run-up to publication... my editor, Julia Cheiffetz, at Harper Collins, the book's publicist, Heather Drucker, and I became rogue digital marketing agents, with assistance from Lisa Sharkey, who helped me bring the book to the publisher. Working as a team—combining the strength of our individual arenas of contacts and expertise—our strategy was to draw wide attention through mass media outlets and simultaneously target niche audiences of interest and influence." She then provides a column of specifics and this outcome: "Glittering reviews in places such as People and O Magazine were incredibly powerful and so were readers who found out about the book online. Twitter was a potent engine for spreading the word and so were bloggers. My book was one of the first non-fiction bestsellers at HarperCollins in which the e-book outsold the hardcover."
John F. Harris, editor in chief of Politico, whose indefatigable colleague Mike Allen and Evan Thomas, a former Newsweek star, are writing e-books about the presidential election for Random House (their first installment, The Right Fights Back, was recently released and made the New York Times e-book bestseller list) provides a coda worth repeating. For all the contemporary emphasis on quick bursts of content and the "proliferation of information—abetted by the omnipresence of devices to carry that information to us at all times and in all settings," Harris writes there is also evidence that long-form journalism can hold its own. "What do people want in this frenetic digital age? After everything, my guess is that they want good stories, just as people have always yearned for them and presumably always will. That prospect seems like grounds for optimism to me."