Give That Dog His Oscar Back, Says Susan Orlean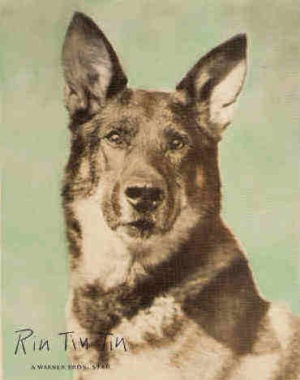 The newest Oscar campaign isn't to get an Academy Award for a film released in the past year. It's also not to reward a human. At Deadline Hollywood, author Susan Orlean tells Mike Fleming that she thinks the four-legged subject of her new book, Rin Tin Tin: The Life And The Legend, should be awarded the posthumous Oscar that was allegedly denied to him in 1929:
Why would the Academy give an award to an animal over a human? Orlean said that during the silent film era, Rin Tin Tin was far more popular than [Oscar winner and Rin Tin Tin co-star Emil] Jannings or just about anyone else onscreen. "That first year that the Oscars were awarded, it seems to have been more a popularity contest than a serious assessment of performance," Orlean told me. "In terms of popularity, Rin Tin Tin didn't have a peer, he was a huge star around the world and helped Warner Bros transition from its start as a small studio into a large one. I can't imagine that Emil Jannings was opening films, but Rin Tin Tin certainly did."

The Academy stepped in and gave the award to Jannings. After all, what animal performance (outside of Andy Serkis as Caesar in Rise of the Planet of the Apes) could really be called acting? While some might question whether Orlean perhaps has tried snorting orchids (as Meryl Streep did in playing Orlean in Adaptation, the Charlie Kaufman-scripted film of her bookThe Orchid Thief), Orlean makes a case that the subject of her most recent book was emoting. "We wonder, could an animal understand the idea of acting as opposed to behaving," she said. "I think that training a dog to have a certain behavior is impressive and a credit to the dog's intelligence and the mastery of training techniques. But if you look at what Rin Tin Tin did, he seemed to understand that he was performing. Look at Clash of the Wolves, as he limps away from his pack to die alone. You watch the scene and can't believe he didn't know he was acting in the movie. He is grimacing and limping, he falls to the ground in agony. How would you train a dog to look depressed and act as if he's resigned to a lonely death? I don't know how you do that. Somehow, the dog knows he's supposed to look miserable and contemplating his mortality. What could have been the behavior Lee Duncan taught him to create that appearance?"
It's not clear whether, or how much, Orlean is joking. But she did apparently assert in her book that Rin Tin Tin was, according to some, set to win the Oscar. As quoted by the Hollywood Reporter, "according to Hollywood legend, Rinty received the most votes for best actor. But members of the Academy, anxious to establish the awards were serious and important, decided that giving an Oscar to a dog did not serve that end."
Read the full story at Deadline Hollywood.