Finally, Two Troubled Film Heroines the Audience Isn't Meant to Ogle
The women of Miss Bala and Martha Marcy May Marlene are beautiful, but unlike in films like The Girl With the Dragon Tattoo, their traumas never provide voyeuristic thrills.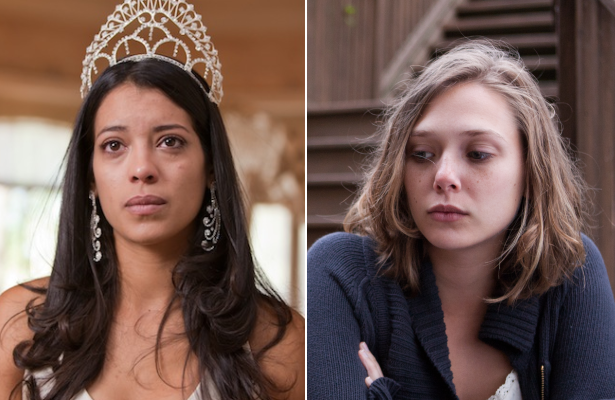 20th Century Fox / Sony Pictures Classics
This post contains spoilers about Miss Bala and Martha Marcy May Marlene
The camera zooms in on the contours of her pillowy lips and dewy skin long enough for us to count the pores on her nose. We follow her through trauma after trauma, beatings and rape, and watch helplessly as she is used as a pawn for the pleasure of the men who exploit her youth and beauty. Her searing sexiness makes her more vulnerable, but also prevents her from getting killed. By the end of the film, she has no place in society, dejected and beleaguered by the forces that she once thought could save her. The camera lingers on her for a long, final shot, and then ends abruptly, in what seems like the middle of a scene.
This description fits two of the most critically acclaimed films of the past year, Miss Bala and Martha Marcy May Marlene. Miss Bala, which opens in New York and Los Angeles on Friday and was directed by Gerardo Naranjo (Gonna Explode, Drama/Mex), is based on the true story of a Mexican beauty queen who, after witnessing a shoot out at a nightclub, gets kidnapped by a Tijuana drug cartel. The film depicts the endemic corruption that touches every level of Mexican society, from traffic cops to pageant judges to high-ranking military officers. Actress Stephanie Sigman plays Lau with steely reserve and almost affectless fear, making her captivity terrifying to watch. As the film concludes, a bruised, battered, and humiliated Lau walks aimlessly into the distance.
Martha Marcy May Marlene—released in October and directed by newcomer Sean Durkin—conjures a back-to-the-land-style cult in upstate New York where members don flannel shirts and floppy floral dresses (you can just see the NYLON inspiration page). The film opens with Martha (Elizabeth Olsen) escaping that cult only to later experience flashbacks while living with her sister and brother-in-law at their tony lake house. When Martha's erratic outbursts become unmanageable, her sister realizes she needs professional help. In one of the most polarizing endings of the year, the screen blacks out with the headlights of an oncoming car, (possibly a vengeful cult member, possibly her imagination) ominously approaching.
But beyond their elliptical conclusions—the ending du jour to make films seem perhaps deeper than they are (see Ides of March, Beginners, Take Shelter, Meek's Cutoff)—Naranjo and Durkin render women in trouble with empathy, a far cry from more-common salacious portrayals of sexified victimization. The Girl With the Dragon Tattoo, though ostensibly anti-misogynist because of its vigilante heroine, allows the viewer a seemingly endless, graphic glimpse into horrific sexual violence. Same with season five of Dexter, which features cute blonde girls getting repeatedly gang raped and tortured. We not only get our justice, but our voyeuristic violent fetishes fulfilled too. Turn on almost any episode of CSI or Law and Order for more of the same. Audiences, apparently, hunger for stories of pretty girls getting used.
Which makes the subject fraught territory for a director who wants to tell the story of a woman in distress more honestly. Miss Bala's director Gerardo Naranjo consciously wrote a female character to challenge stereotypes of women. "Mexico and the Mexican people have been educated in the horrible art of melodrama," Naranjo told me in an interview. Were Lau a character in a typical telenovela version of the drug war, she would "cry and throw herself on the floor and pray to God; she'd be kissing Lino [her captor and cartel jefe] to try to save herself." But Lau helplessly accepts the pain and punishment with dignity. "When people cry and go 'why me,' they find excuses to not accept their fate," Naranjo said, referring to the denial he sees in the Mexican media. Lau's stoicism captivates the viewer. "It's a frustration for the audience to see her not reacting, and you want her to react, and that's why you follow her."
Durkin also wrote to challenge sensationalized rape scenes. As part of her initiation into the cult, Martha gets drugged and raped by the leader Patrick (John Hawkes). But the scene zooms in on just Martha's head and neck. "I wanted to make that scene about the emotion, which is why we only focused on her face, and not on what's actually happening," Durkin told me. From his extensive research into the world of cults, he "heard things that were way worse than what's in the movie. We pulled it back, and didn't include elaborate rituals or anything like that. The rape and victimization is a real core of many cult member's trauma, so it had to be included, but we tried to do it respectfully."
MORE ON MOVIES
Women are at the center of these stories because their stories could not happen the same way to a male protagonist. Most of the men in the shooting scene at the beginning of Miss Bala were casually knocked off by the cartel. But since Lau is gorgeous, "she becomes an unusual weapon for these guys." I asked Naranjo if he sees Lau's beauty as her protection. "I see it as a curse," he explained. "A beautiful woman born into a border town where there's a lot of violence has very few options. These towns are run by the cartels, and if a man sees a beautiful woman walking in the street, he can just grab her. The options are very narrow for an uneducated, beautiful woman... You can't blame the girls, though. They have nothing to do with it."
Since power-hungry and sexually abusive men typically head cults, Durkin is convinced that the Martha Marcy story could only be told through a female character. "I could have hypothetically written a story about a man's life being torn apart, but it gets torn apart in the context of women," he said. "Usually a cult leader will come back and kidnap his wife or children. Women are at the center of these stories, so it was women's stories I wanted to look into." Writing authentically from a female perspective didn't daunt him, he said, because as he sees it, "To me it's like writing about anything. It's like saying that if you yourself haven't gone through their experience, then you can't write about it."
Still, despite a director's best intentions, the subjectivity of a viewer's experience is beyond the control of the director. Naranjo has heard audiences characterize the rape scene in Miss Bala as a "love scene": "It's very surprising to me. I never imagined having to explain that this is not a love relationship." Perhaps audiences suffer some amount of Stockholm syndrome themselves, after being inundated with telenovelas and police procedurals. Durkin, too, was taken aback by the strong reactions his open ending elicited. "I never thought it would be such a big deal," he said. "The ending is honest because Martha is not sure what the future holds, she's not sure if what she sees is real, and at that point of recovery, it just felt honest to her journey." At a recent matinee screening of Martha Marcy May Marlene at City Cinemas, the audience was up in arms about the conclusion. "He just ran out of ideas!" one woman shouted at the screen. Though Durkin wanted the significance of the ending to be open to interpretation, this reaction might not be what he had in mind.
Gerardo Naranjo recognizes parallels between Miss Bala and Martha Marcy May Marlene: "Here is a woman being taken by sheer force." But the force in America is distinct from the force in Mexico. "In the US, the police work," he said. "There's a sense of safety. But Americans have a crisis with what they believe. Americans are trying to find happiness, to find it in a formula. Martha tried to have a meaningful life and wanted to find answers, and in that search she got lost." The humanity of women like Martha and Lau gets lost in cable news shows and sex thrillers, but these two films represent efforts to salvage their stories.