Far From Home, LSU Fans in New York City Watch Their Team Fall to Alabama
Watching the BCS Championship Game at midtown Manhattan's Legends bar, a bastion of fandom in a city where college football is otherwise ignored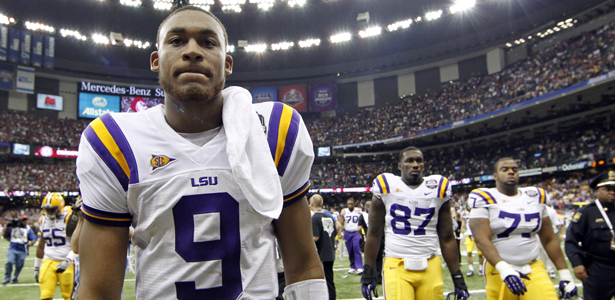 AP Images
Facing what feels like one of the more insurmountable 9-0 halftime deficits in recent memory, five shots of Jack Daniel's Tennessee Honey are lined up for LSU fans on the bar at Legends in New York. It doesn't matter that LSU quarterback Jordan Jefferson played more like George Jefferson in the first half of the BCS National Championship Game against Alabama or that the Tide's first step on offense and defense trumped the unbeaten Tigers. This is the national title game and it is being played in New Orleans, the site of the two previous LSU national titles in the past decade. Until something other than a third LSU title happens tonight, there's no reason not to throw a damn good party in the process, one that includes whiskey toasts to Heisman finalist Tyrann Mathieu.
"To the Honey Badger!" a woman in a black Saints shirt yells, leading the brigade as they rip their shots.
More than 1,300 miles away from the Superdome, the 1,000-plus LSU fans—and a handful of brave Alabama fans—that have come to Legends on West 33rd Street act collectively as one of the loudest voices of college football fandom in the city, where major college football remains otherwise ignored.
MORE ON COLLEGE FOOTBALL
SEC purists know what's at stake here. A third national title for LSU in the decade and Les Miles' second in five years, and the team cements itself as the dominant program of the past few years—possibly the best team in SEC history, and for sure the best in the BCS era. If Alabama wins,  the team gets titles in two out of three years and gives Nick Saban his third BCS title, the most of any coach in the BCS, period. There will be no "SEC!" chants from the losing fanbase as is the case in most other national title games where SEC fans join in solidarity to recognize the conference's dominance on the college football landscape. "Everyone hates Saban at LSU," one woman says, clarifying LSU's position on Saban—who coached the Tigers from 2000 to 2004 before defecting for a short stint with the Miami Dolphins—in case I wasn't sure already.
In what's arguably the biggest night for SEC football in the BCS era, it's a national holiday for the New York contingency of Bayou Bengal fans. They showed up four and five hours ahead of time for gumbo and shrimp po boys and Bud Lights by the bucket. The three levels of the bar remain covered in Christmas lights and garland with red and gold ornaments. Fans are dancing to Garth Brooks' "Calling Baton Rouge," Survivor's "Eye of the Tiger," and any other song that comes on during the commercial break. If not for Jay-Z's "Empire State of Mind" coming on, you would have forgotten that the Empire State Building was right outside.
Standing next to me is Spencer, a New York lawyer and '88 alum of LSU's law school.
He says: "I told them they should have petitioned them to shut down the street and put a big-screen TV outside," saying that it got so crowded inside Legends that the doormen started sending people to the overflow bar down the street. "And who really wants to go the overflow bar?"
A lone man in a crimson Alabama hoodie walks toward the front of the bar through the throng of LSU young alums, old alums, T-shirt fans, and people who just enjoy a good party.
"You see that over there?" Spencer asks me. "That's Tiger Bait right there."
The bait's name is Brian Mahon, a cop from Trenton, N.J. Hours earlier, Knuckles, as Mahon is referred to by Dave Media, his partner on the police force for the past 15 years, was reassured by Media and his other LSU friends that the place they were going to watch the game wasn't a Tiger bar. Some friends.
"I got screwed," Mahon, 42, tells me at halftime. "I had no idea till we pulled up."
The night is turning into a bizarre final chapter for both Jefferson and Jarrett Lee, LSU's backup quarterback. Jefferson looks befuddled and frustrated when the lights are shining the brightest and Lee is left on the sidelines with his helmet on, ready for a call from Miles that will never come. Seeing that Alabama sophomore quarterback AJ McCarron is on his way to the kind of efficient, MVP-like performance you'd expect from a fifth-year senior, pockets of the bar are chanting for Lee. They're wondering whether the once-maligned quarterback—who kept the Tigers afloat earlier in the season when Jefferson was suspended, leading them to wins over the eventual Rose Bowl and Orange Bowl champions—will get one more moment to cement his legacy. A young brunette in front of me by the name of Jamie continues to turn around and point at her "Jarrett Lee MVP" button that's on her purple and gold beads, wondering if her guy can come in and clean up this mess of a night. And she will continue to wonder until the clock hits 0:00. For better and for worse, Miles hitched himself to Jefferson and Lee these past four years, which makes the choice to not sit a senior quarterback who is struggling for another senior quarterback who beat Oregon and West Virginia away from Death Valley all the more quizzical. So goes "The Hat."
At 10:41 p.m., hope is restored as Jeremy Shelley misses the 41-yard field goal attempt that would have put the Tide up 15 in the third quarter. Recordings of the LSU band again fill the three-story bar, fans reaching for anything to hang on to. Two minutes later, hope has been dashed as Jefferson is sacked on third down. He's not the most popular guy at this midtown Manhattan bar. And it doesn't get better. At 11:13 p.m., Jefferson is sacked and fumbles it at midfield, and Alabama recovers the ball. The dancing has come to an end, the toasts to the Honey Badger are no more as reality begins to sink in that Saban is going to get one over on them in the rematch that maybe America didn't want. If the plus-one system is eventually implemented, this year will be another example of how it was sorely needed, especially if you ask Mike Gundy in Stillwater, Okla., and Chip Kelly in Eugene, Ore. But don't tell that to this group, not tonight. History was theirs for the taking, this year's Tigers staking their claim as one of the greatest teams to ever come through the SEC. It didn't happen.
Still there amid all that purple and gold, Mahon and his Alabama hoodie are getting all kinds of looks from passersby. What can they say?
"I made it out alive," he tells me, shaking his head as a Gatorade-soaked Saban is answering questions about winning a third BCS title on the big screen. "I'm just happy I made it out alive."