Eli Manning Is Not an Elite Quarterback (Yet)
And unless he wins this year's Super Bowl, he probably won't ever be.
And unless he wins this year's Super Bowl, he probably won't ever be.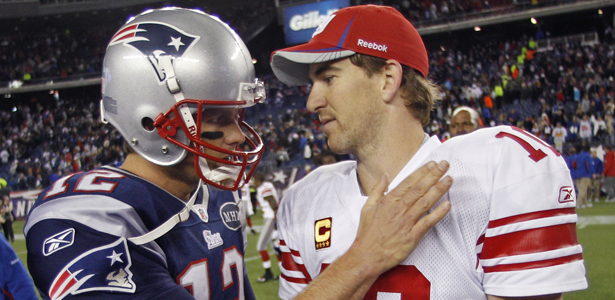 AP Images
Among the most frequently asked questions of the last two months in the NFL season:  "Is Eli Manning one of the league's elite quarterbacks?"  That the question continues to be asked is itself an answer.  If Eli Manning is one of the NFL's elite quarterbacks, why is his status still an issue?
Numbers may sometimes be confusing, or even a tad misleading, but they don't lie.  The NFL's passer rating system is a bit convoluted, and it gives too much weight to the wrong numbers.  (For instance, pass completion percentage, a stat that could easily be discarded from all discussions of NFL quarterbacks.) But though passer rating is imperfect, it is equally imperfect to all NFL passers, which more or less evens things out.  Among active quarterbacks, Eli's career passer rating places him 21st among active quarterbacks. This is not an elite number.  He was ranked 7th in passer rating for the 2011 regular season, which is at least closer to being elite.
MORE ON FOOTBALL
In my favorite stat, yards per attempt—the number I've always insisted has the best correlation to winning—Manning is 14th among active quarterbacks, and this, too, is not an elite number.  He was, however, 7th in YPA this past season, which is, again, much closer to elite.
Eli Manning is extremely likeable, talented, and gutsy; we knew that long before he engineered several sensational fourth quarter bailouts of the Giants this past season. But that doesn't make him elite. Beauty is in the eye of the beholder, and Eli is beheld by the New York area sports media. They've always agreed to overrate him, somehow seeing in him a better quarterback than his numbers would merit. If he played for, say, Kansas City and didn't have the same last name as his brother Peyton (not to mention his dad, Archie), it's doubtful that anyone would be asking if he should be counted among the league's best.
There is the matter of his Super Bowl ring, which he earned when he led the Giants to a 17-14 upset over the New England Patriots in 2008. Eli was very good in that game; he completed 19 of 34 passes for 255 yards, 2 TDs, and an interception. But he won the game's MVP award because his defense shut down Tom Brady and the Patriots offense.
It's amazing how a great defense changes one's perception of a quarterback's performance. Three years earlier,  Donovan McNabb, quarterback for the Giants' bitter NFC East  rival, the Philadelphia Eagles, completed 30 of 51 passes for 357 yards and 3 TDs, but was reviled by many for not being able to win the big game when his team's defense gave up 24 points to the same new England Patriots (the Eagles scored 21).
You can win a Super Bowl without being a great quarterback. In the 2000 regular season, the Baltimore Ravens' Trent Dilfer threw just 12 TD passes against 11 interceptions, which is almost as close to being mediocre as you can get without being bad. But his team beat the Giants in the Super Bowl. No one ever suggested that Dilfer was one of the elite quarterbacks; but then, Dilfer did not play for a New York team and his last name wasn't Manning.
Eli Manning is 31 years old, and this is his eighth NFL season, yet his apologists are still talking about his potential. They may be right—Eli may have the potential to be as good or better than Aaron Rodgers (who will probably be voted this season's MVP and whose Packers Eli's Giants defeated last Sunday, 37-20), Tom Brady (who has won three Super Bowls and who Eli may be facing in this year's big game), or his brother, Peyton, in whose shadow he has played for much of his career.  He may be as good or better than all of them, particularly if he continues to perform as he has down the stretch in the last few New York victories. But all other quarterbacks in NFL history who reached the stature of elite did it well before they turned 30.  When Tom Brady and Peyton Manning turned 30, people weren't talking about their potential, they were talking about what they had already accomplished.
The current issue of Sports Illustrated has a story by Damon Hack: "Eli As An Elite."  The subhead pretty much sums up the sports media's attitude towards him right now: "Quarterback Eli Manning has put to rest all questions of his leadership and clutch ability, outgunning the Packers' Aaron Rodgers to lead the Giants to their second NFC title game appearance in five seasons."
I don't quite agree. I think Eli is a fine leader and has demonstrated superb clutch ability, but to make it over the top—to carve his name in stone as one of the great quarterbacks of his era—he's got to beat the 49ers at San Francisco this Sunday. The 49ers have a much better defense than the Packers, against whom he threw for 330 yards and 3 touchdowns. He then has to defeat the AFC champion—either the Patriots or the Ravens—in the Super Bowl. (And don't think that New England coach Bill Belichick and quarterback Brady wouldn't love to extract a measure of revenge for that 2008 Giants upset.)
No one would hold it against Manning, or at least hold it solely against Manning, if the Giants fail to go all the way.  After all, he has been the principal reason the Giants, who were just 9-7 during the regular season, have gotten this far. But for Eli's career, the next two games will be the acid test.  Thee are many legitimate reasons for not putting Eli in the ranks of the elite, but two Super Bowl rings trump them all.