Does Korean Pop Actually Have a Shot at Success in the U.S.?
Some of their peers' past attempts to cross the Pacific have fizzled, but Wonder Girls may have hit on the right strategy to win an American following: marketing to tweens.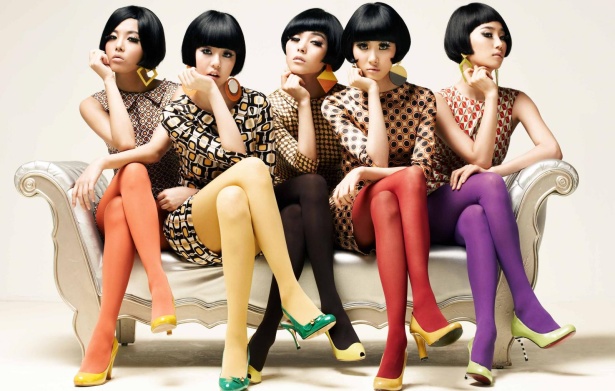 Wonder Girls
The fizzy, busy sound of Korean pop have conquered airwaves in Japan and China over the past few years, but this week marks the escalation of a campaign to charm American listeners. First, Girls' Generation—arguably South Korea's most popular group—will perform on "The Late Show With David Letterman" on Tuesday and "Live With Kelly" on Wednesday. And then on Thursday, somewhere between airings of Rugrats and Full House, TeenNick will air a made-for-TV movie about the Korean five-piece Wonder Girls, documenting its members' fictional attempts to find fame in New York City.
If those sound like small inroads to the American market, it's worth realizing how large these bands' ambitions are. The history of Asian pop stars attempting to crash the U.S. is one littered with artists who went from superstardom in their native country to anonymity in America, along with others who found success only when they morphed into actors or cartoon characters. But the latest contingent headed for the U.S. comes equipped with innovative promotional strategies that may set them up for fame exceeding those of their predecessors'.
Wonder Girls already stand on firmer footing than other coming-to-America Asian pop groups. The act formed in 2007 as the result of an MTV reality show (think Making The Band) and soon became among Korea's most-popular songstresses courtesy of a hip-hop-inspired sound unafraid of borrowing from Euro-pop or '60s girl groups. In March 2009, its members dipped their toes into the American market by performing three concerts stateside, but their break came in June of that year when Disney moppets The Jonas Brothers selected Wonder Girls to open on their North American tour. Propelled by this exposure, Wonder Girls' inaugural English single "Nobody" debuted at 76 on the Billboard Hot 100 charts in October 2009, marking the first time a Korean artist ever charted in America. Since then, the pop outfit has played various live dates and even released a special promotional single titled "K-Food Party," which celebrates ginseng and kimchi. In 2012, they hope to tap into the U.S. tween/teen market via their TeenNick movie and an English debut album.
Girls' Generation, meanwhile, boast endorsements from a singular American tastemaker: Snoop Dogg, who appeared on a remix released this month of their English-language single "The Boys." Another Korean contingent eyeing America is 2NE1, a quartet that raps and sings over often-aggressive beats. The Black Eyed Peas' will.i.am (who has talked the group up over the past two years) has been working on their debut album, clutch of music critics elected their song "I Am The Best" into the top 100 singles in the Village Voice's 2011 Pazz And Jop survey, and the group's rabid fan base recently casting enough votes to declare them the "best new band in the world" in an MTV Iggy poll.
While these three Asian outfits are the latest to harbor U.S. hopes, they aren't the first. That distinction was awarded back in 1963, when Japanese singer Kyu Sakamoto's melancholy tune "Ue o Muite Aruko" (retitled to "Sukiyaki" in the West) became one of the most unlikely songs to top the Billboard charts. For three weeks, the sung-in-Japanese track stayed at number one, making Sakamoto the first Japanese artist to chart and the only one ever to reach the top spot.
Yet the Asian artists following Sakamoto never approached his surprise success. The next group to test America was Japan's Pink Lady, a pop-disco duo that dominated their homeland's charts in the late 1970s. Once their sales started slipping in Japan, they ventured to U.S. shores. Pink Lady's journey started on a high note, as their single "Kiss In The Dark" made the Billboard charts at 37 (the second and last time a Japanese artist would chart). Looking to leverage this hint of stateside success, Pink Lady's management got the group a variety-show gig on NBC alongside comedian Jeff Altman. Pink Lady and Jeff was meant to showcase the duo's singing ability and personality, which proved problematic given that the pair didn't speak English well. NBC axed the show after five episodes, and the program torpedoed Pink Lady's U.S. career. Today, Pink Lady and Jeff is regarded as one of the worst TV shows ever.
In the wake of the Pink Lady fiasco, Asian acts backed off of attempts to enter the American market. During the "alternative" boom of the early '90s, record labels took gambles on leftfield bands like psychedelic rockers Boredoms and the jazzy Pizzicato Five, yet these groups proved either too weird (the former) or too lounge-ey (the latter). It wasn't until the mid 2000's that two of Asia's biggest divas tried to make a splash in America. First was Japan's Hikaru Utada, who made two of the top three best-selling albums in Japan over the last decade and was named as the "most influential artist" of the '00s by the Japan Times. She released her English debut in 2004, which featured production work from Timbaland and was greeted with indifference. Four years later, the "Queen Of Korean Pop Music" BoA also tried to crossover via an English album and a remix featuring hot-at-the-time Flo Rida. Her debut moved only 8,000 units, and she quickly refocused on the Korean and Japanese markets.
MORE ON K-POP AND J-POP
The few Asian artists to achieve real success in America only stumbled upon it by moving away from music. The Japanese pop-rock duo Puffy (named Puffy AmiYumi in America following a cease and desist from Sean Combs) released several collections of their Japanese songs in America, but it wasn't until Cartoon Network turned them into animated characters for the show Hi Hi Puffy AmiYumi did they become popular. Suddenly, their concerts were packed with kids who watched their show and they even had a parade float in the 2005 Macy's Thanksgiving Day Parade. Similarly, Korean superstar Rain was named one of the "100 Most Influential People Shaping Our World Today" by Time magazine and went on to appear in the film Speed Racer and star in the movie Ninja Assassin. Yet despite building his fame in Korea on music, Rain never released any music in the United States. He sold out a few concerts, but he is ultimately more famous in America for having a dance-off with Stephen Colbert than for any songs he has made.
The forecast is more favorable for Wonder Girls, who mirror Pink Lady's appropriateness for the time, as their new American single "The DJ Is Mine" features several dubstep-aping portions. Although watching the trailer for their movie can prompt cringes, their TeenNick flick shows that the folks marketing the group know how to zero in on a demographic. Whereas Utada and BoA just showed up in America and presumed being big in Asia would equal sales abroad, Wonder Girls is being introduced—or, for those who saw them open for The Jonas Brothers, further developed—specifically for the teen and tween markets. Given the music industry's hyper-segmentation, it's a smart move to focus on the same audience that turned artists like Miley Cyrus and Demi Lovato into household names.
Girls' Generation, meanwhile, seem poised to repeat the mistakes of previous Asian artists. They released "The Boys" virtually void of promotion, and now will have to hope an established American rapper can give them a boost—although, to be sure, "featuring Snoop Dogg" trumps "featuring Flo Rida" any day. As for 2NE1, they just started their U.S. push, so their stateside shelf life remains unknown.
While all of these groups could wind up footnotes like the Asian acts before them, the smart money seems to be on Wonder Girls to have the best chance yet to finally break through and sustain success in the America. Even if that outcome doesn't materialize, becoming the Korean Cheetah Girls wouldn't be a bad gig either.