Did Purell Pay to Appear in the 'Dragon Tattoo' Torture Scene?
Not all appearances of name-brand items in movies result from product placement. But can audiences tell the difference between what's a paid ad and what isn't?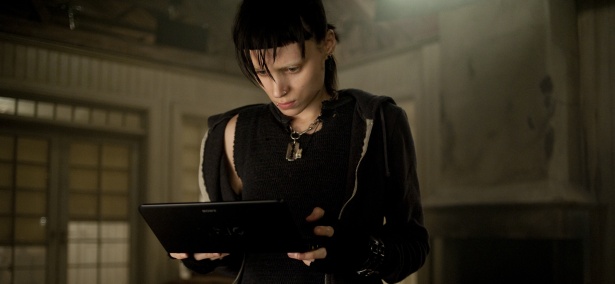 Sony Pictures
Towards the end of The Girl With the Dragon Tattoo, the film takes the viewer past pristine white walls and sleek Scandinavian furniture, through a hallway and secure steel door, and down a flight of stairs. There, a character is strapped into a noose, grimacing at the killer who has led him to his chamber of horrors. The madman looks back smugly, ready for whatever sadistic torture might be imagined—but not before he disinfects his hands with a bit of Purell.
Purell's blue logo appears vividly in this shot of David Fincher's new thriller, a signal to the audience that the villain's hands will be properly sanitized for the terrible deeds he prepares to do. Here's one takeaway from the scene: Blood and guts can spew where they may, but this particular bad guy intends to remain as spotless as the house upstairs. Here's another: Yikes! Murderer-rapists choose… Purell?
While advertising has become ever-more ubiquitous—and ever-more surreptitious—in movies and television shows, this Purell moment in a film already heavily stocked with name brands nevertheless seems bizarre. Why would Purell want to be associated with torture? In fact, it doesn't. A Purell representative said that the company was entirely unaware of its role in Dragon Tattoo, not to mention the product's use in the climactic scene. When asked about how the brand comes across, the spokesperson replied that the sanitizer "is an integral part of societal and personal well-being. Naturally we would not endorse or promote this type of product placement."
Indeed, product appearances on screen do not always come about through monetary deals struck between studios and brands, frequent as those arrangements may be. But Chet Fenster, of the media agency MEC Entertainment, says that "the audience has gotten to a point where they assume that everything they see is placement"—regardless of whether or not it's been paid for. And why shouldn't they? According to the most recent branded entertainment marketing forecast from research firm PQ Media, paid placement spending increased in the double digits during the last decade, and is now up to as much as $3.61 billion, if not more.
Hence the impression of at least one fan, who tweeted, "Without giving anything away, Purell was my favourite product placement in The Girl With The Dragon Tattoo."
The practice of showcasing consumer brands in films began as an informal barter system, dating as far back as 1896, when a representative for the Lever brothers (now Unilever), got two cases of Sunlight soap into a Lumière film. Those sorts of arrangements—a cereal box on screen in exchange for breakfasts in the studio cafeteria—continued in Hollywood, and still do, as prop masters and costume designers seek out supplies at minimal or no cost. But as an industry, product placement really took off in the '80s, with the notable appearance of Hershey's Reese's Pieces in E.T. The candy lured the alien out of his hiding place, and sales rose 65 percent after the movie's release.
E.T. came out in 1982, during a period when product-placement spending in the U.S. was rising dramatically, from $190 million in 1974 to $512 million in 1985, by PQ Media's count. Today, a dedicated team at Norm Marshall & Associates—one of the most prominent names in branded entertainment marketing—sift through more than 600 hundred scripts annually in search of placement opportunities. Where there's a sneaker to be worn or a beer to be sipped, the firm get clients "exposure in an organically favorable way for the brand," says NMA President Mark Owens, who has been in the business for two decades. Some deals are paid, others are trade; "more fees do exchange hands in film than in television," he noted. In general, "brands have a lot more control now than they did before."
At the highest level, companies "tend to insist on a great deal of artistic control, and in some cases will even collaborate on the screenwriting process," says Mark Crispin Miller, a professor of Media, Culture, and Communication at New York University. Brands not only want to see that their products appear desirable, but also that audiences are most effectively allured.
In 2003, media marketing consultant Erwin Ephron penned a now oft-cited Mediaweek article, "The Paradox of Product Placement," in which the titular conundrum is defined: "If you notice, it's bad. But if you don't notice, it's worthless." More recently, a study published in the Journal of Advertising comparing the effectiveness of overt versus subtle product placements found that viewers responded more positively when a brand's visibility was less prominent and less frequent. As the paper concluded, "Slapping one's brand on the big screen in a haphazard manner will yield disdain, not engaged consumers."
Companies will go to great lengths to prevent their product from developing a troubling association with a scene or character. In the '80s, Norm Marshall got a scene cut from a film that would have shown his client, Alka-Seltzer, in a negative light. If a product is defamed, says NMA's Owens, especially through usage that has not been cleared by the company, "I'm sure they'd have a right to sue or challenge the filmmaker." Ultimately, though, the Dragon Tattoo character used Purell to sanitize his hands, which is, after all, the product's function. Had it been used for some other purpose—a deadly cocktail, perhaps—then the company might have better chances in a lawsuit. Purell's spokesperson said it's against company policy to comment on legal matters, and if Purell is to pursue any sort of response, he wouldn't speak about "any kind of action we might or might not take."
In 1997, Reebok sought damages against TriStar Pictures—owned by the Sony Corporation, which also released Dragon Tattoo—of more than $10 million each for most of the 12 complaints it filed over Jerry Maguire. Reebok had invested more than $1.5 million in the movie, only to have Cuba Gooding, Jr.'s character hold a grudge against the company, and a final scene-a fake commercial that would redeem Reebok-lost on the editing room floor. The case was settled out of court for an undisclosed sum.
"I'm sure there are deals where brands go in thinking they're making a commercial, brands go in without the understanding that it's not their show," says MEC's Fenster. "The relationship that the studios have with the brands is an important one," he added, "It behooves them to keep the brands happy."
"The idea behind 'branded entertainment' is to integrate commercials into the storyline so as to create 'stealth advertising,'" former Writers Guild president Patric Verrone said at a Federal Communications Commission hearing in September 2007. A year later, he wrote a letter to the FCC saying, "When writers are told we must incorporate a commercial product into the story lines we have written, we cease to be creators."
MORE ON MOVIES
For viewers, there's little chance of differentiating between placement that's paid for and placement that isn't. FCC regulations stipulate that television stations must broadcast disclaimers during the credits of programs that receive "money or other consideration." Of course, much like commercials themselves, these announcements tend to go unseen by DVR users. No such rules exist for films.
Among the brands seen in The Girl With the Dragon Tattoo, many are referred to in the original Stieg Larsson book: Mercedes, Mac, McDonald's, Coca-Cola, Billy's Pan Pizza, Volvo (Purell is not in the novel). But there are others, too: Epson, Nutella, Audi, and of course, Sony, whose entertainment division released the movie. A spokesperson for the film gave no comment on product placement arrangements.
With or without financial incentive, recognizable brands can make movies more easily relatable. "Brands are part of the organic DNA of everybody's lives, every day," noted Owens. Showing them on screen can "ground stories in realistic occasions."
Still, Miller argues, there are limits: "As for the question of realism, it is true that we live in a world of products, so that it might seem unnatural if there were all these boxes of Brand X in a kitchen or in a medicine chest. But it is not realistic to highlight the products or the logos in the way that they advertisers would prefer. Because that's not how products appear to us in our daily lives. We don't have our labels all facing forward, unless we're really anal."
Regardless of how true to life Purell's representation may or may not have been in Dragon Tattoo, what really matters is that the brand's name is spelled right. As James Twitchell, author of Branded Nation, Adcult USA, and other books put it, "I sure as hell don't think that hurts the brand. The dude may be bad, but he really cares about keeping his hands clean."