Can Prince Fielder Win a World Series for Detroit?
The power hitter just signed with his father's old team, which hasn't won the championship since 1984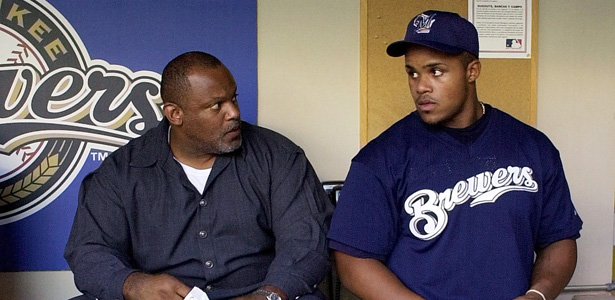 Prince Fielder talks to his father, Cecil Fielder, in 2002, after he became a first-round draft pick for the Brewers / AP Images
The last time the Detroit Tigers won a World Series was 1984. Behind the pitching of ace Jack Morris and a consistent, run-producing lineup, the Tigers cruised to a 104-58 record (including an unconscious 35-5 start) and beat San Diego in five games in the World Series for the franchise's fourth title.
In May of that year, Prince Cecil Fielder was born to Cecil and Stacey Fielder. At the time, Cecil was in the farm system of the Toronto Blue Jays, and six years later he joined the Tigers and began launching titanic home runs over the Tiger Stadium roof.
Now Prince Fielder will get a chance to bring the World Series trophy to Detroit that his father couldn't. The free agent first baseman and mammoth slugger, formerly of the Milwaukee Brewers, signed a nine-year, $214 million deal with the Tigers on Tuesday.
MORE ON BASEBALL
Fielder joins a team that won the AL Central last season and went to the ALCS before losing to the Texas Rangers. Along with established stars Justin Verlander and Miguel Cabrera, Fielder will form the nucleus of one of baseball's World Series favorites in 2012.
Even before he joined the Tigers, Prince Fielder and the Detroit fans had something in common—they both disliked Cecil Fielder. After signing a five-year, $36-million contract in 1993 (which made him the highest-paid player in the game for two seasons), Cecil Fielder struggled, posting disappointing numbers before being traded to the Yankees in the middle of the 1996 season. Fielder promptly won a title with New York, leading the team with a .391 batting average in the World Series.
Fielder's career arc didn't quite match Roger Clemens, another star who signed a big deal, underachieved and then "rediscovered" his talents elsewhere. But just as Boston fans loathed Clemens after he left them for the Blue Jays, then Yankees and Astros, Detroit fans were disgusted and disappointed with Fielder, whose best years with the Tigers (including a 51-home run season in 1991) came before his juicy contract.
After Fielder left, the Tigers struggled through a decade of sub-.500 season and Octobers spent picking pumpkins. A resurgence in the mid-2000s led to a World Series appearance in 2006, where beat by the St. Louis Cardinals, four games to one. Now, they have the league's most dominant pitcher in Verlander and two legitimate super-sluggers in Cabrera and Prince Fielder.
There is no love lost between Prince and Cecil, either, despite early-90s commercials likethis. The two have been estranged for several years, primarily because of Cecil's gambling problems and bitter divorce with Prince's mother. Though they do speak occasionally, the elder Fielder has not been involved with his son's major league baseball development.
The Detroit fans couldn't care less about the Fielder family issues—they want a World Series. And if history holds true, Prince Fielder has a small window to deliver. Heavy power hitters (Prince is reportedly 285 pounds, going on 300) tend to fall off once they hit their early 30s, and at 27, Prince is nearing that benchmark age.
If the Tigers can out-muscle the Yankees, Red Sox, Angels, Rangers, and National League and win a championship, all will be right in Rock City. But if Prince Fielder's production falls off and the Tigers flounders, he may go down as an even bigger Detroit disappointment than his father.