Can Oprah, Beck, and Olbermann Succeed Outside the Limelight?
The three television personalities recently left their high-visibility shows for riskier media outlets, cutting their audiences significantly.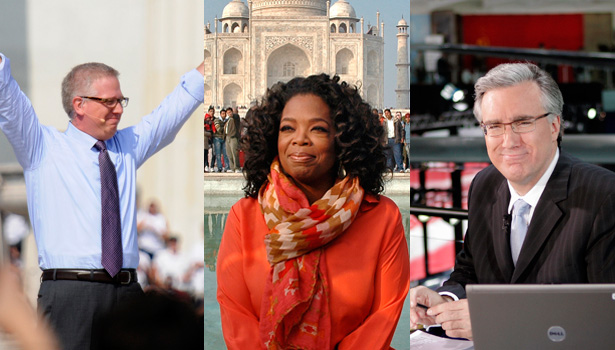 Reuters, Reuters, AP IMAGES
Can television superstars flourish when they have to chase the limelight? Oprah Winfrey, Glenn Beck, and Keith Olbermann are embarked on new ventures that are outlets for their ambition and restlessness. But in the process they have, at least for now, reduced their portion of what is considered an essential ingredient in today's fame and fortune: a mass audience made up of devoted followers who know where and how to find them. Each of the three now has lucrative deals in place that could enhance their standing or--as is the nature of business--could flop. As the  Wall Street Journal observed, Winfrey, Beck, and Olbermann "recently surrendered highly visible perches for greater control and a greater share of the spoils"--assuming, of course, that their programming succeeds.
What is striking about these enterprises is that such mega-personalities as Winfrey and Olbermann are aligned with relatively small cable outlets with limited audiences, or in Beck's case, subscription-based streaming Internet video. Looking at the results so far, most of their fans still need to find them.
MORE ON TELEVISION
Oprah Winfrey is the most successful daytime television host in history, with an audience that averaged 6.5 million in her final season of broadcast syndication, after a 25-year run. Her new channel, OWN--the Oprah Winfrey Network--is a partnership with Discovery Communications, which, according to securities filings cited by the Wall Street Journal, had poured $254 million into the first months of operations, with disappointing results. The audience for OWN, about 210,000 viewers in primetime, were actually less than the channel had in its previous incarnation as Discovery Health. With the New Year, Winfrey, who had stepped in as OWN's chief executive, returned to the airwaves in an interview series called "Oprah's Next Chapter." The premiere was a visit with Aerosmith rocker Steven Tyler at his home in New Hampshire. The show attracted 1.1 million viewers, which placed it among the top five of cable networks in that 9:00-11:00 p.m. time slot with a particularly good showing of women ages 25 to 54, the target demographic.
Still, the audience was a fraction of what Winfrey reached in her broadcast heyday. So OWN in its second year faces a considerable challenge in reaching the anticipated profits from subscriber revenue (a share of what all viewers pay for their cable channels) and advertising. This double stream of revenue is what can make cable so lucrative. For example, the ESPN channels are the most valuable networks on cable and satellite, taking in about $6.50 per subscriber each month. For all Winfrey's savvy and stature, OWN will need to attract a strong fan base from her followers to command anything like the fees of a major cable channel.
Olbermann's devoted admirers are far fewer in number than Winfrey's, but he has developed a strong bond with an audience that has tracked him through 20 years of television. Years ago at ESPN, and for eight years at MSNBC, Olbermann regularly feuded with his bosses, which added to his reputation as a firebrand. He was instrumental in shaping MSNBC's position as a liberal counterpoint to ratings leader Fox News, which is thought to be one of the most profitable channels on television. Olbermann has yet to settle into his new gig at Current TV, a private channel owned by former vice president Al Gore and others with aspirations to earn a place as what the New York Times called "an upstart liberal news source." In reporting on an early clash with Current management over political coverage (which seems to have been resolved for now), the Times  said Olbermann is believed to have a five-year contract worth $50 million, an equity stake, and an imposing title, chief news officer. But Current is miniscule and relatively hard to find on cable and satellite. So the stakes are considerable for the channel, and for Olbermann to show that he can lead it into a higher tier of audience engagement and advertising appeal.
Glenn Beck, whose tenure at Fox News was meteoric, controversial, and ended frostily on June 30, 2011, has built a subscription-based Internet network, GBTV, which is the distinctive feature of his extensive multimedia empire. He also has a nationwide radio program that competes with Rush Limbaugh and Sean Hannity for top ratings, and he has written a stream of books that have landed him on the New York Times bestseller list in both adult and children's categories. Clearly, Beck has a committed following. His daily two-hour webcast launched last fall with 230,000 subscribers at a base price of $4.95 per month. Forbes media writer Jeff Bercovici estimated that Beck could net $100 million a year from all his enterprises, but with a daily Internet audience of only about 10 percent of his peak viewership on Fox News.
So the financial upside for Winfrey, Beck, and Olbermann could be enormous, but the risk is also high. David Campanelli, a national television analyst for Horizon Media, summarized in a Reuters interview what can happen when a top-tier media figure shifts to a smaller platform. "When you stop broadcasting or narrow it to your avid followers, they are the only people you are speaking to. You're out of the public consciousness." It is too soon to say that these superstars in their new incarnations are destined to fade. They have demonstrated charisma and fierce determination in their prior roles. But over the long term, influence still seems to be a commodity that mass audiences are best equipped to provide.