An Annie Leibovitz Exhibit With Shots of Niagara Falls, Not Demi Moore
For Pilgrimage, the photographer turned her camera away from celebrities and toward important places in our cultural history.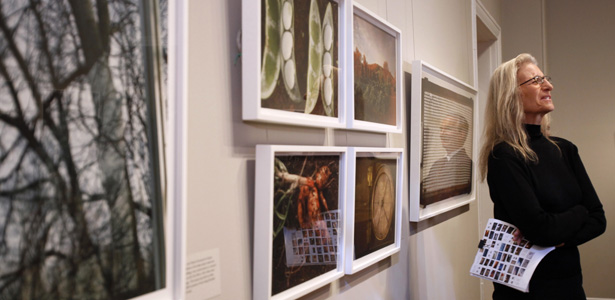 AP Images
Before doors opened to the Smithsonian American Art Museum's Annie Leibovitz: Pilgrimage, a crowd of reporters gathered in a second-floor hallway, maneuvering around a sculpture of the Statue of Liberty,  under the watchful gaze of a bird painted by John James Audubon. The pictures on display in the three adjacent rooms featured Leibovitz's portrayal of the hat Abraham Lincoln wore on the night he was assassinated and the compass that guided Lewis and Clark on their American expedition—both objects which can be found in the Smithsonian's American History Museum a few blocks away. Other images were captured during Leibovitz's travels across the United States—and a few steps beyond—over the course of about two years. One of the reporters turned to another, remarking on the preview's high turnout—likely due to the artist's famed career as a celebrity photographer for Vanity Fair and Vogue, and her shows in museums like Washington's National Portrait Gallery and the Maison Européenne de Photographie in Paris.
"The Smithsonian is hopping right now," Leibovitz declared. She eyed the gallery walls proudly. "I feel like I'm inside one of my pictures, almost. The Smithsonian is so steeped with history that I feel very, very lucky to be here."
MORE ON BOOKS
Downstairs, a class of school children lined up in the lobby. "A famous photographer is here today," their tour guide told them. "They're going to be taking pictures of her, and filming her, so they've asked us to be really quiet. Which I know is going to be no problem, right?" The kids were then sent off on a scavenger hunt, which was just the sort of project that Leibovitz took on with Pilgrimage.
The name of the photographer's collection—in which the character portraits Liebovitz is known for are uncharacteristically absent—refers to her journey in taking the pictures. For the first time since art school, she strayed from assignments and followed her intuition from one subject to the next. "It was definitely a search," Leibovitz said, "For all the things we search for. The reason to be alive, the reason to go on, the reason to think." The photos, which will be on display at the American Art Museum through May, were published as a book that came out late last year.
"Pilgrimage" is also the name of a story written by cultural critic Susan Sontag, with whom Leibovitz had been in a relationship until Sontag's death in late 2004. Published in a December 1987 issue of The New Yorker, the piece recalls a trip Sontag took as a teenager to the home of her literary hero, Thomas Mann.  The expedition was not unlike the one Leibovitz took from April 2009 to May 2011, visiting the retreats of artists and cultural icons she admires, and mining historical sites for inspiration.
Although Leibovitz says there was no conscious connection between Sontag's story and her own work, she allows "it might have been in the subconscious." Before Sontag passed away from leukemia—the first in a series of crushing blows to Leibovitz over the past several years, including the deaths of her parents and very public financial troubles—the couple considered doing a project together. Sontag had developed the idea for Leibovitz's 1999 book, Women, for which she wrote the accompanying essay. The writer was also the subject of the most striking pictures in A Photographer's Life: 1990-2005—portraying Sontag's mortality, and in turn, the photographer's. With Pilgrimage, Leibovitz focuses on traces of American lives that have long since disappeared: Emily Dickinson, Annie Oakley, Ralph Waldo Emerson (with the notable exception of a log cabin workroom belonging to 92-year-old Pete Seeger).
The eponymous Sontag story particularly resonates with Leibovitz because "she doesn't get too personal in those essays. So in that, she was being very personal, so that's why it's one of my favorite stories of hers."
At the end of Sontag's piece, she reflects upon her adventure to Mann's house, "Years later, when I had become a writer, when I knew many other writers, I would learn to be more tolerant of the gap between the person and the work."
Inside the museum, Leibovitz was wearing a photographer's uniform: all black, from her turtleneck to the laces of her hiking boots. Her hair is white in contrast, hanging down past her shoulders, not fussed with whatsoever. At ease in front of the cameras that stalked her from room to room, she genially described the historical and artistic context of each image—even calling upon an ambassador from the home of Louisa May Alcott to say a thing or two, for which Leibovitz clapped encouragingly.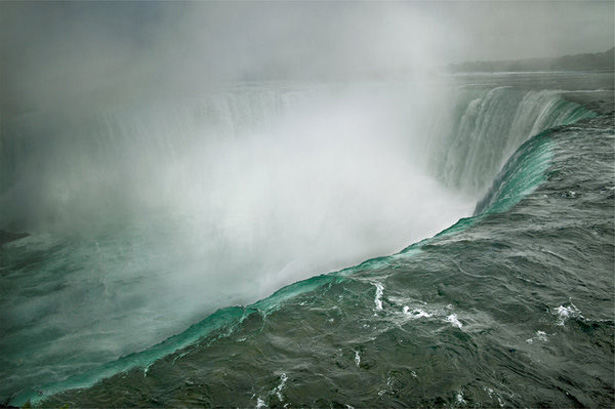 The Niagara Falls in Ontario / Annie Leibovitz
Stopping in front the book's cover image—a breathtaking vision of Niagara Falls—she explained that this was the picture that led to all the rest. She took in the view on a trip with her children, and watched them stare out at the water, mesmerized.  "I stood behind them, they were actually in front of me, and I took this picture. It's a photograph that anyone can take. It's an American snapshot," she said. "Actually, we were in Canada. A Canadian snapshot."
Laughter rippled through the crowd, though perhaps more than a few wondered if a tourist's snapshot belongs in an art museum. When a reporter asked this question of the exhibition's curator, Andy Grundberg, he replied, "She actually struggled with this idea," but for him, it's context. "The fact that there's thousands of Yosemite pictures taken at exactly the same place that make a tradition actually makes the picture more kind of a reflection on the photographing of that place." In the turquoise waves, coiled around mist that appears like smoke in the center of her photograph, Leibovitz simultaneously captures violent motion and majestic stillness—visible only in the finer postcards, and more rarely in a sightseer's prints.
The context is also, in these galleries, Leibovitz's reputation. "'Would this be a show if it was anybody else besides Annie Leibovitz?' Well, it certainly helps that it's Annie Leibovitz," Grundberg chuckled. "Doesn't it?"