5 Ways the Networks Want to Change How You Watch TV
How television executives are adjusting to the post-Netflix world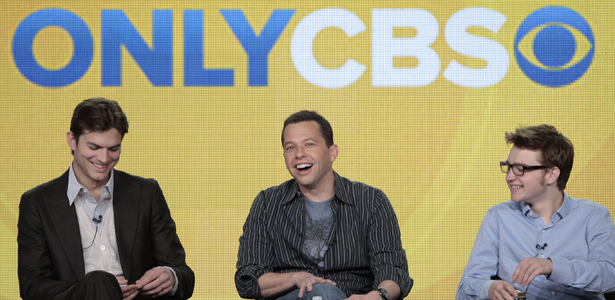 AP Images
The Television Critics Association press tour is a chance for the networks to show off their new shows and returning hits to television critics. But as viewers increasingly use technology ranging from DVRs to streaming services like Hulu and Netflix to watch television, and as artists increasingly tell and sell stories outside the conventional network structure, how network executives approach technology is as important as how they think about storytelling and marketing. These are the five smartest ideas we heard at the press tour in Pasadena over the last two weeks.
1. Use web content as a development pool for the airwaves.
Executive: Kevin Reilly, Entertainment President, Fox Broadcasting Company
While some of the people who make Internet television series are happy to stay online, there are plenty who would love the support of networks, and to make the jump from the Internet to the airwaves. Friends alum Lisa Kudrow's Web Therapy, for example, started as a web-only series and is now aired on Showtime. Reilly's bright idea is to jumpstart that process and to bring it internal. Fox has a strong foothold in animation in prime time with shows like The Simpsons and Family Guy. So Reilly announced that Fox is going to start an aggressive program to develop animated series online to compete with YouTube, which is building out a series of web TV channels anchored by celebrities. And he says that "something that starts in digital could be the next big prime-time hit...You're seeing those entities [like YouTube] beginning to see the value of content. We have an expertise, and a history, and a proficiency, and a prime-time audience base." Tech companies from Netflix and Hulu to Yahoo are behaving more like content providers. It's smart of Fox to start acting like a tech company.
2. If you want critics to assess your ratings more creatively, give them more data.
Executive: John Landgraf, President and General Manager, FX Networks
Landgraf started his session at TCA with a plea to critics to look beyond the ratings of shows when they air in their initial time slot, and to include viewing of repeats of episodes in the same day that they air, and DVR viewings of shows both in the three and seven days after episodes air. Only reporting the first dramatically underestimates the true audience for his shows, Landgraf argued, saying "We're getting paid, from an ad sales standpoint, for about a third of the audience of our show...if we hadn't gotten into the ownership [of shows that air on other networks] business, we'd be struggling to maintain this level of business."
But ratings come out in piecemeal ways, and it can be hard to aggregate numbers and draw trends. So I asked Landgraf if he'd build a portal or tool for journalists to help us get the data we need to do what he's asking. He said he would. If he lives up to that promise, it would help journalists quantify the time-shifting revolution—especially if other networks follow.
3. Help advertisers find their way to audiences, not shows—and support cult favorite series, while you're at it.
Executive: Andy Forssell, Senior Vice President of Content, Hulu
You know all that time you spend watching Community on Hulu? And clicking yes or no when the company asks if the ads you're watching are relevant to you? Or subscribing to Hulu Plus? Hulu generates a lot of information about who you are and what you watch. And when the company's 1,069 advertisers come to them and want to reach a very specific audience, Hulu tells them exactly where to go, even if it's to shows that they wouldn't expect. In other words, Hulu is treating television programming like print content's being treated online for years. And if that approach can generate extra revenue for low-rated but critically-brilliant shows like Community, all to the good.
4. If you want people to put television on their calendars, make television that's worth the appointment—in every way.
Executive: Paul Lee, President, ABC Entertainment Group
Lee isn't alone in recognizing this. But he was the executive of the press tour to point out that if you want people to plan their weeks around television shows, you have to give them not just can't-miss plots but visual spectacles that they want to see on television screens, which have gotten larger and cheaper even as we've added multiple smaller screens. "I think part of that is we are taking risks and having fun and a lot of feature [movie] directors are attracted to that...that's one of the reasons you saw Phillip Noyce" (the movie director who helmed two episodes of ABC's Revenge and an upcoming episode of HBO's Luck) "coming in. I think you're going to see feature actors as well as directors." The profusion of movie actors, such as Anjelica Huston on Smash, Josh Lucas on The Firm, and Dustin Hoffman on Luck, coming to the small screen in mid-season seems to be proving him right. It may not have worked for The Firm, which is floundering, but we'll see how Smash and Luck do.
5. Time slots don't matter. Nor does waiting between episodes. Or traditional seasons.
Netflix didn't present at press tour this year, but the service and other streaming providers were an undeniable factor. Particularly given how many questions executives were asked about serialized versus one-off storytelling. They're in a bind: serialized stories may make it harder for viewers to drop in casually or mid-season, but they may also hold up as more consistent and coherent for viewers who binge on entire seasons of television at a time. In its foray into original content, Netflix is leaning heavily towards serialization, releasing the entire season of its mobsters-in-Scandanavia drama Lilyhammer at once. Technological developments don't just affect distribution and marketing: They affects storytelling, too. And all the networks are trying to figure out what that means for them.