Yu Darvish, Japan's Pitching Phenom, Wants to Play Major League Baseball
American franchises will have to bid for the right to negotiate with the coveted pitcher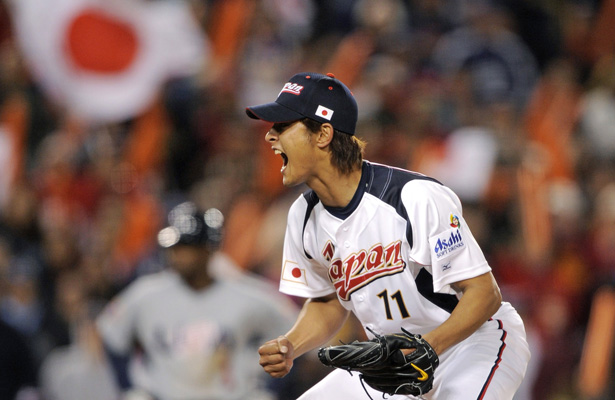 AP Images
Yu Darvish, considered the greatest pitcher in Japan today, announced that he wants to come to America and play for the MLB. The announcement puts to end years of speculation over whether Darvish would make the move or stay put in his home country—and raises the question of which American teams will bid on him.
Darvish is still bound to his Japanese team, the Nippon Ham Fighters, so MLB franchises will have to use the "posting" system if they want him: Clubs make sealed bids for the right to negotiate with Darvish, and then the highest bidder gets 30 days to finalize their contract with him.
For more backstory on Darvish, see our profile of him from last month:
 The New York Times called him one of "the most coveted players" in Japan right now, while the Wall Street Journal and Sports Illustrated used Darvish as a jumping-off point to talk about Japanese players coming to America.  This is on top of countless blog posts, from New York Yankees fans to Seattle Mariners supporters, wondering how Darvish would look in their team's rotation - even though he hasn't even decided whether he wants to play in MLB.

The off-season attention paid to Darvish, a 25-year-old right-hander currently signed with Nippon Professional Baseball's Nippon Ham Fighters, has been an annual event since 2007, as baseball writers and analysts speculate if "this will be the year" Darvish comes to the MLB.  Yet the rumors have been particularly persistent this year.  The bump in media attention makes it sound like he's already decided to come over.  Darvish, though, hasn't made a decision at this point, choosing to play it coy.  The best pitcher in Japan could very well decide it is better for him to forego an MLB career and just stay put in his home country.

Darvish attracted national attention as a student at Tohoku High School, most notably pitching a no-hitter during the prestigious National High School Baseball Invitational Tournament in the spring of 2004.  The Nippon Ham Fighters (teams in Japan are named after the companies that own them, so Nippon Ham owns the Fighters, who play in Hokkaido) drafted Darvish later that year, and he made his professional debut in 2005.  It was in 2006, however, when he established himself in NPB: He struck out 115 batters and recorded an ERA of 2.89, and played a pivotal role in helping the Fighters win their first championship since 1961.  He only improved from there--he won the Eiji Sawamura Award, the NPB equivalent of the Cy Young, in 2007, and was named Pacific League MVP in 2007 and 2009.  Darvish also helped the Japanese national baseball team win the 2009 World Baseball Classic, recording a game-ending strike out against South Korea in the championship match.

He has also become famous for his off-the-diamond activities.  Before he played a single inning of professional ball, Darvish was caught smoking in a pachinko parlor despite being too young to either smoke or gamble (in Japan, one must be 20 to do either).  He has also posed nude for a woman's lifestyle magazine and became tabloid fodder after marrying actress Saeko, which many publications claimed was a shotgun wedding.  Darvish, who is half-Japanese and half-Iranian, has also become part of a program aimed at promoting baseball in Iran.  The pitcher identifies as Japanese, though,  deciding in 2008 to retain his Japanese citizenship.
Read the full story, America's Favorite Free-Agent Pitcher Plays in Japan ... and May Stay There