Year of the Tight End: The NFL's Most Overlooked Position Has Its Moment
Stellar seasons by Rob Gronkowski, Jimmy Graham, and Tony Gonzalez point to a revival of the previously unheralded offensive position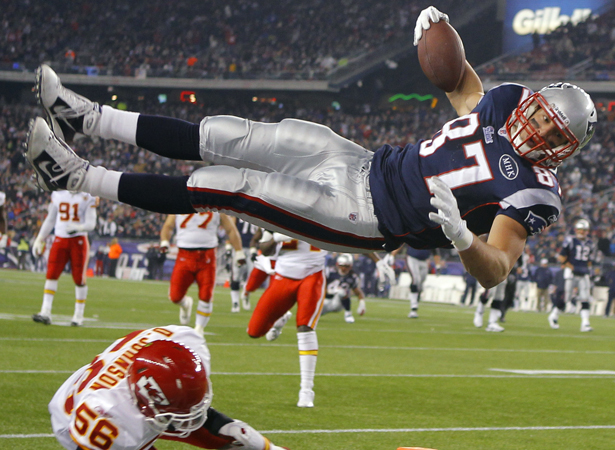 Reuters
Sunday's game between the New England Patriots and Denver Broncos featured a defensive strategy rarely seen in the NFL: a gameplan geared around stopping a tight end. Broncos' coach and defensive guru John Fox designed a defensive scheme to shut down Rob Gronkowski, the Pats' star tight end, who set the league record for touchdowns by a tight end in a single season last week.
Denver successfully held the man known as "Gronk" in check, limiting him to four catches for 53 yards. But in what is rapidly becoming the Golden Age of the tight end, merely stopping the Pats' No. 1 tight end was not enough. Quasi-backup Aaron Hernandez, who often plays alongside Gronkowski in two tight-end sets, had the game of his life, catching nine passes for 129 yards and a touchdown. All told, the Pats' tight ends led the way for the New England offense despite Fox's game plan, spearheading the Pats' 41-23 romp.
New England's two-headed tight end monster is just one facet of the tight end revolution sweeping the NFL, as the most overlooked offensive position in league history appears to be in the early stages of a renaissance among the NFL's best teams—a revolution that started on the basketball court.
The most prolific offenses in the league all feature athletic, virtually unguardable tight ends. The 13-1 Green Bay Packers have Jermichael Finley, who has been such an integral part of their attack that his poor play last weekend was a major factor in the Packers' upset loss to the Chiefs. The Saints, who have been hotter than anyone over the last six weeks, have Jimmy Graham, a six-foot-six, 260-pound dynamo from Miami whose athletic skills call to mind LeBron James or Blake Griffin.
Along with aging superstar Tony Gonzalez of the Falcons, the bumper crop of tight ends has made its mark on the stat sheet. Gronkowski and Graham are among the top 10 leaders in receiving yards and touchdowns, while Graham, Gronk, and Gonzalez (insert G-Unit joke here) are in the top 10 in receptions. And other than Gonzalez, all the tight ends are 25 or younger and only beginning to scratch the surface of their potential.
It wasn't always this way. For most of the NFL's history, tight ends have been run- and pass-blockers first and foremost, and if they caught a few passes along the way so much the better. While the Baltimore Colts' John Mackey introduced the concept of a dominant pass-catching tight end in the early '60s, few players followed his lead. Ten years ago, the most famous tight end stories were about individual plays (Dwight Clark'scatch in the 1981 NFC Championship game, epic catch-and-carries by Mackey and Mark Bavaro) or single games (Kellen Winslow's unforgettable performance for San Diego in its 1981 playoff win over Miami).
But Gonzalez's arrival heralded a change for the position. A former basketball and football star at Cal-Berkeley, Gonzalez was simply more athletic than his peers, like basketball's Wilt Chamberlain or baseball's Jackie Robinson. Built to withstand punishment from linebackers and defensive ends but quick enough to evade defensive backs in the open field, Gonzalez chugged his way to 11 Pro Bowls in 12 years and is now widely regarded as the best tight end of all time. With his career far from over, Gonzalez has amassed 1,143 career receptions, second-most among all players in NFL history. Only the great Jerry Rice has more catches.
Gonzalez's success spawned a wave of copycat tight ends with the athleticism and hand-eye coordination of an NBA power forward. Seven-time Pro Bowler Antonio Gates played basketball in college for Eastern Michigan and earned honorable mention All-America honors in his senior season before switching to football. Graham was recruited to Miami to play basketball, not football, and only got onto the gridiron after four years of college hoops.
Given the potential of the position, it's not surprising to see former basketball stars excel at tight end. A good blocking tight end has to be strong, and an elite receiving tight end who can confound defenses and exploit zones has to be quick, with good hand-eye coordination. Basketball players have these qualities in spades—when people used to joke about LeBron suiting up at tight end for the Cleveland Browns, it was partly because everyone knew just how good at the position he could be. And just like Gonzalez's career path inspired players like Gates, the success of Graham and the younger tight ends could lead to more two-sport elites opting to play only on Sundays.