What Was the Greatest Sports Moment of 2011?
Was it the Heat flaming out in the NBA Finals? David Freese's performance in the World Series? A 22-year-old golf phenom's win at the U.S. Open?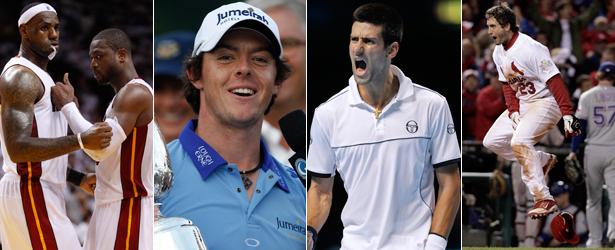 Reuters, AP Images
Every week, our panel of sports fans discusses a topic of the moment. For today's conversation, Emma Carmichael (writer, Deadspin), Patrick Hruby (writer, ESPN and The Atlantic), Hampton Stevens (writer, ESPN and The Atlantic), and Jake Simpson (writer, The Atlantic) look back on the year in sports.
---
Hey, guys,
We're just days away from a new year, and we're lucky to have a good one in sports behind us, as the world may end in just a few short months (according to the very nice man who stands at my subway entrance most mornings). If the end is nigh, then we may as well join in with the rest of the Internet and commemorate the year we've had. Let's shy away from the lists, though, and simply share our single favorite moments from oh-eleven, which all started when the Green Bay Packers beat the Steelers to win Super Bowl XLV. Doesn't it feel like just yesterday that the world united behind mutual hate for the Black Eyed Peas?
It didn't quite rival how we all seemed to react to LeBron James, though. James's year drew me in in part, I think, because he was just so clearly and simply The Bad Guy. Our obsession with Tim Tebow was and is fascinating, but it's also rather overwrought. The case against LeBron was never so complicated. We could hate LeBron because he'd made a despicable TV special and had left his home state's team behind in favor of Miami, and a better-packaged shot at winning an NBA title.
But, of course, he didn't pull it off in his first season there. That's a big part of the reason, I think, that the NBA playoffs did so well this year, and continued to live up to the hype. Everyone—even the villain himself—knew who the game's villain was, and we all knew how we wanted it to end. When the Heat lost to the Mavericks in six games and James continued to fold in the fourth quarter, we all got our happy ending. It was a pleasure to watch, even if the final line was only temporary—six months removed from that loss, James and the Heat now look like the bad guys who'll spoil our narratives. They're going to win in 2012, and we're all going to secretly love it.
That was my favorite storyline of the last year on earth. What was yours, Patrick?
–Emma
Emma,
Watching LeBron James wilt like an unloved houseplant in the NBA Finals was a pleasure—a particular and peculiar sports fan kind of pleasure, one in which the giddy sweet sense of sheer, deserving schadenfreude came from knowing the soap operatic backstory, from "The Decision" and the Miami Heat's summertime boy-band player introductions to the literary wailing of author Scott Raab and the comic sans teeth-gnashing of Cleveland Cavs owner Dan Gilbert. It was a real pleasure, but also entirely fake, perfect fodder for the hermetically sealed mindscape of the sports page, of fantasy leagues and ESPN, a place where taking a new job in a new city and then having a bad week at the office can make you a villain, like Iago or Saddam Hussein or  History's Greatest Monster himself, Kris Humphries. 
In that sense, the James story seemed dated.
For me, 2011 was the year that sports got real. By which I mean: Pretending that athletics somehow transcend or stand apart from the rest of human existence—that they can be a happy place, a forgetting place, a diversion from the woes of the world—became entirely untenable. Granted, we've been heading this way for while:  Mark McGwire and Sammy Sosa as Greek gods incarnate  gave way to Congressional non-testimony; Tiger Woods,  metaphoric savior-redeemer of American original sin and word racial disharmony  crumbled under the weight of a  bumper sticker-worthy voice mail sign-off.  Still, it was relatively easy to view those stories as baubles, entertainment, episodes of Jersey Shore, only loosely connected to the world we live in.
And then came Penn State. Then came an avalanche of  evidence  and  lawsuits  illustrating the inconvenient truth that our would-be games are turning people's brains to tapioca pudding. Then came Taylor Branch's  searing indictment of the long con that is college sports.  Then came reality. Understand: I'm not saying that these stories are morally equivalent. I'm saying they all achieved the same effect. In our needy, frenzied, empty ranking and re-ranking, our arguing and number crunching, our emoting and symbolic tapestry-weaving, we use sports as a psychological coping mechanism, a sort of mass delusion. A playground free from the sordid compromises of everyday existence. So much for that. The sports stories that mattered this year were about real people. Real consequences. Real villains. They weren't even sports stories; truth be told, nothing ever is.
Hampton, what stood out for you in 2011?
–Patrick
What stands out, Patrick, is that you don't seem to like sports very much. Like a man who goes to a Disney movie and complains about the unrealistically happy ending, you seem to be missing the point of the show. Namely, that it's a show, dude. Sports are theater. The heading at the top of this page, you will notice, reads "Entertainment," not "Real Life, Where Things Often Suck."
Right, the NCAA is corrupt. We know this. Taylor Branch's story was unquestionably a huge moment in 2011. But so was getting to see Boise State and TCU play a wild, wide-open game on a stunning fall day in a dazzling Rocky Mountain setting. For this fan, anyway. The same goes for attending the long-awaited opening of glittering Livestrong Sporting Park in Kansas City, a roaring, electric, and surprisingly emotional night. So was, in a cheap and dirty way, watching the Chiefs beat the mighty Packers at Arrowhead.
Yes, Patrick, some Major League Baseball players have used performance-enhancing drugs. We know that, too. Guess what? The final night of baseball's regular season was still, quite simply, one of the grandest, most deliriously entertaining moments in the sport's epic, only sometimes-sordid history. And MLB followed that up with a relentlessly thrilling World Series, including a storybook ending for a Cardinals' hometown kid that even this jealous Royals' fan had to love.
Lighten the hell up, man. You're damned right we use sports as a coping mechanism. And I'll thank the good Lord we have it, too. Maybe you are strong enough to never need a break from the real world. Maybe you never need three hours on a Sunday to willfully ignore all of life's bitter realities. Good for you. I'm weak. I need the escape. What you sneeringly call a mass delusion, I call a saving grace.
How about it, Jake? Did you manage to squeeze any fun out of 2011? Or, like Patrick, was it just twelve long months spent dodging pieces of the falling sky?
–Hampton
Well, Hampton, I've adored sports since I can remember, so I loved the great moments in sports this year just like every year. But as to your withering takedown of Patrick, I think it depends on what we want to get from sports.
Without getting too meta about this, sports is inherently a paradox. Grown men and women spend untold physical and mental anguish and a very, very tangible amount of money following made-up games that are not by definition necessary for our race to succeed and thrive. Some people love watching human beings find the physical limits of their bodies and push beyond them, or a team come together in desperate times and find a way to succeed. For those people, this year brought an unforgettable baseball season (best regular-season day ever AND perhaps the greatest World Series game of all time), an NBA Finals that could be the dictionary definition of schadenfreude and superhuman performances from tennis's Novak Djokovic (three Grand Slam titles), Rory McIlroy (a dominant win at the U.S. Open) and the truly inspiring Eric LeGrand ( learning to walk again).
But for others, sports is an arena for social causes and the bettermen of mankind—Jackie Robinson making a difference that even Sidney Poitier could not. For those Patricks of the world, 2011 was hardly a magical year in sports, not with labor strife in the NFL and NBA and a series of horrifying sexual abuse allegations that shook us all to our core. But the forces of social justice still made their voices heard—witness Ed O'Bannon's lawsuit against the NCAA or a group of tennis stars pushing back when U.S. Open officials wanted them to play in the rain.
So perhaps we saw the best and worst of sports magnified this year—and frankly, that's a good thing. When the best in sports gets better, it can lead to seminal moments in the life of a person, a city or even a country. And when the worst gets worse, it forces us to open our eyes and our mouths and effect lasting, positive change.
–Jake