The Self-Righteousness of Sports Fans
Why does everyone get so mad about unsportsmanlike conduct?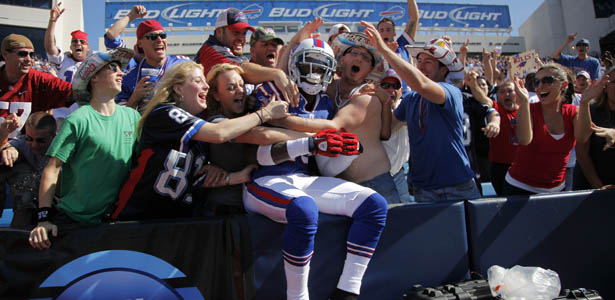 AP Images
Every week, our panel of sports fans discusses a topic of the moment. For today's conversation, Patrick Hruby (writer, ESPN and The Atlantic), Emma Carmichael (writer, Deadspin),Jake Simpson (writer, The Atlantic), and Hampton Stevens (writer, ESPN and The Atlantic) try to understand fan reaction to athletes' antics.
---
Hey guys,
It happens every fall: Some professional football player (in this case,  Buffalo Bills receiver Stevie Johnson ) struts, preens, dances, or taunts his way into America's collective living room. In response, some paid sports bloviator (in this case, Bob Costas) immediately castigates said player for:
(a) A classless lack of sportsmanship;
(b) An unsportsmanlike lack of class;
(c) Acting like a naughty five-year-old;
(d) Inching our fair republic one step closer to Visigothian anarchy;
(e) All of the above.
Debate erupts, always the same, always numbing, forever rousing a pair of eternally warring camps: the Armies of Doing the Right Thing in Sports versus the Forces of It's Just a Game Out There. Yet rather than take a side—for what it's worth, I'm with the latter group—I'd like to ask the rest of you a related question.
Namely, why do sports fans get off on this stuff?
Fact: we definitely get off on this stuff. If there's one thing the hoi polloi love nearly as much as wins and losses—well, besides gambling, beer and cheerleaders—it's tinpot crime-and-punishment scenarios. Breakin' the rules and payin' the price. Discipline and drawing the line. Good and bad in the sense of right and wrong, and not in the sense of points on the scoreboard. Sports as morality play.
I have a theory: deep down, sports fans basically view athletes as children. We love children. They do the darndest things. But we also loathe them.  Because they do the darndest things. If we can't see them pull off something spectacular, then we'll settle for seeing them put in their places by some sort of authority figures, even if those figures often the same people who charge nine bucks for a warm cup of beer, then screw us on parking.
Actually, we might like seeing that even more. And that's why end-zone celebrations are never just end zone celebrations.
Emma, you've weighed in on the Costas-Johnson matter before. Am I way off-base? Or am I on to something?
–Patrick
Hey, guys,
The athlete-as-child theory is an interesting one, Patrick, and the accuracy there makes me a little bit uncomfortable. In professional sports, the dynamic behind both organizational discipline and our armchair approval (or, at least, heightened interest) it tends to elicit isn't solely evocative of a parent-child relationship. That element's there, sure, but the moral policing of adults is entirely different from sending a kid to his room because he broke a vase.
I think Stevie Johnson's crashing Jet act against New York was silly and misguided—especially as it ended up hurting his team in the long run--but it's nothing new, and it shouldn't warrant full-on lectures from the broadcast booth. In a lot of ways, the TD dance has—popcorn included—has become a part of the professional game precisely because networks like Costas's NBC tape those celebrations and broadcast them (and replay them) to the nation. There's a hypocrisy there that is, for me, a little too much to stomach.
I guess I'd say that the "darndest things" act-and-punishment routine in sports is different from the parent-child relationship because often, it involves an older, white male in a position of power telling a younger person of color how he or she should have behaved and then punishing him for it. Back in September, Serena Williams yelled at a line judge and everyone reacted as if nothing so outrageous had ever happened before. It had, actually, countless times—we just don't usually see it from a muscular black woman. And this week, I learned that Homer Jones, the man who Costas praises for inventing the touchdown spike in 1965 with a "simple, elegant punctuation," only spiked the ball that day because there was a league fine for tossing it into the stands. Had he gotten lost in the moment and thrown it anyway, he'd probably be another ne'er-do-well in Costas's book. Those rules are necessary for a lot of sound reasons, but they also feed the constant march of disapproval that comes after they're broken, and that's as much a part of the games we watch as the touchdown that came before it. It's strange to me that the particular social dynamic of that march isn't often commented upon.
What do you think, Jake? How do you handle sports' moral police force?
–Emma
Frankly, Emma, I think you guys are both missing the point. Sure, the athlete-as-child argument is compelling, and yes, an undercurrent of racism probably applies (though people loathed lily-white Christian Laettner for his dirty play, too). But the glee fans get from displaying their moral superiority compared to star athletes is about just that: superiority.
In many ways, it's a humbling, even humiliating experience to watch sports stars excel at their craft with what appears to be ease. Watching Johnson juke Darrelle Revis for a touchdown, or Blake Griffin soar above the rim, or Albert Pujols crush longball after longball can make the average fan feel pretty bad about themselves. That guy may just be playing a kid's game, but he's better at it than I'll ever be at anything.
Athletes also happen to make more money, achieve more fame and (for us male fans anyway) have a far, far easier time with women. So when we spy a chance to assert our moral superiority after an inappropriate touchdown dance or Suh Stomp, we take full advantage. Sure, that guy makes millions of dollars a year, signs autographs wherever he goes, is in perfect shape and has more athletic talent in his little finger than I do in my whole body. But he doesn't play the RIGHT way, not like me. I put on my hard hat and go to work every day without flash, just like a real American.
So we get to feel smug and superior, and that offsets the next time we see a picture of Middling Athlete X hooking up with Kim Kardashian.
Thoughts, Hampton? Are you disgusted with Costas and the moralizers?
–Jake
Whoah. Hold up.
First, let's distinguish between post-touchdown dances and everything else. Emma, you mentioned Serena Williams, but she doesn't just call people names or act goofy. She threatens. Like in her 2009 US Open match against Kim Clijsters, when she told a line judge  "I swear to God I'm [freaking] going to take this [freaking] ball and shove it down your [freaking] throat." That is not, never has, and never will be acceptable in sports.  Evah.
The same goes for Ndamukong Suh.  It was stunning that the Costas speechifying  didn't include Suh's "stupidity," which could end up hurting his team far more than Johnson's faux paus hurt his. Johnson's celebration, after all, didn't happen between the lines. Nobody was at risk of getting hurt. His sole offense was being in bad taste—and playing in the No Fun League. For Costas though, stomping on an opponent is apparently not as bad as partying after a big score. Dirty play? No big whoop. A tacky touchdown dance, though, clearly means the end of Western Civilization.
That makes Bob a scold. But please don't paint all of sports fandom with that smug, superior brush. Sure, the relationship between fan and athlete can be like a moralizing parent to child. But it can also be like a child to surrogate parent, or like a boss to an employee, like a Drill Sargent to a raw recruit, or like a sexy dental hygienist to her handsome but handsy patient.
Okay, that last one was a stretch.
The point, though, is that there are as many ways to be emotionally invested in athletes as there are people who are emotionally invested in them. In the same way, Jake, some fans surely do like seeing athletes punished from sheer lifestyle envy. But it demands a pretty narrow, cynical view of humanity to say that jealousy is the sole or core motivation. Some fans, let's hope, simply like to see the games they care about affirming whatever cultural values they hold dear. Even dumb ones—like penalizing "excessive celebration." That doesn't necessarily mean those fans like to cackle at the high brought low, or are secretly jealous of athletes for having mansions, fast cars, cool clothes, and hot babes galore. For me, the jealousy is right out in the open.
–Hampton