The Lesson of Amy Winehouse's 'Lioness: Hidden Treasures'
Her vision came through even on the tracks she didn't write, even when her voice faltered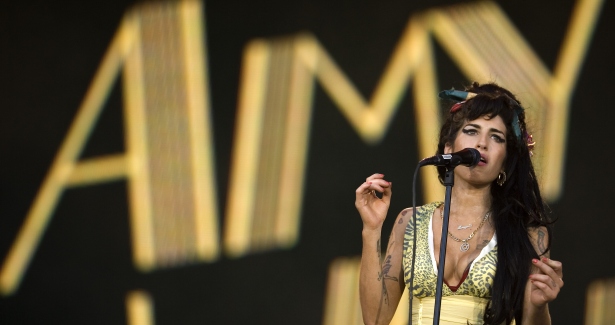 AP Images
The bossa-nova standard "The Girl From Ipanema" is, of course, about a girl from Ipanema. She's "tall and tan and young and lovely." But in Amy Winehouse's version, off the just-released Lioness: Hidden Treasures, the emphasis is less on the girl and more on the people watching her. The love-struck men who sighed "ah" in the version that won the 1965 Grammy for Best Record instead melt into baby talk in Winehouse's take; the "how can he tell her he loves her?" line gets transposed to the first person and elevated into the main act. "I want her so bad-ly," Winehouse crows.
When people talk about Winehouse's music, they usually talk about her voice, as they should. No one really sounded like her, at least when it came to her combination of brassy tone and pliant, casual phrasing. But Lioness, an uneven collection of recordings left over after Winehouse died in July, helps clarify that a well-defined point of view backed up that voice: Her work was by and large about the way we're enslaved by big emotions. Again and again, she shaped those emotions into small, recognizable situations—the girl too in love to waste a second at rehab, or too heartbroken to welcome sleep. This is what pop and soul have always done, of course. But Winehouse was uniquely self aware. She didn't just dramatize emotional extremes; she documented how, for her at least, the wrenching extremes were everything. The title and content of "You Know I'm No Good," off 2006's breakout Back to Black, basically summed her up: both proud of and resigned to a tough life.
We can see this worldview in fits and starts on Lioness, whether in newly unearthed original tracks or in the songs she chose to cover. With a reggae skronk, her take on Ruby & the Romantics' "Our Day Will Come" kicks things off, and Winehouse is soon mewling about defiant, irrational love: "Don't tell me I'm too young to know I love you so." Next up is Winehouse original "Between the Cheats," a doo-wopping would-be-'50s-prom-ballad with lyrics that would sound like hyperbole if we didn't know what Winehouse's life actually was like. "I would die before divorce you," she sings, and anyone who's read this article documenting her interactions with husband Blake Fielder-Civil knows she probably meant it. Fielder-Civil would be the one to file for divorce a year after the track was recorded.
Winehouse created the Lioness songs the course of about nine years, but producers Salaam Remi and Mark Ronson have done a well-enough job dressing them up to create a unified, high-gloss throwback sound. What varies, though, are Winehouse's own performances: Her voice is mostly full and articulate on the older material and raggedly slurred on the newer stuff. So some of the best takes are, unsurprisingly, the demos for her 2006 breakout Back to Black. The spare arrangement for "Wake Up Alone," in particular, devastates by laying bare Winehouse's lyrics. She's lonely and tries to distract herself during the day, but can't escape depression at night. It's the kind of losing battle that recurs in Winehouse's work.
Plenty of people have accused Winehouse's family of spoiling the singer's memory by releasing songs she herself didn't see fit to release, but the only serious misstep on the producers' part is "Like Smoke," a half-written Winehouse song that's frustratingly swollen with potential. "Like smoke, I hung around," goes Winehouse's refrain—a great line, right? But her material is strung between a recently recorded verse from the rapper Nas, who Winehouse liked. He delivers a competent but incongruous performance. "Like smoke, girls lean 'round a player," he says. He's swaggering, she's abject; it's a weird, regrettable moment.
Otherwise, though, even the rougher vocal performances are worth hearing a time or two. Winehouse swallows her syllables on the album-closing cover of Leon Russell's "Song For You," but that only ratchets up the bittersweet relevance of the lyrics: "If my words don't come together, listen to the melody, cause my love is in there hiding." Winehouse didn't write it, but it's the kind of song she couldn't help but sing.